Gypsy Queen
Rob Ward
Hope Theatre Company
Oldham Coliseum (studio)
–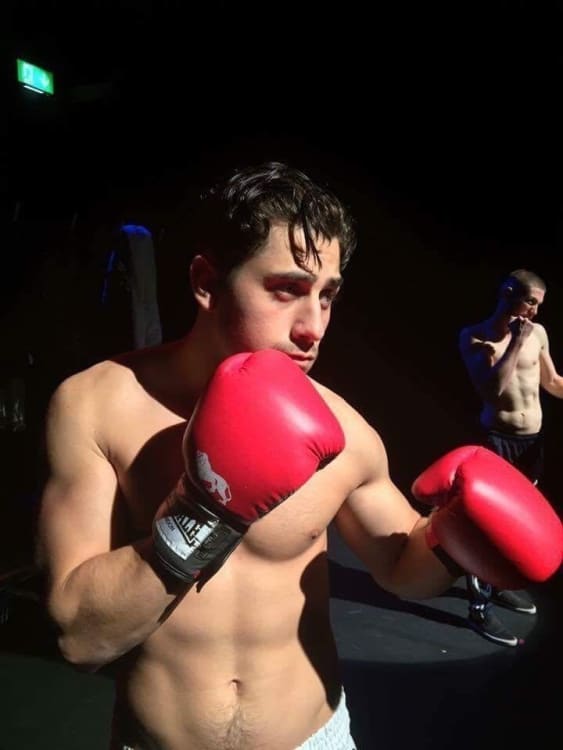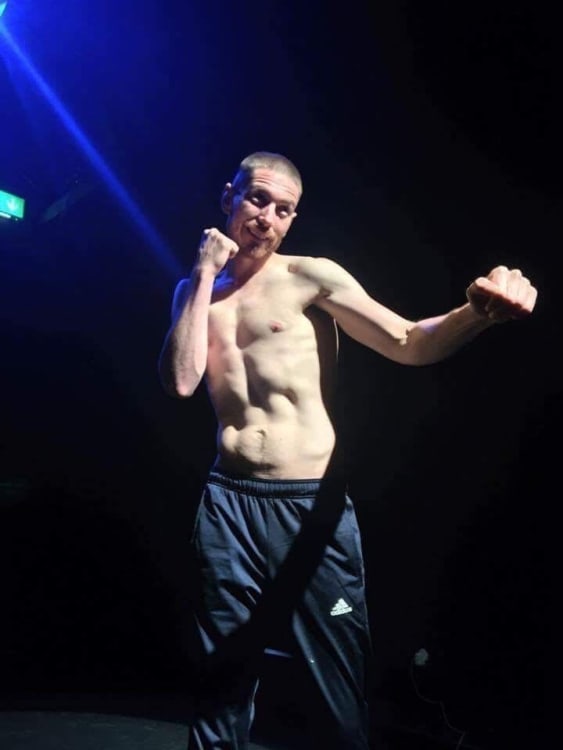 A couple of years back, Rob Ward starred in and co-wrote an award-winning monologue (Away from Home)—the story of a closet gay Premiership footballer, told through the eyes of his male escort lover. His new project, Gypsy Queen, once more examines problems caused by homophobia, set against a sporting backdrop—this time professional boxing.
There is, however, no sense of an artist repeating himself. This double-hander speaks to us largely through the mouths of the athletes themselves.
Dane—the Pain—Samson (Ryan Clayton) is a young boxer with a bright future; a little full of himself, but why wouldn't he be? Besides his talent, his dad, Vic (a retired hardman boxer) is not only his trainer, he owns the gym. One day, to keep the cocky young dane on his toes, Vic introduces "Gorgeous" George O'Connell, a young bare-knuckle fighter with an Irish background, who styles himself "The Gypsy King".
The two young men have an immediate playground rapport; sparring, verbally and physically with good-natured banter. Soon, Dane—whose homosexuality, hidden from the outside world, is no secret within the walls of the gym—has his hands inside George's shorts. This is George's first gay experience and, although he likes it, he still has a lot to learn; there's a funny scene soon after, where Dane teaches George that being a gay man does not translate to a constant urge for sex. Sometimes, a kiss and a hug are what's needed.
The pressures of a homophobic, macho culture weigh heavily on both men—while Dane is being hounded by a journalist who suspects the truth, George is threatened by a thuggish cousin to man up and "be an O'Connell".
A crisis comes when Dane goes to visit his former lover, Josh, who has been savagely beaten and abused by a homophobic gang. This is my favourite scene of the night. Ward delivers Josh's camp persona with a comprehension and subtle truth that puts to shame other actors I have seen attempt the same task.
"We're all friends of Dorothy," the resilient Josh tells Dane, "but you're the cowardly lion." Dane knows this is an apt rebuke, for while he has physical courage in abundance, he has lacked the moral courage to come out.
A cleverly juxtaposed scene has Dane revealing the truth to the journalist (for the sake of those boxers and fans who might be going through the same thing), while George, under pressure from family and the lads at Vic's gym, is publicly denouncing homosexuality as "an abomination". (As the promotion material reminds us, similar statements have been made by high profile boxers such as Tyson Fury and Manny Paquiao—this is not a problem Ward has imagined).
Denounced by those who should have stood by him, homophobes now see it as open season on Dane. Cornered by a knife-wielding drunkard, his temper gets the better of him, with catastrophic results.
In a moving finale, George and Dane are reconciled, reminding us that this bond is more about love than sex. It is a good scene, but this catchweight love affair could bear the weight of a few more kilos of emotion.
The two actors rise to the challenge of multiple roles. Clayton makes an assured, robust Dane and revels in the fun of cross-dressing as George's mum—religious Rose—and Ivy—the virgin with a pint in each hand—who's already designed the dress for her wedding to the unsuspecting George.
Once again, Rob Ward shows he is an actor deserving of a wider audience, not merely through the solid believability of troubled cheeky chappy George. The chasm between the brusque hard man Vic and the gentle yet sharp-tongued Josh (the moral centre of the play) gives ample evidence, for those who haven't noted it before, of this actor's versatility. (Oh, and for those who were wondering, there is no part of Rob Ward not on display in this production, if you get my meaning.)
Adam Zane's direction moves the piece along with pace and precision. Meriel Pym's set is just the job for a small touring company—a bench and frame with coat hooks serves all purposes efficiently. Owen Rafferty's sound and lighting support, without ever intruding.
For the squeamish, you need to be aware that the production features strong language, nudity and the dreaded "scenes of a sexual nature". I'm sure, dear reader, that you won't let that deter you from seeing this fine piece with a message that remains, sadly, all too relevant.
Reviewer: Martin Thomasson