Haddock and Chips
Janet Plater
CaroleW Productions
Gosforth Civic Theatre, Newcastle
–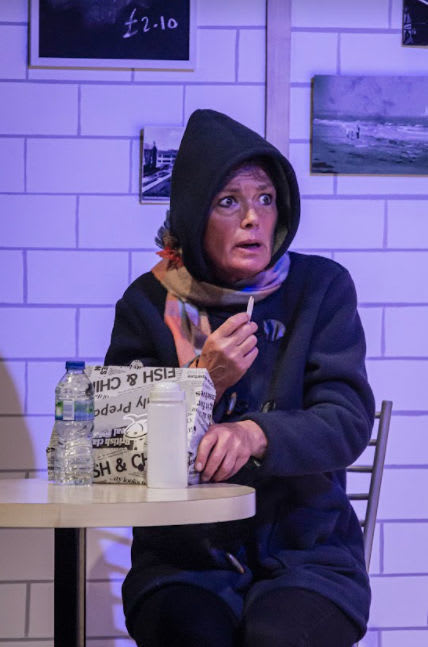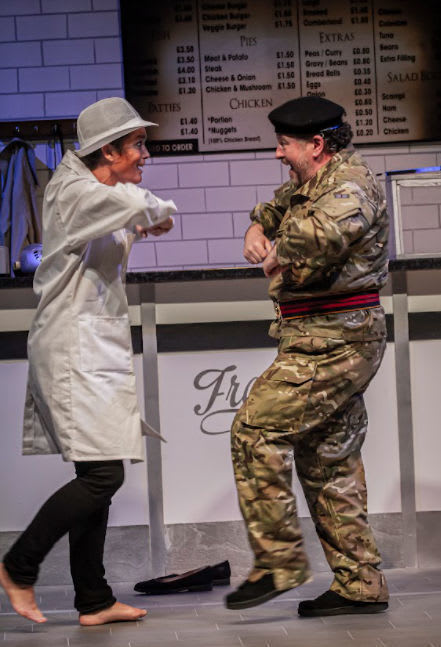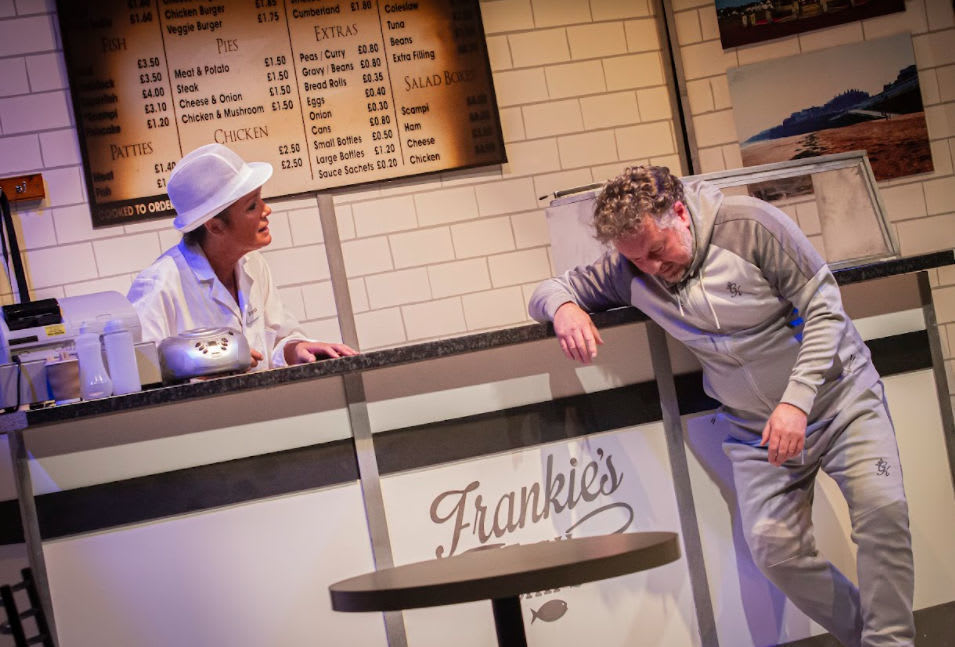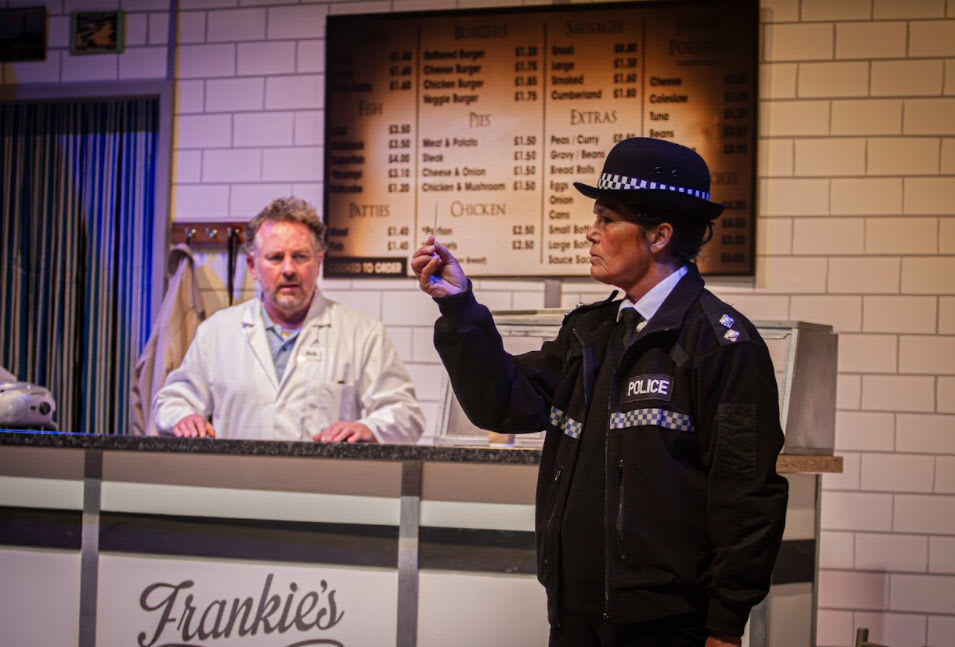 I have so missed this!
Obviously I knew, during my fifteen months of shielding, that I missed theatre, even though my thirst was slaked to some extent by the online offerings of so many local companies, theatres and individuals, unsatisfactory substitutes for real live theatre though they are, and, when I was able to get back into a real theatre at the end of August, I was able to see shows which have been spectacular, serious or deeply moving, reflecting, in many ways, the mood of the previous months, but it was only at Gosforth Civic last night that I realised there was something I had really missed.
What was that? A play which, full of humour—although it has serious undertones—leaves you with a big smile on your face!
Janet Plater's latest play Haddock and Chips is set in Frankie's Fish and Chip Shop in Whitley Bay and is performed by two of the NE's most experienced actors, Joe Caffrey, playing chip shop owner Bob, and Phillippa Wilson, his assistant Brenda (who, as Bob keeps telling her, is not a social worker). They also play, at the drop of a hat or the change of a coat, some of the constant stream of customers.
It's very much a character-led play and both actors create a string of very different, totally believable people from the very young to the very old, including a scaringly fierce female police superintendent (and a much nicer male PC), a not terribly bright 15-year-old lad, a gay soldier, a down-and-out and a romantic figure from Brenda's past—and more.
Brenda and Bob have their own problems, which we hear about through their phone calls when they are alone in the shop. She is desperately worried about her pregnant daughter Mandy and Bob's sons' demands for more and more spending are getting him down.
There are also a couple of perfectly natural in the circumstances, although somewhat incongruous in a chippie, fun dance routines (created by Lee Proud), one of which drew an unsolicited but well deserved round of applause from the audience.
In the background to all these comings and goings is the unfolding story of a missing ten-year-old girl. There's concern about her and her possible fate, of course, but it doesn't dominate; the to and fro of customers, the need for more fish or chips to go into the fryer, a blown light bulb (and the hunt for a new one) are given equal prominence, for the play is, after all, about real life.
A lot of smiles, lots of laughs, a bit of sympathy, a touch of sadness here and there. Some nice little touches of realism, too: the unobtrusive sound of bubbling fat as fresh chips or fish go into the fryer (sound by Chris Neville-Smith). Louis Price's design gives us the feel of every fish and chip shop you've ever been in and a clear sense of the history of the place comes over in the dialogue—there used, we learn more than once, to be bench seats and sawdust on the floor.
There is so much going on, so many stories are being told or hinted at, that the director needs a light but sensitive touch, which is what Jake Murray, AD of Elysium Theatre Company, whose work is usually at the more intense and serious end of the theatrical spectrum, gives it, getting the balance between humour and seriousness just right.
Haddock and Chips exemplifies something theatrical which I hadn't realised I had missed, that warm-hearted mixture of humour and seriousness which theatre can do so well, performed—with deceptive ease—by consummate professionals. Now I really know I am back in theatre!
After the Gosforth run ends, the show tours to 14 other venues around the region. Details of venues and dates are in our news story of 3 September.
Reviewer: Peter Lathan