After Haggerty
David Mercer
Finborough Theatre
(2006)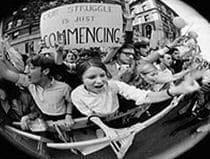 It is strange that a 35 year-old play should already feel far more like a historical document than a comment on contemporary life. That is not intended as a criticism of this worthwhile reminder of the work of a playwright who is seemingly almost forgotten.
The Finborough is often at its best with revivals that rescue forgotten plays from obscurity. This is the first play in Rediscoveries, a season of revivals that promises much with works from Gerhart Hauptmann and Rolf Hochhuth to follow.
After Haggerty is set in the aftermath of the events of 1968 as Eastern Europe began to settle down once again under Communism and Britain elected Ted Heath's Conservative government.
The semi-autobiographical Bernard Link is a 45 year-old theatre critic, always a good bet for laughs on press night.
David Cann plays the gloomy Marxist who has seen off two wives and seems happy enough to wallow in maudlin reflection when he is not touring the Communist hot spots including Russia, Cuba and Paris, lecturing on drama.
His life is invaded after he moves house by six other troubled people, two of whom are never seen. The titular Haggerty may not be present in body but his influence remains in the flat that he has just passed on to Link. The other absentee is Haggerty's infant son, often heard crying in a corridor but only physically represented by his apparently pungent effluvium.
The flat is in the process of being decorated by an unlikely pair, who are like nothing so much as Julian and Sandy from Round the Horne. Indeed, the unconvincing Guy Rogers plays gay Roger who is really an out-of-work actor and seems positively scared to touch a tool (no pun intended, Mr Horne).
The two other central characters add far more of a sting to the play partly because both can be waspish. Cristina Gavin plays the mother of Haggerty's son and a woman who is seething with anger, not always for any apparent reason. She invites herself into Link's home offering a combination of ferocity and charm, not to mention the noisy, smelly baby - her view not necessarily the reviewer's.
The unhappy household bumps along with scenes of domestic collision interrupted by brief excerpts from Bernard's globe-trotting lectures, each of which is followed by a one-sided heart to heart with his father, a man who does not appear until close to the interval.
The whole tenor of the play changes with Mr Link Senior's arrival from just outside Doncaster. Veteran character actor Bernard Kay, one of the dwindling number of Z-Cars graduates still acting, takes over the stage.
One sincerely hopes that this kind of man has now died out. An opinionated, bigoted and generally unpleasant throwback to the days when Britain had an empire, he has travelled down to London in order to haunt the son who had escaped him at the earliest opportunity. However, Kay gives great entertainment value as the old man's increasingly unpleasant views eventually offend every member of the party. By doing so, he manages to create an empathy between the other four that had never previously seemed likely.
After Haggerty looks very dated but still has much charm and looks back to a historical period that now seems romantically exciting. This was a time when Marxist playwrights and critics could tour the world; and even get their plays and reviews produced on a regular basis. It looks into the hearts of a group of unhappy people, in particular its central characte,r but it also gives an impressionistic and sometimes so real view of the world in which they lived.
At two-and-half hours, Kirsty Housley's under-rehearsed production feels long, especially in an overheated Finborough, but nevertheless this is a worthwhile evening, particularly for those who still have fond memories of the excitement of 1968, or wish that they had been there.
Reviewer: Philip Fisher