Hair
Book and lyrics by Gerome Ragni and James Rado, music by Galt MacDermot
Hope Mill Theatre
The Vaults, Waterloo
–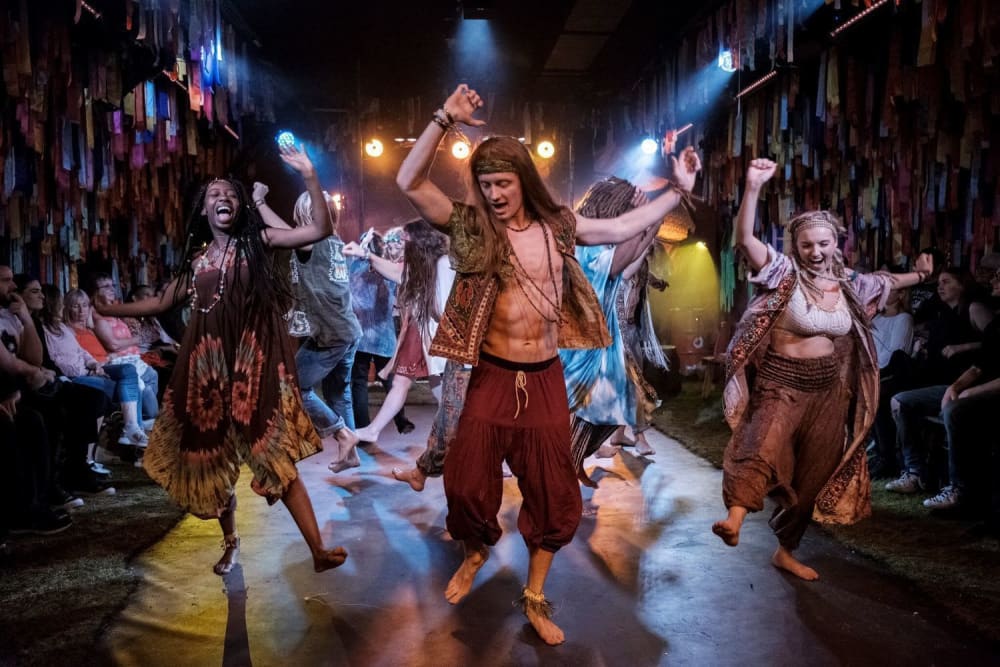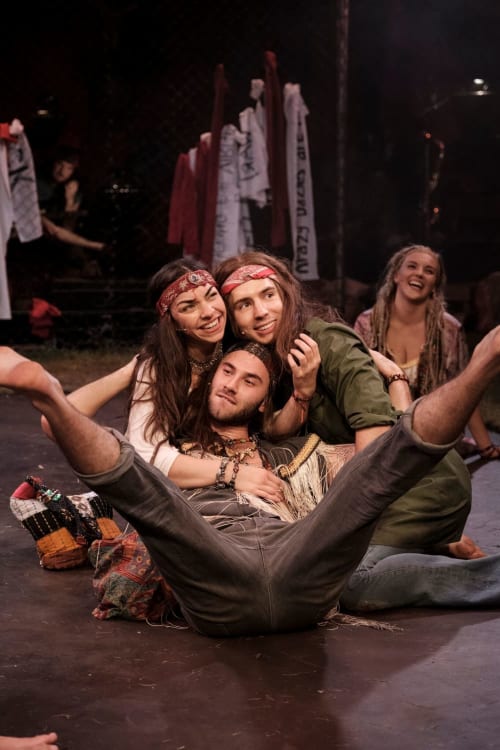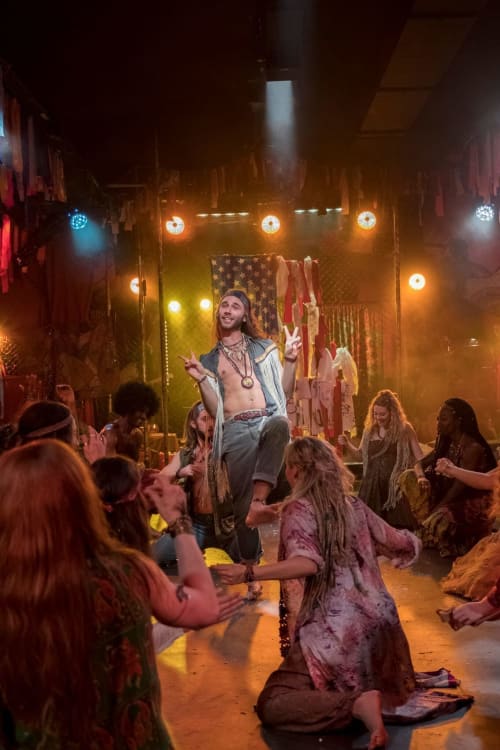 This revival of the ultimate cult hippie musical started life at Hope Mill Theatre in Manchester and has now transferred to London to mark the 50th anniversary of the show's first performance.
The world has undergone considerable change in the intervening period and director Jonathan O'Boyle attempts to give the story contemporary resonance by preceding the drama with some choice words delivered by President Donald Trump. In all honesty, this is something of a distraction and the musical is easily strong enough to survive as a historical document, which continues to have the power to entrance and even shock audiences all these years later.
A couple of health warnings are required for anyone thinking of making the trip to Waterloo. First, although the running time is a little under 2½ hours, an eccentric process means that the audience only starts trickling into the theatre at the allotted time of commencement and the metaphorical curtain doesn't go up until 15 tedious minutes later. Secondly, the auditorium starts out feeling like a greenhouse and ends closer to a sauna.
Neither of these factors can deter a young cast that is characterised by every member's great energy and enthusiasm. They also have considerable talent, although some act considerably better than others.
After 50 years of existence, it is likely that readers will have a good feel for the plot but, in brief, it centres on Robert Metzon's Claude, a New Yorker with English affiliations who belongs to a kind of hairy hippie commune.
The youngster's laid-back attitude and those of his friends are sorely challenged when Claude receives his draft papers with an invitation to get a serious haircut along with some drab clothing and visit Vietnam, with every possibility of returning in a far from psychedelic coffin.
Strangely, for a group that believes in love and equality, the other major figure is Berger played by the tuneful Andy Coxon. He is a conceited and power-hungry individual with a deeply unpleasant personality that can overwhelm his fellows, particularly Laura Johnson's devoted Sheila.
There is little more plot than this, although the writers create pen portraits of many of the figures in a cast of 13, primarily to allow many of the ensemble to act and, more significantly, sing their hearts out.
When it comes to vocal power, the women win hands down, with Laura Johnson and Shekinah McFarlane outstanding but still finding themselves surpassed by the beautiful and highly versatile voice of Natalie Green.
The reason why Hair is as popular as ever after half a century lies to a degree in the pleasure of witnessing youth rebelling but much more significantly in a whole stream of unforgettable songs, many of which have become timeless classics. Everyone will have their own favourites but "Aquarius", "Hair", "Good Morning Starshine" and "Let the Sunshine In" are all stunning.
William Whelton's choreography works well despite a very cramped thrust setting and is greatly helped by the efforts of lighting designer Ben M Rogers, who tends to favour shadowy tableau is but often creates memorable spectacle, particularly in some of the dance scenes and through the use of fluorescent colour schemes in association with designer Maeve Black.
This is indisputably a rather uneven production of an iconic musical but has much to commend it largely thanks to the strength of the underlying writing / composition and overwhelming enthusiasm of the cast.
Reviewer: Philip Fisher