Hair
Book and lyrics by Gerome Ragni and James Rado, music by Galt MacDermot
Al Hirshfeld Theatre, New York
(2009)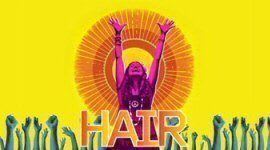 If it is your lifetime's ambition to perform on a Broadway (or in a few months, West End) stage then The Public Theater's revival of Hair will be worth every cent/penny of the admission price, even at over $300 for premium seats.
At the end of this subversive, life-affirming show, occupants of the stalls are urged to get up on stage and bop around, as the band lets the sun shine in for the last time.
Hair somehow feels out of place 42 years on from the summer of love in which it was set. The musical heralded the sexual liberation, gender and racial equality and revolution against authority that now seems as commonplace as the long hair and colourful clothes worn by the hippies around whom it weaves.
The experience for audiences today will therefore of necessity be very different from that of the baby boomers, who are now entitled to free public transport that comes with retirement.
The early scenes have something of the bittiness of an X Factor, as the various "Tribe" members introduce themselves. Each does their party piece and slowly, draws the audience into their world of hippie values.
These are exemplified by the phrase "make love not war", which had great significance as the United States flooded its young men into Vietnam, rather than Iraq which Daniel Kramer used in his updated revival at the Gate a handful of years ago.
It takes time but from the large ensemble, literally backed by a sizable rock band, major characters emerge. For the most part, they are recognisable as much for the quality of their singing voices as what they do.
Gavin Creel's Claude is the only person in existence who wishes that he came from Manchester (Lancashire not New Hampshire). He is also torn between the enticements of drugs and free love on the one hand and an innate desire to conform. This divide is made even clearer when his draft papers arrive.
For his closest (and wildest) friend Berger, played by Will Swenson, the choice is easy. He is an advocate of do what you like and ignore the consequences. This is hard on his surprisingly straight-laced girlfriend, Caissie Levy as Sheila. She has the natural tendencies of an establishment figure but tries so hard to live the free lifestyle. She also has an incredibly powerful voice that could break your heart.
As partners swap, it is Sheila who becomes Claude's main support when he has to make the life or death choice between Vietnam and Canada.
It has to be said that, while Gerome Ragni and James Rado can write strong lyrics, in the plain light of day, their book is very lightweight. It is only after the interval in the 2½ hour production that a story emerges as Claude takes three bad trips induced respectively by acid, Uncle Sam and a bullet.
However, the reason that we are there is not really to be told that radical is good. We all know that and in a way, Hair has not dated that well. Where it succeeds is in the performances, songs and choreography.
Creel makes Claude sympathetic, while Berger is grungy but funny and Sheila the kind of hippie that your parents would want you to marry.
Almost every member of a cast that numbers close to 30 gets a chance to shine at some point and, as well as the key players, Krystal Joy Brown as Dionne sang and acted her heart out while Andrew Kober and Rachel Bay Jones formed a good comedy double act.
The choreography is varied and often exciting, never more so than when the Tribe come off the stage and engage with their guests.
Many of the songs are well-known and still sound great, enhanced by arrangements that help bridge the change in musical tastes since the days of Jimi Hendrix. As well as the timeless Aquarius, Good Morning Starshine and Let the Sun Shine In, there are some less well known numbers that are at least as good, especially title song, Hair beautifully worked by director Diane Paulus and Claude's anthem Manchester, England.
While Hair can never again have the impact that it did in the Swinging Sixties, Miss Paulus has created a feelgood show that won this year's Tony for Best Musical Revival and should prove a welcome addition to the dwindling list of West End musicals.
Philip also reviewed the transfer to London's Gielgud Theatre in 2010
Reviewer: Philip Fisher