Hairspray
Book by Mark O'Donnell and Thomas Meehan, music by Mark Shaiman, lyrics by Scott Wittman and Mark Shaiman
Based on the film written and directed by John Waters
Shaftesbury Theatre
(2007)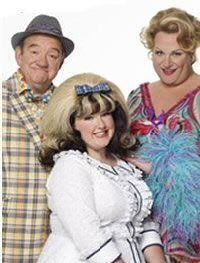 Following the opening night of this camp, kitschy delight (and that is intended to be a compliment to Jack O'Brien's vibrant production) the West End has a big hit and a new star on its hands.
Baltimore in 1962 may not have been quite the same as London 45 years later but even so, a heroine who is quite so far from size zero makes a refreshing change. Leanne Jones was still at Mountview a year ago but now turns in a superlative performance as Tracy Turnblad, a big girl with big hair, a big voice and big ambitions. Miss Jones sings tunefully, wins over her audience with humour and perhaps a little more surprisingly, can dance with the best of them.
This show could hardly have a finer pedigree. John Waters' film, first seen almost twenty years ago, is still a cult hit thanks primarily to its transvestite star Divine, who sadly died soon after it opened.
The show eventually transferred to Broadway where under Jack O'Brien, a serious theatre director who successfully mixes musicals and straight plays, it won numerous awards and spawned a second film version, this time starring John Travolta as Tracy's mountainous mum, Edna.
The London version features the unrecognisable but very witty Michael Ball as the charmingly slovenly Edna, a woman with a heart of gold, and a good-natured husband played by Mel Smith, now looking like the spitting image of WC Fields, which is something of a surprise to those who saw him in his recent stage outing playing Winston Churchill in Edinburgh.
This oddly matched couple could not be more supportive of their teenage daughter as she worships TVs' Corny Collins Show and dreams of fame and wooing the cutest boy on the set, Ben James-Ellis playing Link Larkin.
When pregnancy takes a dancer out of the show, Tracy begins to learn some hard lessons about life. She comes up against her antithesis, a dumb blonde whose favourite word is "me". Amber Von Tussle is played by Rachael Wooding and gets great support from her pushy, overbearing mother (played on film first by Debbie Harry, then Michelle Pfeiffer), former Coronation Street regular Tracie Bennett who reveals the kind of voice that must go down well on the cabaret circuit.
Hairspray is a musical with a message about more than sizism as Tracy becomes a champion of the black underclass. In the States back the Black community was segregated from its White counterparts, so that even the TV shows ran in parallel, which allows us to meet soul diva Johnnie Fiori playing Motormouth. Tracy's bravery in this area knows no bounds and eventually she, along with almost everyone else on stage, opens the second half of the show behind bars.
This is, though, a romantic comedy and it is inevitable, not only that this spunky little girl with a big heart will become Miss Teenage Hairspray of 1962 but in addition, she will get her man, as gorgeous Link chucks up his blonde beauty for her. To add to the fun, Tracy's best friend, ugly duckling Penny is memorably transformed into a redheaded beauty who crosses the racial divide to win the smooth-voiced Seaweed (Adrian Hansel).
Placing us firmly in the 1960s, the music drifts between soul and pop and contains a series of hummable tunes to win over its audience. The pick of them start off with Welcome to the 60s featuring Leanne Jones but also a tremendous girl trio The Dynamites, Timeless to Me is a comic soft shoe shuffle featuring the Turnblad parents, Michael Ball and Mel Smith, and unforgettably, there is a showstopping finale involving the whole cast, You Can't Stop the Beat -- and you really can't.
The look too takes us back to the time when JFK was president. Set and costume designers, David Rockwell and William Ivey Long have worked together to ensure that everything is in the worst possible taste, with glaring colours clashing on stage and performers, perhaps best exemplified by a jacket worn by Mel Smith which looks like a TV test card dyed shocking pink. Despite this, the ensemble work well together showing unbounded energy in a series of enjoyable song and dance routines choreographed by Jerry Mitchell.
The Shaftesbury Theatre has been jinxed for so long that its owners must have wondered if it was ever going to have another major hit. The drought must surely be over as this wondrous US import has to be destined for the longest of London runs.
Visit our sponsor 1st 4 London Theatre to book tickets for Hairspray.
Reviewer: Philip Fisher