Hairspray The Broadway Musical
Book by Mark O'Donnell and Thomas Meehan, music by Marc Shaiman, lyrics by Scott Whitman and Marc Shaiman
Mark Goucher and Matthew Gale
Curve Theatre, Leicester
–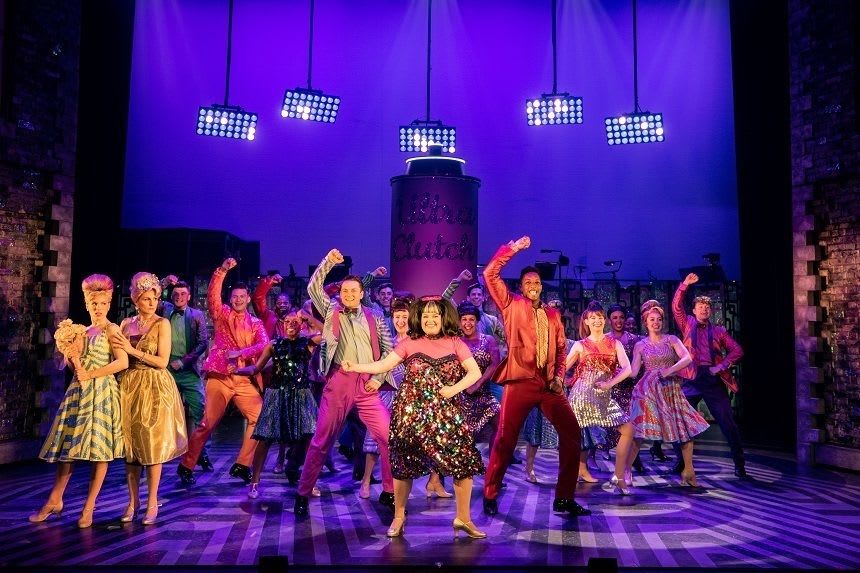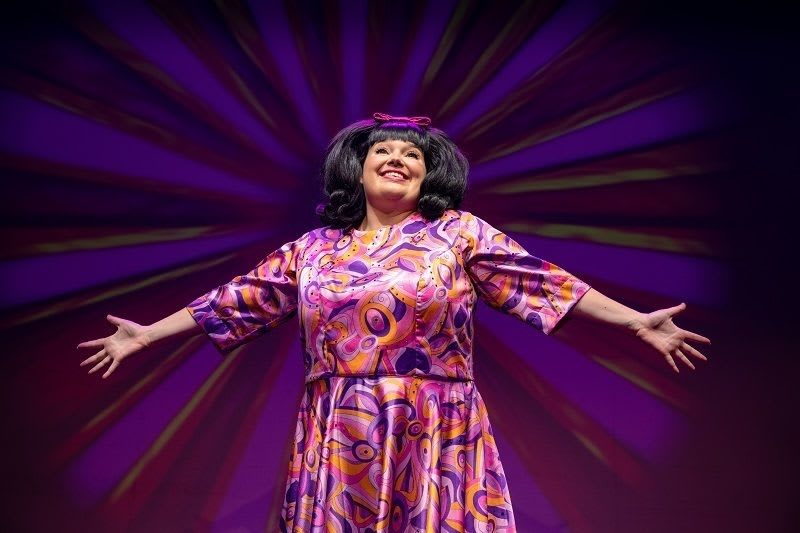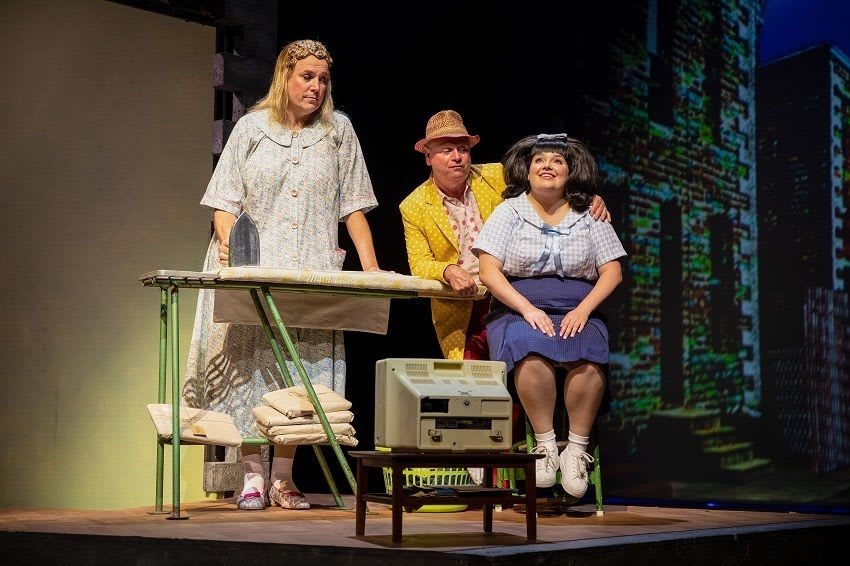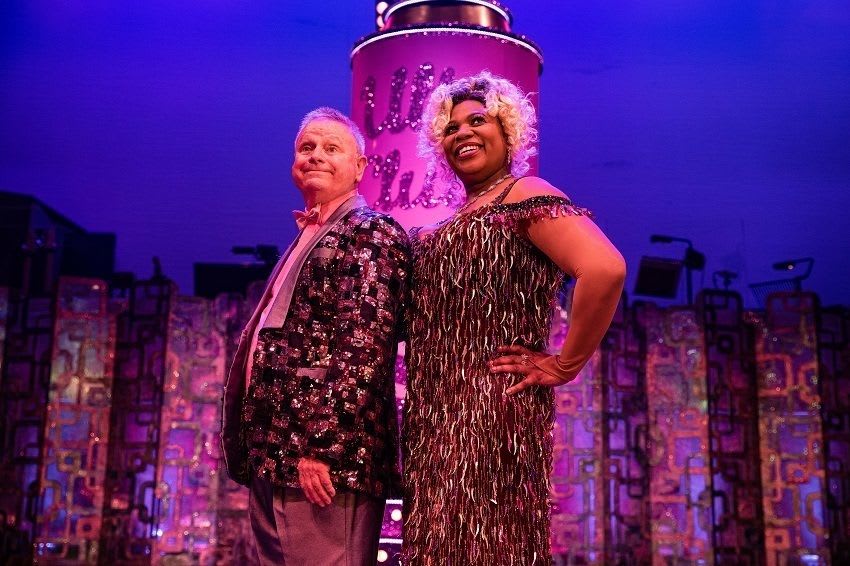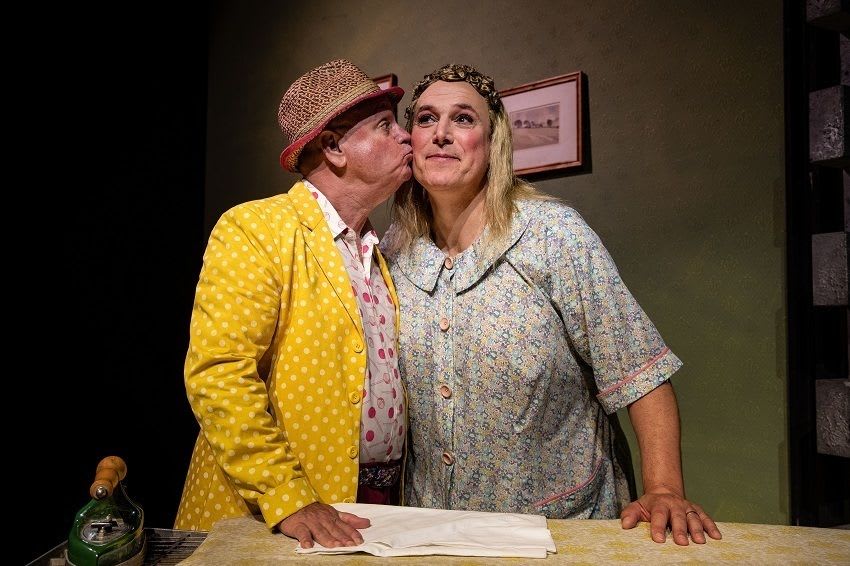 "I'll eat some breakfast then change the world." Yes, Tracy Turnblad's beehive is back in town as the 2021 UK tour of Hairspray The Broadway Musical arrives at Leicester's Curve.
Former Curve artistic director Paul Kerryson also returns as director, along with several of the creatives from the last time I reviewed this show for BTG (2017). This includes Drew McOnie's effervescent choreography, plus set and costume design by Takis. The stage is trimmed of all unnecessary paraphernalia, leaving maximum room for the cast's energetic gyrations. Different locations (a Baltimore street, Motormouth Maybelle's record shop, High School gym) are projected onto a large screen and, apart from a giant can of Super Clutch Hairspray and Edna's trusty ironing board and iron, there's not much else needed.
It's now nearly 20 years since Hairspray opened on Broadway (2002), inspired by John Waters's cult classic film of 1988 and with new audiences introduced (and ensnared, thanks to heartthrob Zac Efron) via the 2007 film version.
Beneath its fun and feel-good top layers, this is a story which tackles big issues. Tracy Turnblad is plus-size but yearns to dance on the Corny Collins show. Set in Baltimore in the early 1960s and as the civil rights movement is gaining momentum and attention, Tracy also sets about making her favourite TV show 'integrated', against the bigoted views of the show's producer Velma Von Tussle (Rebecca Thornhill) and her bratty daughter Amber (Jessica Croll). We also have love against the odds, with Tracy vying with Amber for local heartthrob Link Larkin's affections.
Katie Brace is making her professional debut as Tracy and brings a bucketful of feistiness to the role, as well as some wonderful facial expressions to maximise the comedy. West End stalwarts Alex Bourne (Edna Turnblad with a lovely, rich baritone) and Norman Pace (Wilbur Turnblad) are charming as Tracy's still-in-love parents, and their key number "You're Timeless to Me" is a joyful masterpiece of comic timing with some rather risqué ad libs thrown in.
It's been said before, but Brenda Edwards's vocals on Motormouth Maybelle's showstopper "I Know Where I've Been" are superb, such power and feeling and a sobering counterpoint to the frivolity.
Rebecca Jayne-Davies as Penny is suitably goofy and endearing, Ross Clifton is a charming Link, the three Dynamites (Bernadette Bangura, Natalie Brown, and Eliotte Williams-N'Dure) bring sparkling energy. Kerryson and the whole cast maximise the comedy throughout. My only gripe is over the lack of clarity in some of the dialogue, swallowed up in the accents and losing some of the best lines which sometimes fell flat.
Judging by some audience members' enthusiastic enjoyment during the performance (and with quite a few replicating the fashions of the period), this isn't the first time they've seen this show, and nor is it mine. But there's a lot to enjoy many times over: catchy songs, fantastic dancing and singing, comedy and strong messages of acceptance, empowerment and standing up for what you believe.
Wittman and Shaiman's lyrics are funny and clever, but also have bite—the reminders of injustice and prejudice hit their mark within perfectly packaged musical numbers.
Hairspray is a bankable favourite, full of bounce and many highlights. I went in rather gloomy and came out smiling—what more can you ask for?
Reviewer: Sally Jack