Hairspray
Book by Mark O'Donnell & Thomas Meehan; music by Marc Shaiman; lyrics by Scott Wittman & Marc Shaiman
Sunderland Empire and touring
(2010)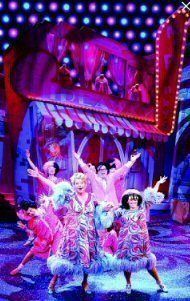 In spite of the serious underlying themes - racial segregation in the US in the sixties and size-ism (with a sideswipe at corporate hypocrisy)- Hairspray is primarily a fun-filled, feel-good romp. The cast, led by Michael Starke as Edna Turnblad, Les Dennis as husband Wilbur and Laurie Scarth as Tracy, attack it with tremendous energy and enthusiasm and simply carry the audience along with them from the moment the curtain goes up.
Hairspray is a modern fairytale in which the girl gets the boy, injustices are righted, the bad (and they are ever so bad - think pantomime villain!) see the error of their ways and everyone lives happily ever after. But if you're looking for psychological depth, clever plotting or trenchant social or political analysis, forget it! This show doesn't give you time to think about such things: the audience is whirled along by the music and performances.
And what a whirl it is! Even this tired old hack was carried along- and I still can't get the song "You can't stop the beat" out of my head.
The music is great, the set cleverly constructed, the choreography fast-moving and energetic and the performances excellent. Whilst the Turnblad family (mother and father especially) are the audience-pullers, even they are outshone by Sandra Marvin as Motormouth Maybelle whose fantastic voice had the audience cheering, especially in "I know where I've been".
The support from the rest of the cast is tremendous: Emma Dukes' Penny Pingleton, Gillian Kirkpatrick as Velma Von Tussle and Clare Halse as daughter Amber, Seliza Sebastian (Little Inez), Wayne Robinson (Seaweed), Liam Doyle (Link Larkin) and Danny Bayne (Corny Collins) all shine and the rest of the cast give their all.
It is, I have to confess, not often I come away from a show without some criticism, even if just of a minor nature, but not here. I loved it!
"Hairspray" continues at the Empire until 18th September, the tours to Milton Keynes, Oxford, Birmingham, Dublin, Bradford, Edinburgh, Woking, Norwicch, Eastbourne, Nottingham, Wimbledon, Aberdeen and Bristol.
David Chadderton reviewed this production with a slightly different cast in Manchester. It was also reviewed by Sheila Connor in Woking, with other cast changes
Reviewer: Peter Lathan