Hamilton and Me
Giles Terera
Nick Hern Books
Released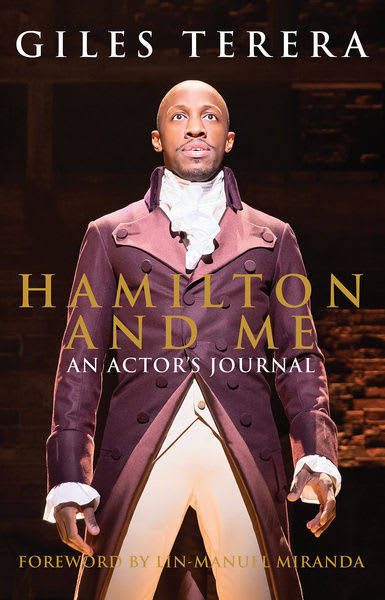 As theatres on both sides of the Atlantic begin to announce reopening dates, it seems a fair bet that theatregoers will fall into two categories. Those that have seen and loved Hamilton and those who are desperate to see the show about which they have heard so much. Indeed, there could be a fair number who fall into both categories, such is the quality and popularity of what many would regard as the best musical of the last decade or longer.
There are now numerous ways of communing with the show beyond a very expensive visit to a real, live theatre. The video is available on Disney Plus, the soundtrack and script can be purchased or downloaded and, for the more intrepid, Ron Chernow's biography of Alexander Hamilton, which inspired Lin-Manuel Miranda to write the musical, provides valuable background about a unique personality.
However, for sheer enthusiasm, there is a strong argument that Hamilton and Me by Giles Terera will please devotees as much as anything. It opens with a heartfelt introduction from Lin-Manuel himself, praising the author's intelligence and commitment and suggesting that its manifestation in a love of language and storytelling might be attributed to Terera's Shakespearean training.
The author's credentials as a Hamilton (musical) expert are second to none, since he starred as Aaron Burr, the central figure's erstwhile friend and great antagonist, in the original London production. This bright and breezy memoir, based on contemporaneous notes, starts and ends as a love story to the musical and all of those involved in its London incarnation.
Endearingly and amusingly, Giles Terera fell head over heels in love with the show in the same way as you or me. His agent alerted him to its existence and as soon as the actor, who was working in the Shakespeare Globe touring production of Merchant of Venice starring Jonathan Pryce, bought and listened to the soundtrack, he felt destined to play Burr. There followed auditions and then a long period of insecurity leading up to a double red-letter day, when, as a fortieth birthday present, our man hit the jackpot. The rest, as they say, is highly entertaining history.
The real strength of this book lies not only in its affection for the show and the company but also a great deal of detail about the topsy-turvy adventure of bringing it to the stage, massively assisted by the presence of the original American creative team. Methodically, readers can learn about the process from audition to rehearsal, the move into a newly refurbished theatre and then performance for audiences and the show's reception.
Since everything is based on notes hurriedly scribbled from day to day, it feels absolutely authentic and contemporaneous, neither hiding the lows nor over-hyping the highs along the way. Therefore, for any fan of Hamilton, i.e. just about everyone on the planet, this is a highly articulate, very thoughtful and hugely enjoyable read. Rather splendidly, it even has its own web site.
Reviewer: Philip Fisher