Hamlet
William Shakespeare
Bedlam
Culture Project's Lynn Redgrave Theater, New York
–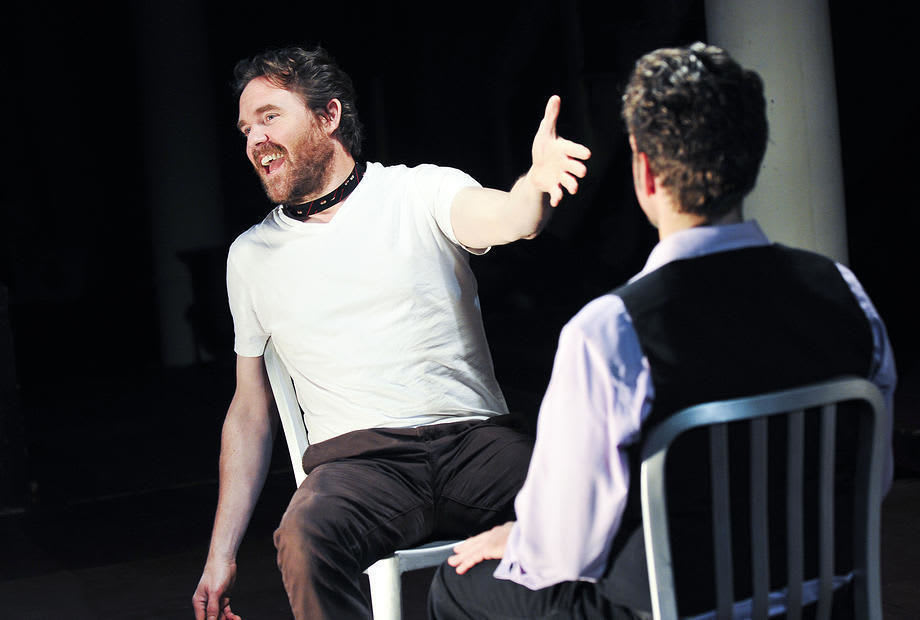 Perhaps not since Robert Lepage delivered his eccentric solo version has Hamlet been quite so radically presented.
Bedlam's resident megalomaniac / artistic genius is Eric Tucker. Not only does the charismatic Mr Tucker direct this 3¼-hour version containing only two brief intermissions but he also plays the title role.
Perhaps scared of crowds, he then shares out the rest amongst only three other actors (all of the men generously bearded but thankfully not Andrus Nichols playing Gertrude / Ophelia and assorted minor men), plus a sprite-like assistant who does little bits around the edges.
If this sounds tough physically, it is, but that is only the half of what this cheery crew has taken on, since they have paired Hamlet with a three-hour Saint Joan, a review of which will follow in the next week or so. On some dates, the two shows are played sequentially, ensuring that the performers earn their wages.
The staging is generally low budget minimalist, with few props or frills. The first section takes place not so much in-the-round as in-the-here, there and everywhere, amidst the audience. Lighting varies from electric torches on the battlements to something fuller as the drama hots up.
By then, audience members will have begun to appreciate a rather eccentric, though not mad, Prince. They will also have become familiar with the other actors and their lightning-fast changes of persona and character, aided by items such as hats and glasses but also the performers' talent. It is a compliment to the company that one very rarely loses touch with who is who.
Edmund Lewis is particularly good as Polonius, ensuring that the comedy is appreciated. Miss Nicholls can be a little over-the-top as tearful Ophelia but is moving in the mad scene, while also portraying Gertrude sympathetically opposite Tom O'Keefe's Claudius. They all (bar Tucker) chip in for supporting roles, for example the dizzily swapped Rosencrantz and Guildenstern.
Just as you are getting used to the novelty of the use of space, the mid-section is inventively delivered from four chairs end-on.
The final scenes are played in-the-round, which is almost too intimate as swords flash rather closer to audience members than might be comfortable for the callow.
The verse-speaking is generally good and works fine with the American accents, though watching soliloquies delivered while standing on a chair can be off-putting.
The text itself has not been cut to any great degree though odd speeches are moved around or come from unfamiliar mouths, which is inevitable with such a small company.
The spirit and energy are remarkable and Bedlam maintains a sense of fun throughout, which should be guaranteed to win any audience over to what is a fascinating and very enjoyable experiment in Shakespearean presentation.
Reviewer: Philip Fisher