Hamlet
William Shakespeare
Royal Shakespeare Company
Hackney Empire
–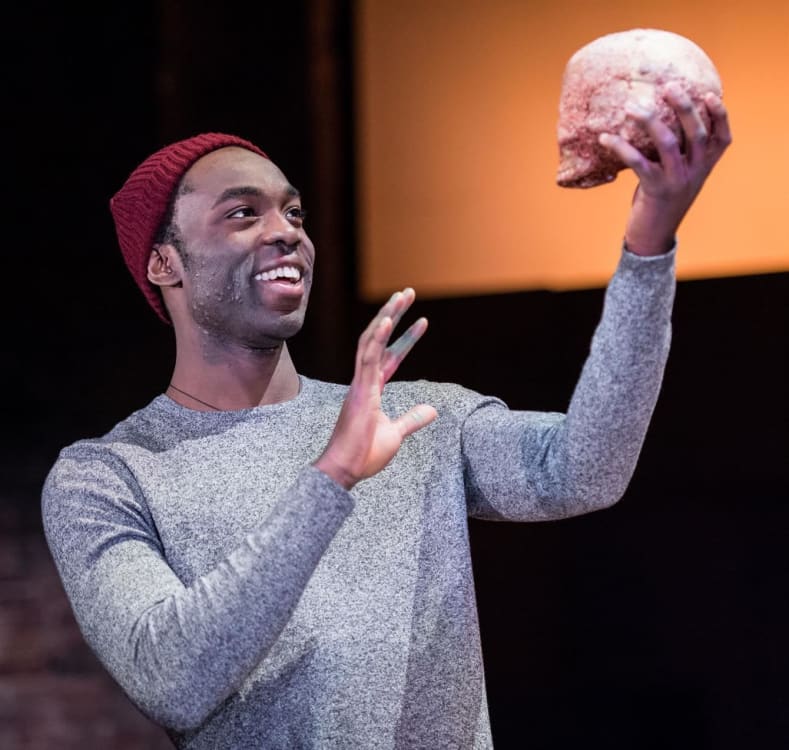 The Royal Shakespeare Company has a mission to take the works of the man after whom it is named to the people. They have a home in Stratford but regularly play in London, Newcastle and elsewhere, as well as taking touring productions to far-flung places around the world. Indeed this production has already played six British venues before getting to London and is heading for Washington.
However, it is still something of a surprise to see the company choosing the glorious Hackney Empire as the only London venue for Simon Godwin's well-regarded new interpretation of Hamlet.
The underlying reason is clear to see when you watch the play or even peruse the cast list. This Hamlet has been transported to an African Banana not-Republic and updated to the present time, helpfully graced by Paul Wills's colourful sets and costumes and a pair of traditional drummers.
This novel approach offers many new dimensions but also has limitations, given that so many of the lines are specific to Denmark, its people and a period several centuries ago. On balance, though, bringing a largely accessible new version of a play that many might, at least in theory, find off-putting in traditional garb to a new community is a worthwhile experiment.
Clarence Smith and Lorna Brown as sly Claudius and a rather unimposing Gertrude together rule a dictatorial state, while always trying to convey the veneer of democratic respectability. While their subjects accept the very new status quo, young Hamlet played by Paapa Essiedu comes across as a typical sulky teen, dressed in gloomy black.
However, he is energised by the arrival of Ewart James Walters's magisterial ghost of his late father, who inspires the young man to seek vengeance, not to mention revealing his inner thoughts through a series of freshly staged soliloquies.
Now, he becomes willing to have some fun at the expense of many members of the court. While Joseph Mydell in the role of Polonius is ripe for ridicule, Rosencrantz and a female Guildenstern also suffer but his sharp tongue is reserved most for the very sweet Ophelia, played by Mimi Ndiweni, whose highpoint comes as her character descends into madness. Interestingly, Hamlet himself is very contained and, despite suggestions to the contrary, seems insane as you or I, albeit incensed by his father's death.
Much of the spectacle comes later in the play, when the young Prince replaces his mourning garments with the clothes of an extroverted art student, the work on his walls feeling very derivative to anyone who has ever seen a painting by Jean-Michel Basquiat. These also form the backdrop to an unorthodox but highly effective duel to the death between Hamlet and another well-spoken student, Laertes, portrayed by Buom Tihngang.
Simon Godwin has done his best to meld all of these elements into a coherent presentation and, while there are a few issues with the clarity of the verse speaking at times (the visual gags generally getting more laughs than the verbal) and some of the Danish elements do not sit well in Africa, overall this is an adventurous and unusual production that might well achieve its goal of bringing new audiences in to see Shakespeare.
Reviewer: Philip Fisher