Hamlet
William Shakespeare
Royal Shakespeare Company
The Lowry
–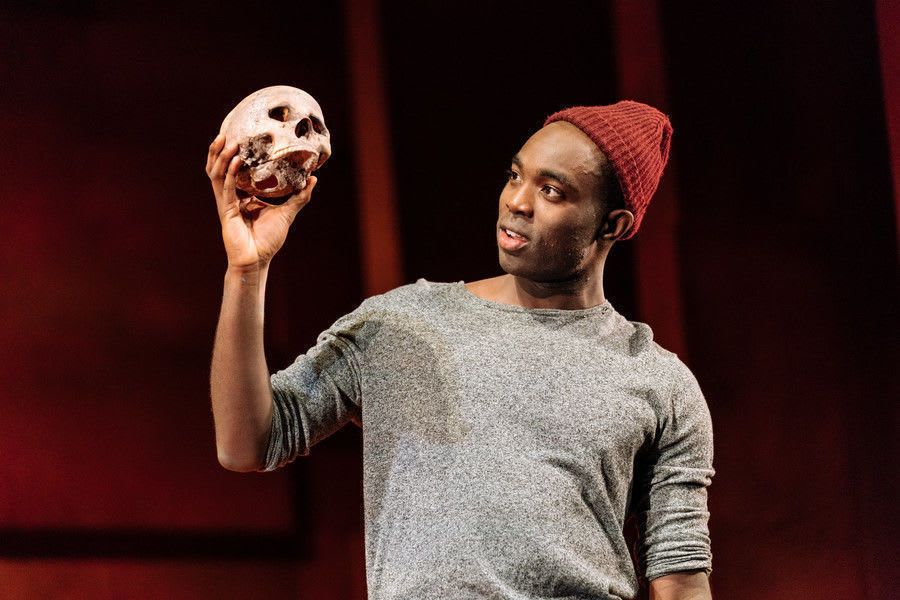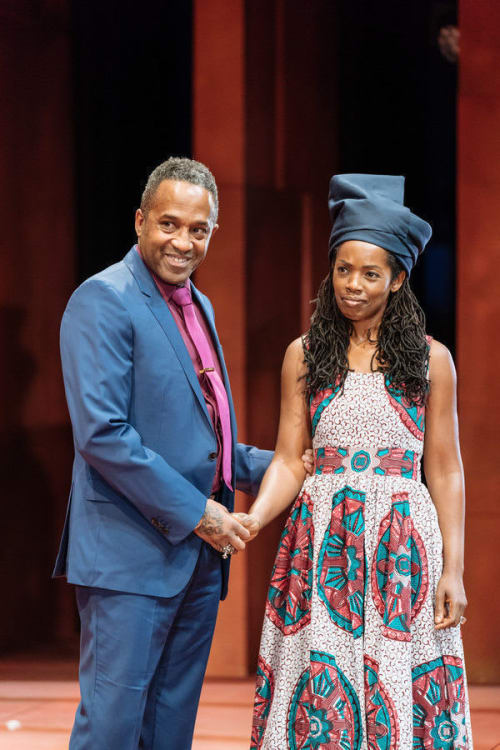 The RSC begins its revival tour of Simon Godwin's 2016 production of Hamlet, starring Paapa Essiedu in the title role, in Salford.
Like Greg Doran's RSC production of Julius Caesar, which came to The Lowry in 2012, this Hamlet appears to be set in an African dictatorship: members of the court, other than Wittenberg-educated Hamlet and his college chums Rosencrantz and Guildenstern, speak with African accents; there are bright, colourful African fabrics for scenery and costumes; the live music has an African feel to it, especially the terrific drumming. However this doesn't really seep much below the surface.
Essiedu's is a young, restless Hamlet, a sulky, quick-tempered adolescent, but also a quietly contemplative philosopher, as well as a painter of huge graffiti-style canvases, featuring dinosaurs and lizards and skulls, most wearing crowns. He speaks the verse trippingly on the tongue, some may think a little too trippingly at times, but always clearly and with his thought process behind the words made plain.
Clarence Smith's Claudius, initially seen in full military dress, is a decisive and intelligent king with a strong hold over his court and not an unsympathetic character, his later actions against his nephew, although extremely harsh, brought on perhaps by necessity. Lorna Brown's Gertrude also initially is seen as the well-dressed African Queen, but becomes more human, her loyalties clearly torn, all well expressed despite the character not having many lines.
The idea of people being driven "mad" by grief or love isn't an easy one to present to a modern audience, but Mimi Ndiweni, who otherwise plays Ophelia as a believably modern young woman, somehow makes it seem plausible. Joseph Mydell as her father focuses much more on the bumbling, chattering side of Polonius than the wily politician in charge of surveillance, but does so very well. Buom Tihngang takes Laertes convincingly through a wide range of emotions, from the proud and loyal brother and son to the angry avenger of his family to the loyal subject of his prince whom he has wronged.
There are other notable performances in this large company, including James Cooney as Horatio and Ewart James Walters as both a sinister ghost of King Hamlet and a jolly, wisecracking Gravedigger.
Godwin finds an interesting way to end the first half on a cliffhanger by an unusual placement of the interval—assuming you don't know the story, of course. Even though swords are replaced by guns for most of the play, fight director Kev McCurdy still stages a spectacular end fight sequence with sticks.
This is a pretty full version of Shakespeare's longest play (with even the Fortinbras storyline left intact) running at 3¼ hours including a curtailed interval, but Godwin directs the changes of pace like a musical score, keeping the audience engaged throughout. Sola Akingbola's lively on-stage music injects some liveliness into some scenes, but there is also a very subtle underscoring to some scenes that gently nudges up the tension.
It might be long but it starts at 7 so isn't too late a finish and is well worth seeing.
Reviewer: David Chadderton