Hamlet
William Shakespeare
Young Vic
Young Vic Best Seat in Your House
–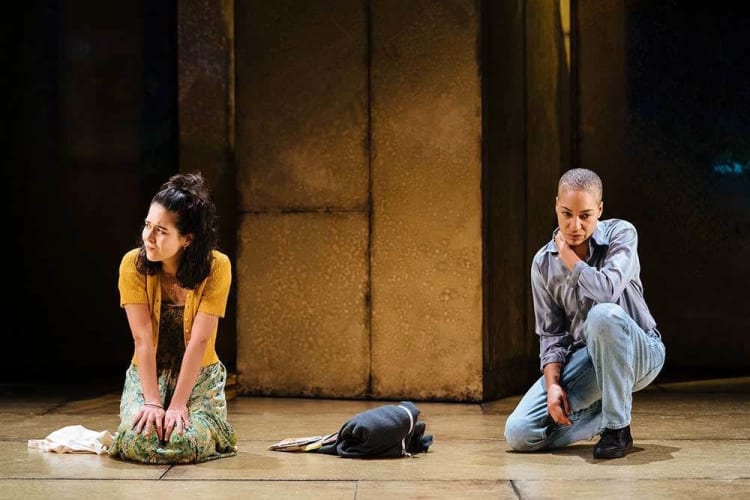 Everything about this project has been geared towards the kind of fresh, young audience that is very firmly the target of the Young Vic under the leadership of Kwame Kwei-Armah.
On the technical front, it benefits from developments branded as Best Seat in Your House, described by the company's Artistic Director as "a bold step into the streaming of live theatre". This means that from home, viewers are given unprecedented opportunities to design their own experience.
Viewers can choose which of the six cameras to watch at any point in time or rely on the director's cut, which benefits from the judgement of experts and saves purchasers a fiver. Enjoyment of the three-hour performance can then be enhanced by the use of captions, audio described commentary and British Sign Language.
The staging by Greg Hersov with designs from Anna Fleischle is ultra-modern and minimalist, sacrificing much of the poetry along the way. This approach leads to the presence of assorted electronic gadgetry and, rather incongruously in the fight scene, small knives rather than swords.
It has recently become fashionable for women (not to mention one octogenarian man) to play the leading role and Cush Jumbo effortlessly turns herself into a shaven-headed young prince and delivers an outstanding performance that is always emotional and heavily nuanced but interestingly never truly mad. She does so in a court ruled by Adrian Dunbar playing Claudius with Tara Fitzgerald, who has become a Judi Dench soundalike, taking the role of Gertrude.
However, the best of the acting alongside the lead is delivered by Joseph Marcell, who is close to the best Polonius that this critic can remember seeing, making even lines that are usually meaningless take on great import while never losing the humour, for example when offering his wayward son a gold AMEX card.
The other performer who stands out is Norah Lopez Holden portraying Ophelia and peaking as her character becomes truly, desperately insane in the face of tragedy.
The acting and speechifying can both be uneven when it comes to some other members of the cast, while the modernisation sometimes goes too far to make sense in context, for example when Rosencrantz and Guildenstern appear high, as if they had stepped on to the stage from a completely different play.
It is likely that those who are unfamiliar with Shakespeare will find this version highly accessible, possibly spotting familiar character types and even role models amongst those strutting around on stage, while appreciating the drama and the central performances, particularly that of Cush Jumbo.
Given the current uncomfortable position in which humanity finds itself, the Young Vic is also to be commended on its adventure in developing Best Seat in Your House and this venture will undoubtedly give pleasure to thousands around the world over coming months and years.
Reviewer: Philip Fisher