Hamlet
William Shakespeare
Schaubühne
The Barbican
(2011)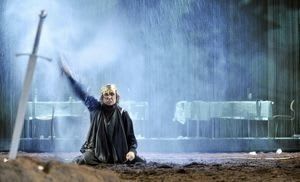 With this wild production by Berlin's Schaubühne, their iconoclastic Austrian Artistic Director Thomas Ostermeier seems intent on proving a thesis that others might have pondered but dared not posit.
This is that 400 years before Sarah Kane and Mark Ravenhill (both of whose work Ostermeier has championed including a memorable Blasted at the Barbican), William Shakespeare invented In-Yer-Face Theatre.
From the opening lines, aficionados will realise that this Hamlet is like nothing else that they have ever seen, even Calixto Bieito's brash modern version seen around the globe including an appearance in Edinburgh eight years ago.
Lars Eidinger in the title role utters those six immortal words "To be or not to be" into a camera before the action has even started, replacing the visitation of the Ghost to Elsinore's battlements. This soliloquy means so much to director and character that it recurs twice more during the evening.
That is only the start of the mutilation and excess. Ostermeier uses a cast of only six, tricky but five more than Robert Lepage in Elsinore. To fill all of the necessary roles, Eidinger's five colleagues all breathlessly double major parts during a 2¾ running time, which might enter the Guinness Book of Records as the longest ever without an interval.
The text is in German with surtitles that usually return us to the original but at times drift into an English version of Marius von Mayenburg's sometimes crude, German updating.
Though the opening wedding scene takes place at a banquet on decking, much of the action is played out on a large, square mud-filled pit, guaranteeing a messy evening, even before the sprinklers are turned on and the dirt ingested.
Nothing is quite as one has come to expect from this most familiar of plays. Certainly elements of the plotting follow the original. However, the detail rarely does, turning this into a very different experience.
There is laughter amid the tragedy, generally at excesses that lead actors to do the strangest and most unsettling things and even invade the audience.
The overall impression is of experiencing Ostermeier's take on the essence of Hamlet through distorting glasses. This will not be to everybody's taste but does present an engrossing, if occasionally silly evening.
The acting and commitment cannot be faulted with Eidinger the star, making the young Prince seem not so much mad or feigning as consistently stoned.
This Hamlet rants, raves and acrobatically dives around like some wounded, maddened beast attacking or escaping from an unseen rival.
However, he also manages quieter, more melancholic moments as the young man mourns his late father and contemplates his place in the world.
Eidinger gets great support, especially from Judith Rosmair who plays both Gertrude and Ophelia, the duality adding psychological depth that must be intended with its mother/lover connotations.
What those who do not know the play will learn of the original might be uncertain. What is sure is that those members of a primarily very young audience who stuck it out until the end of an opening night delayed 24 hours by a public strike cheered Ostermeier and his players to the rooftops.
Reviewer: Philip Fisher