Hamlet
William Shakespeare
Donmar West End season
Wyndham's Theatre
(2009)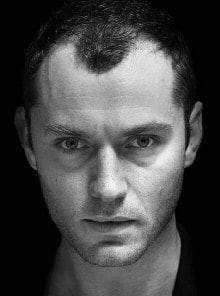 The final play in the Donmar West End Season is the much-heralded Hamlet starring Jude Law. For over a year since the casting was announced, youngsters (especially female) have been begging their parents to invest in their education with a bit of normally shunned culture.
Within what is almost a black box and has that traditional Donmar bare back wall, Michael Grandage really does turn this into Jude Law's Hamlet, from an agonisingly contemplative, silent solo opening, concentrating as much attention on his star as possible.
The pain of that first scene continues throughout, as this Hamlet is struggling to maintain sanity even before he utters a word and rarely keeps his passions from his face thereafter. It is certainly justified when, in a real highlight, he considers his existence asking "To be or not to be?" standing barefoot in a snow storm.
The film star acts well enough, though the style owes a lot to his screen persona, exemplified by an almost constant grimace. He will however undoubtedly entrance the many fans who have not previously seen him in the flesh.
That will be most, as his appearances at the Young Vic in 'Tis Pity She's a Whore and Doctor Faustus are now a long way back when many of them were probably still in nappies, and sold out as quickly as this production.
The dress is modern and almost exclusively dark, which fits in with the brooding menace generated by a barely-lit Elsinore, in which dark deeds abound and ghosts walk the ramparts.
All eyes are directed towards Law whenever he is on stage, which does not necessarily do the other actors any favours and none manage to dispel thoughts of great predecessors in their respective roles.
The most experienced tend to fare best. Ron Cook plays Polonius dead straight as a self-important man of limited brain and derives some good laughs that way. His demise, seen from the obverse side, also presents one of the evening's enduring images. Meanwhile, Peter Eyre gives the Ghost unexpected substance as he rumbles his desire for revenge.
Penelope Wilton as Gertrude is at her best bemoaning tragedies, while her husband, as portrayed by Kevin R. McNally, is evil personified.
The pick of the younger generation are both rather self-effacing, Gugu Mbatha-Raw as Ophelia and Alex Waldmann playing her vengeful brother.
Throughout, Grandage maintains a breakneck speed, sometimes jump-cutting more like a film than a stage production, which whizzes the play through in around 3¼ hours, helped by some cuts and the odd rearrangement.
Somehow, this Hamlet feels like a chamber production, without the majesty that is achieved by the greatest renditions of the play.
It will be remembered for the performance of a heartthrob taking time out from the movies, but not as one of the canon of dazzling productions in recent years of one of the most-performed and greatest plays that Shakespeare (or anyone else) has ever written.
Reviewer: Philip Fisher