Hamlet
William Shakespeare
Young Vic
(2011)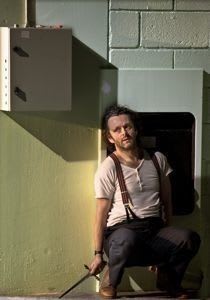 Ian Rickson's unorthodox, modern take on Hamlet will not be to everyone's taste but has much to commend it. The former artistic director of the Royal Court has constructed his version around Michael Sheen, who looks deranged before a word is uttered, his madness scarily peaking as he tries to send Ophelia to a nunnery.
It therefore comes as no surprise to learn that the drama is played out in a Jeremy Herbert designed secure psychiatric institution circa 1975 that looks perfect for a revival of One Flew Over the Cuckoo's Nest. This framing device is not used in a fully coherent way but at moments, seems inspired.
The first surprise is to discover that on top of manic depression, the young Prince is periodically schizophrenic, particularly when rather than a ghost, the dead King returns in his son's mind, giving the ethereal lines much greater substance and power than is common.
The older generation fits into the scheme is differing ways. James Clyde's Claudius is not so much a King as the secure hospital's louche, laid back director, while Sally Dexter plays Gertrude as his flighty wife, constantly concerned about her maddened and maddening son.
Her worries are mirrored in Polonius played by Michael Gould as a shuffling probable inmate with more introversion than one has come to expect but great concern for the prospects of his children.
Vinette Robinson just gets better and better as Ophelia loses all hold on reality, eventually gibbering out a series of short songs written specially for the occasion by pop diva PJ Harvey.
While several cast members have good evenings, Michael Sheen making a rare London stage performance will live in the memory as one of the maddest Hamlets since Mark Rylance at the Globe some decade or so ago. His performance is convincing even as Hamlet drifts in and out of reality, taking us with him all the way from initial manic desperation to final peaceful closure.
His soliloquies generally come over well and on opening night, To Be or Not To Be was heightened immensely by a perfectly timed mobile phone that Sheen had the good sense to wait for prior to launching into his deftly delivered highlight.
Oddly, two male parts are played as breeches roles. Hayley Carmichael is asked to turn Horatio into a golden-haired boy, while the Rosencrantz and Guildenstern relationship is quirkier than ever as Eileen Walsh joins Adeel Akhtar to exude neurosis (and humour).
In order to keep the evening flowing smoothly and restrict the playing time to around 3¼ hours, Rickson has taken some liberties with the text and ordering. The result is a breezy, insightful evening that does not always feel fully like a traditional production of Hamlet.
Theatre buffs with a interest in cricket will be also be delighted to note a credit for former England captain turned psychotherapist Mike Brearley.
Ian Rickson does a wonderful job of showcasing the excellent Michael Sheen, while challenging audiences to see the play afresh through the unusual but psychologically-illuminating framing device of the claustrophobic asylum.
The actors speak clearly in the large thrust to a receptive audience, although those that know every word of the original might be offended by the updating and textual decisions.
Ultimately, whether visitors will find the updating satisfying will be a matter of personal taste and temperament but the star casting and modernity should have strong appeal.
playing until 21 January 2012
Reviewer: Philip Fisher