Handbagged
Moira Buffini
Theatre by The Lake, Keswick
–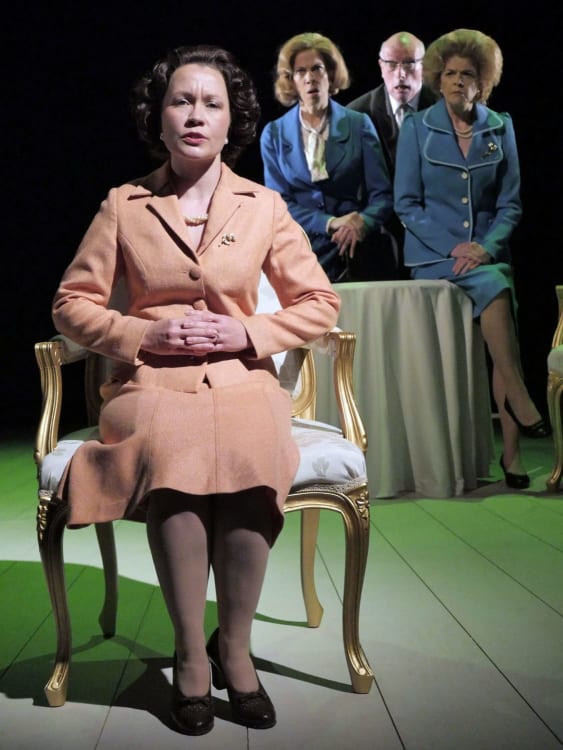 Even after success in London, and on a national tour, Moira Buffini's wildly comic imagining of the encounters between Margaret Thatcher and The Queen still has more than enough energy—and pulling power—to make it a worthy addition to the Lakeland venue's roster of 2017 productions.
And new associate director Liz Stevenson, happy to admit she's too young to actually remember the period, contrives a production that should appeal as much to her generation as those who count themselves contemporaries of 'Maggie and Liz'. Buffini provides not one but two versions of each character, which some might fear as a Horrible History too far, even for adults! But it is an instantly-engaging dramatic device which lends both women another absurd dimension.
To say it's all done without cruelty might depend on your political sensibility, but few will deny that it's all carried off with great humour. The Prime Minister is shown as a woman driven by her certainty, and initially her over-use of the first person singular. Gradually she appropriates the more royal 'we', even if the Monarch struggles to broaden Mrs Thatcher's world view.
Eliza Hunt, as the older Queen, pulls 'orf' her impersonation with unerring ability. No member of the front row appears to escape being asked whether they have come far, unless you count the apparent republican (third from the right) who chose not to shake her hand! Emma Carter as the younger Monarch, and Julia Watson and Alice Selwyn as the two ages of Maggie, are also mightily impressive in movement and voice.
Which leaves Matt Addis and Ian Barritt to add to the knockabout fun as a gang of supporting players ranging from Kenneth Kaunda to Enoch Powell, and Ronald Reagan to Rupert Murdoch.
Louie Whitemore's simple circle and colonnaded set design lends a slight tang of Greek tragedy, but this is a riotous contemporary history lesson, and as we are always reminded, those who cannot remember the past are condemned to repeat it...
Buffini's take on Brexit can't come soon enough?
Handbagged is one of several plays in the venue's extensive rep season running until early November.
Reviewer: David Upton