Handbagged
Moira Buffini
Tricycle Theatre
–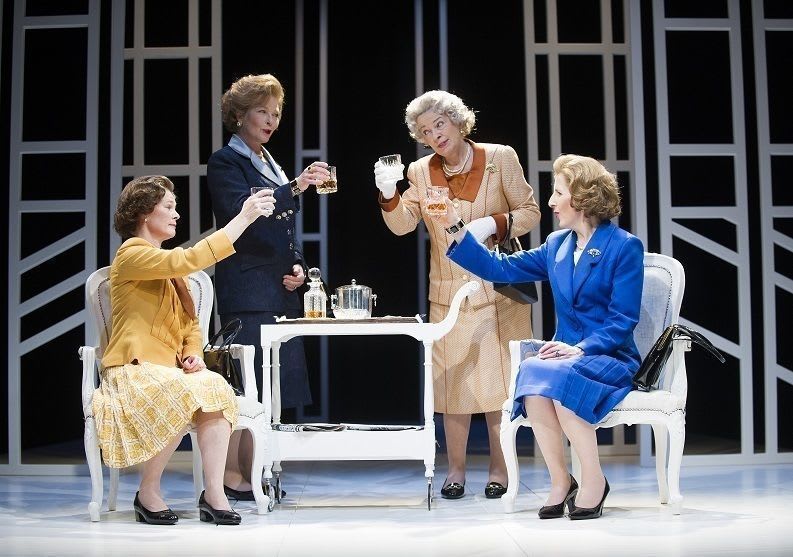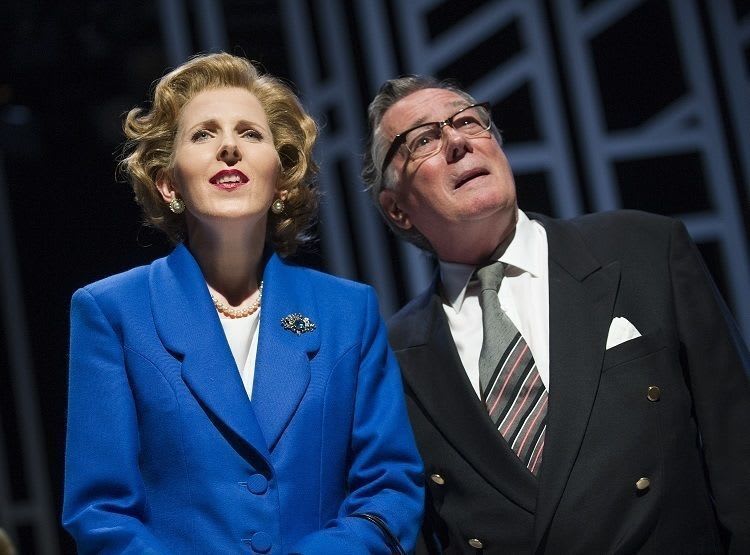 In 2010, Handbagged was one of the highlights of the Tricycle's Women Power and Politics cycle of nine plays.
At that point, it lasted no more than around half an hour and represented a delightful revue-style sketch gently satirising the Queen and the woman who, at times, seemed to be challenging her right to rule.
What made Moira Buffini's play particularly clever was the use of pairs of actors to play each of the leading roles. This is the kind of novelty that worked so well in Peter Nichols's recently revived Passion Play.
Such was the audience response that Indhu Rubasingham, now the Artistic Director, commissioned a full-length version that comes in at 2¼ hours including interval, all taking place on a patriotic stage featuring a Jasper Johns-influenced, colourless union flag, mirrored as a backdrop.
In principle, this should mean four times the fun but life isn't always quite like that. It appears that there are good reasons why comedy programmes on TV such as Spitting Image tend to last for no more than half an hour. It is hard to sustain the laughter and ingenuity without a tremendous amount of fresh material.
There is another issue that the creators of this new production have had to overcome. Peter Morgan got there first with The Audience, although admittedly that took on a series of pastiches representing meetings between the Queen and different Prime Ministers rather than concentrating on just one.
If nothing else, one imagines that Lady Thatcher is laughing in Heaven (surely nowhere else?) to see that she has beaten off all of her rivals by getting a solo (plus Queen) show.
As suggested earlier, in fact this is a dual solo show since Fenella Woolgar as Mags, the younger version who gets all of the best lines, while the more mature T is represented by Stella Gonet.
As the foils for their jokes, the more loquacious Liz (younger) is played by Clare Holman, while Marion Bailey gets Q, a strangely silent presence who does a good line in disapproving expressions.
The script seems to have been written with the intention of getting as many laughs as possible out of this situation and at the same time rendering rather partial versions of the life stories of these two female icons, embroidered with much that is admittedly invented.
This whole concept can wear thin pretty quickly and clearly, having realised this, Miss Buffini decided to inject two additional elements.
First, the quartet of ladies is supplemented by a pair of actors (Jeff Rawle and Neet Mohan) who between them play some minor roles plus about 15 grandees, everyone from Dennis Thatcher and Kenneth Kaunda to Gerry Adams, Rupert Murdoch and, most memorably, Ronald Reagan and a transvestite Nancy.
In addition, there are strands of metatheatre as the actors deconstruct the events going on around them in confidential asides to the audience.
While comedy is to the fore, there are more poignant moments, none better than those representing tragedies, almost all perpetrated by the IRA and the fear that the two women share as a result.
The six actors have been chosen specifically for their ability as vocal mimics, Fenella Woolgar and Clare Holman getting the best lines, though Jeff Rawle shows the kind of versatility as an impressionist that has made Mike Yarwood and Rory Bremner so popular.
Depending on taste, Handbagged will either appear as one of the funniest shows this side of the Tory Party Conference or alternatively, an overly-extended joke that loses its appeal long before the interval.
Reviewer: Philip Fisher