hang
debbie tucker green
Run Amok
The Other Room, Porters, Cardiff
–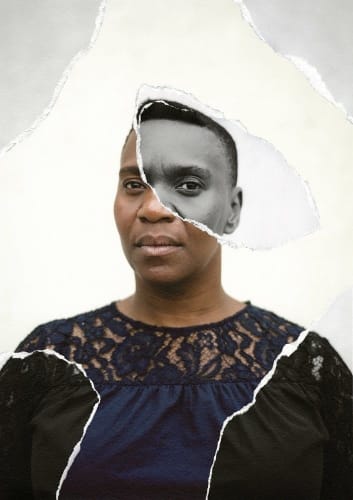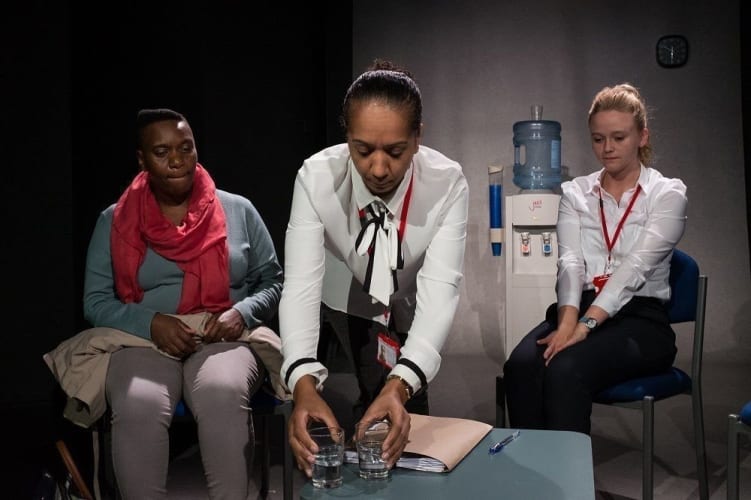 For their curated autumn season, The Other Room—under new Artistic Director Dan Jones—has chosen to showcase ambitious work by young Welsh theatre companies. First up is Run Amok, with the provincial première of a play by debbie tucker green, one of Britain's cleverest and most humane writers, which was first seen at London's Royal Court in 2015.
hang is a chamber piece, set in an alternative, contemporary Britain. Its authorship may well have been inspired by the concept, in Sharia law, of qisas, in which the family of the victim of a violent crime is given the option to commute the death sentence handed down to the perpetrator.
Thus, we see a black woman, Anita Reynolds's Three—the only character whose gender and ethnicity are specified in the original script—welcomed into an office by civil servants One and Two. Amy Cook's smoothly, bureaucratically grey set is sparsely furnished—a water-cooler, chairs, a clock (since time is running out), a table on wheels.
We are unsettled from the start thanks to a low hum, courtesy of sound designer Jonny Patton. There is some humour, derived from the functionaries' attempts to make Three feel at her ease, to which she responds with sarcastic disdain.
It quickly become clear that a close relative of Three's—possibly a child—was killed by an individual whose guilt is unquestioned. Now, some time after the tragedy, she has taken on the responsibility of deciding the murderer's fate.
The role of the officials is to ensure that the process remains as cold-blooded and legally watertight as possible, while Three's anger and grief continue to burn within. One, played by Alexandria Riley, is the more overtly sympathetic, but this is spitefully batted back at her. Seren Vickers's Two, the junior partner, provides the play's lighter moments, combining jobsworth efficiency with schoolgirl naïvety.
green leaves any debate about the rights and wrongs of the death penalty in the hands of the audience. Her description of the devastation wrought on Three and her remaining family members is heart-breaking, and Reynolds gives us a powerful portrait of a woman transformed by righteous fury into something almost monstrous. The civil servants' matter-of-fact descriptions of the options on offer to her—obviously well researched by the author—are chilling.
A complicating element is thrown in—a letter, written by the culprit (or "client", according to the paperwork), which might have an impact on Three's decision. Although the play's title may or may not be said to constitute a spoiler.
Under Izzy Rabey's sensitive direction, the atmosphere remains palpably tense throughout, the few moments of silence allowing us space to ponder the gravity of the decisions being made.
A highly talented cast, a "what would I do?" theme and some trenchant writing combine to provide seventy minutes of gripping (if traumatic) drama.
Reviewer: Othniel Smith