Hangmen
Martin McDonagh
Royal Court Theatre
–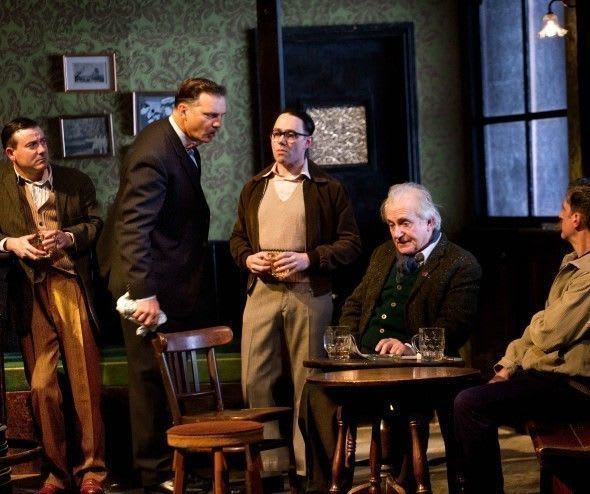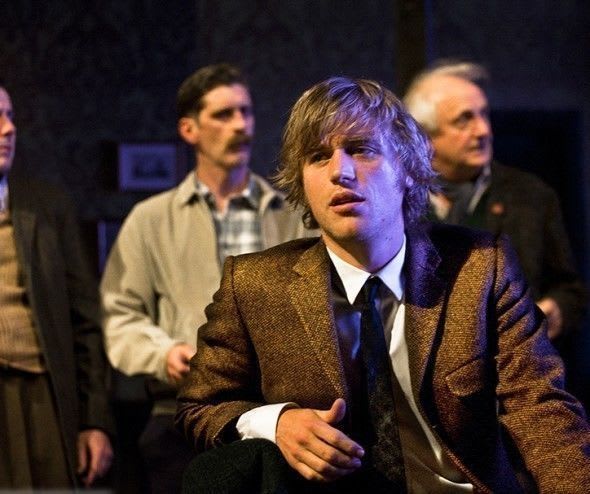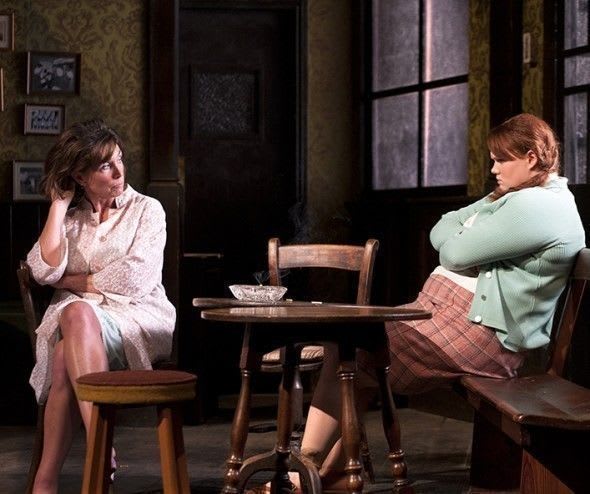 Martin McDonagh has always specialised in jet black comedies for those with strong stomachs, both on stage and more recently film.
When it comes to the theatre work, the main difference in his recent projects has been the relocation of the action from rural Ireland to England, on this occasion Oldham.
The 2½-hour drama opens in 1963 with an ending rather than a beginning, as David Morrissey playing Harry Wade, one of the Hangmen of the title, efficiently dispatches a man to his maker, the squirming victim protesting innocence to the last.
After the prison cell in which the execution takes place has disappeared into the Royal Court rafters, the plot moves on a couple of years to remind us that 2015 is the 50th anniversary of the abolition of the death penalty.
Harry is now seen in his day job as a publican, humouring an eccentric group of customers with great comic potential.
In doing so, the landlord is assisted by Sally Rogers as long-suffering wife Alice and Bronwyn James portraying their glum, overweight 15-year-old, Shirley.
The tedium of normality is interrupted by three visitors: Harry's former sidekick, a pushy young journalist and a loquacious Londoner with low opinions of his northern hosts.
Reece Shearsmith's Syd is a pathetic shadow of a man who only subsequently reveals a conspiracy perpetrated to get his own back on old pal Harry.
Clegg, the youthful newshound, is initially given short shrift in his attempts to find out a hangman's thoughts on the end of capital punishment. However, he knows how to loosen Harry's tongue by evoking the name of his great rival, Albert Pierrepoint, the most famous and prolific executioner of his day.
The Londoner is Johnny Flynn's shadowy Mooney, a handsome visitor who liking a pint and needing lodgings returns with references. He also makes a series of unwise decisions that eventually have far-reaching consequences.
Up to the interval, this is a likeable but not wildly exciting trip down memory lane to the days when pubs were smoky and quiet, filled with drunken bores. Admittedly, by this stage, deaf Arthur played by Simon Rouse has established himself as the driest of wits, while some trenchant views on capital punishment have been aired.
The second half was always likely to send up some fireworks and they duly exploded under Matthew Dunster's direction, the quality of the evening aided by his ability to wring maximum humour out of every joke, not to mention some devilish plotting as it reached the final stretch.
Inter alia, Shirley disappears, a murder is suspected, while John Hodgkinson's lugubrious, oversized Pierrepoint makes a gratuitous appearance, which brings the topic of the death penalty into starker focus.
Even the presence of the local police inspector is no guarantee of good behaviour in a pivotal scene that is blackly comic and has an unpredictable ending.
With its slowly-building first half, this rare foray back to the stage may not show Martin McDonagh at his very best but Hangmen contains much biting humour, some characteristically offbeat dialogue and a lack of morality that few playwrights would even dare attempt.
As such, as old fans were unlikely to be disappointed, while those that do not know his writing might just get hooked.
Reviewer: Philip Fisher