Hangmen
Martin McDonagh
Royal Court Theatre
Wyndham's Theatre
–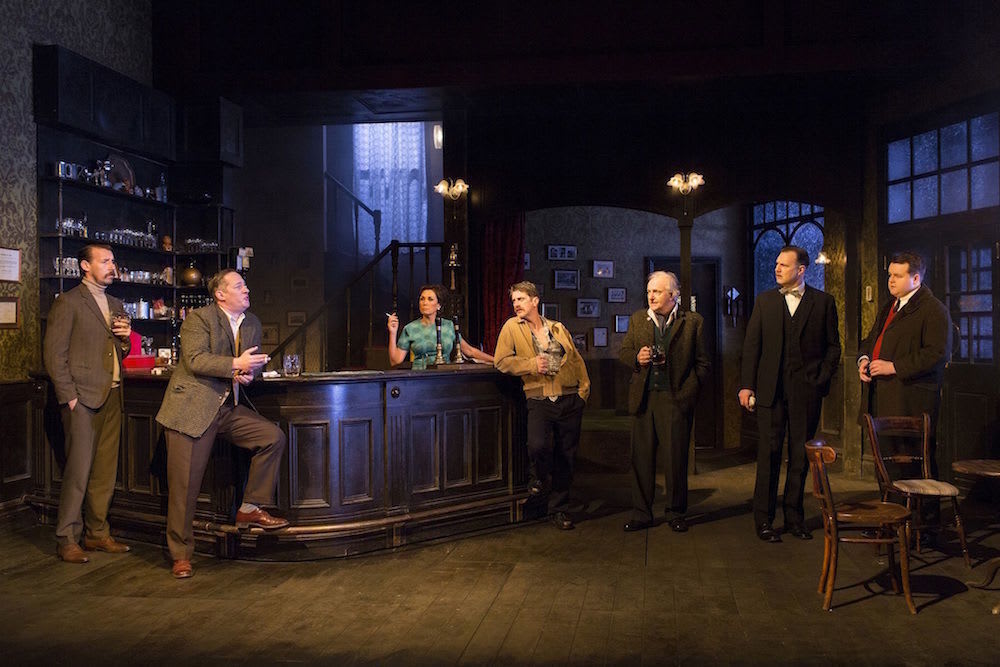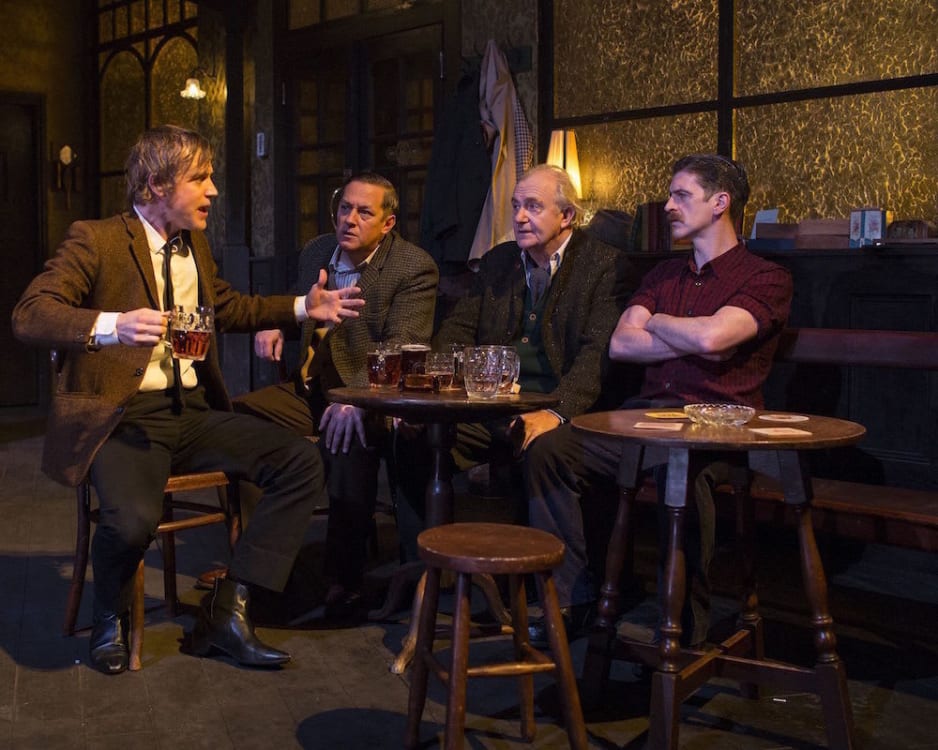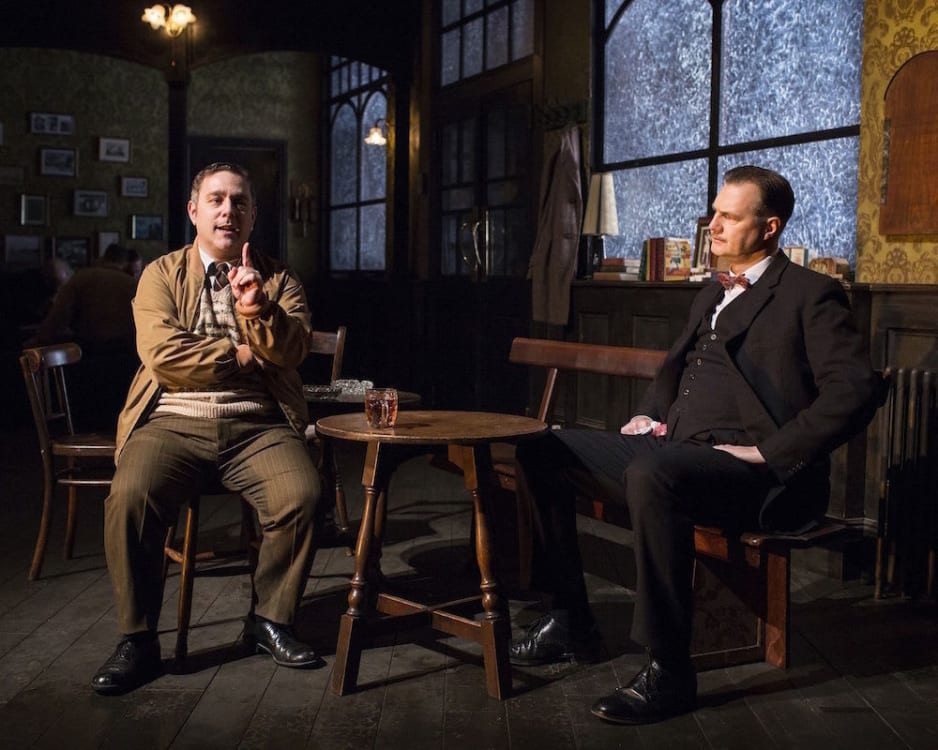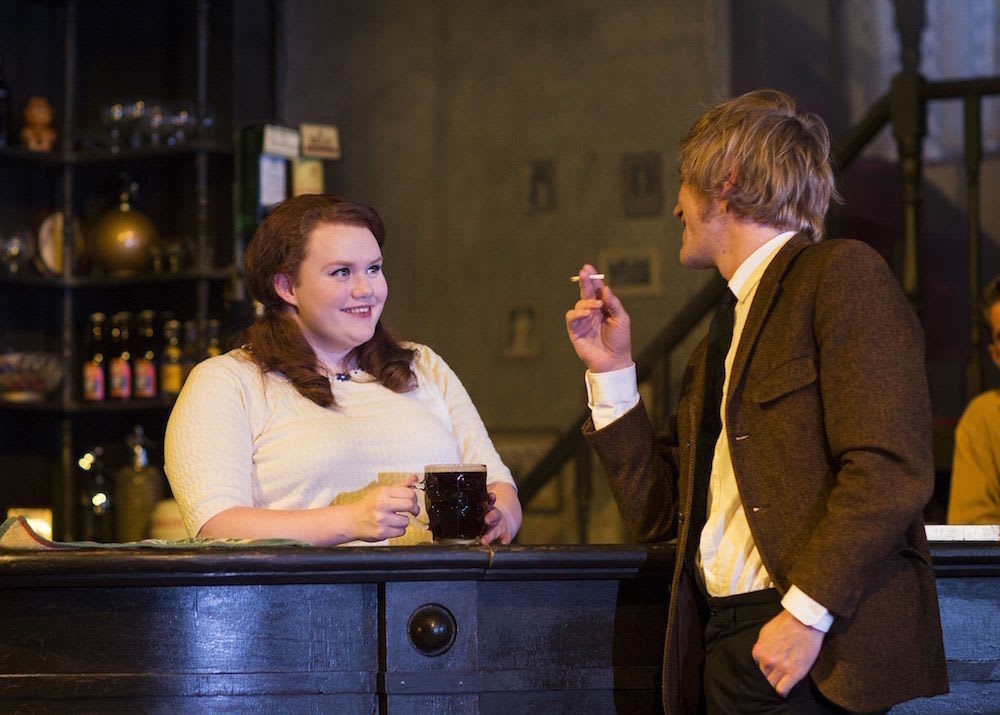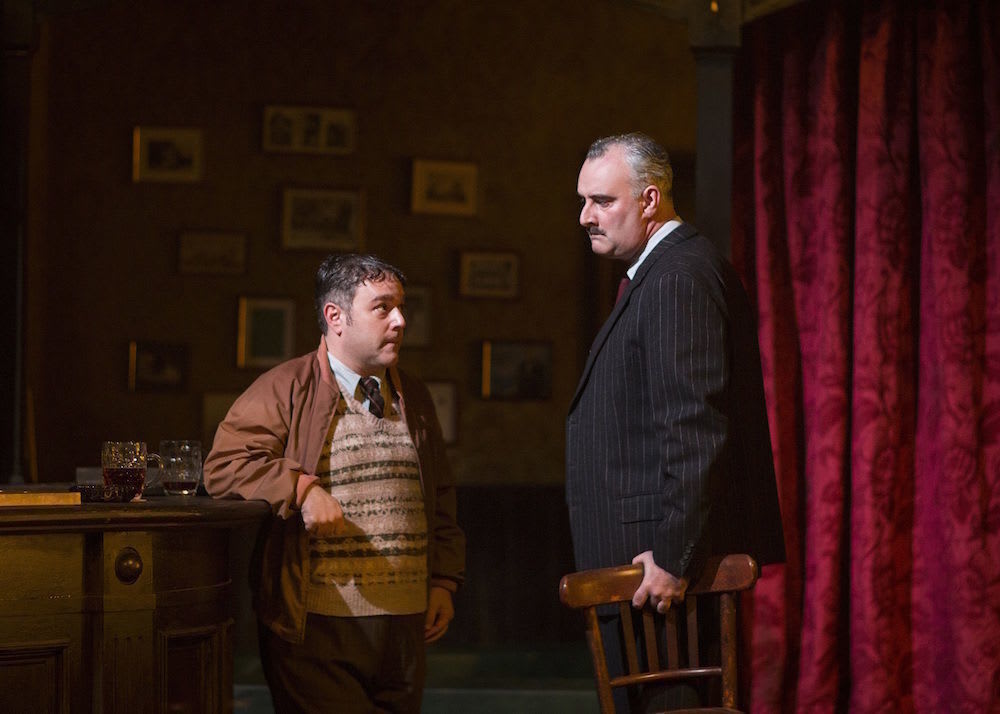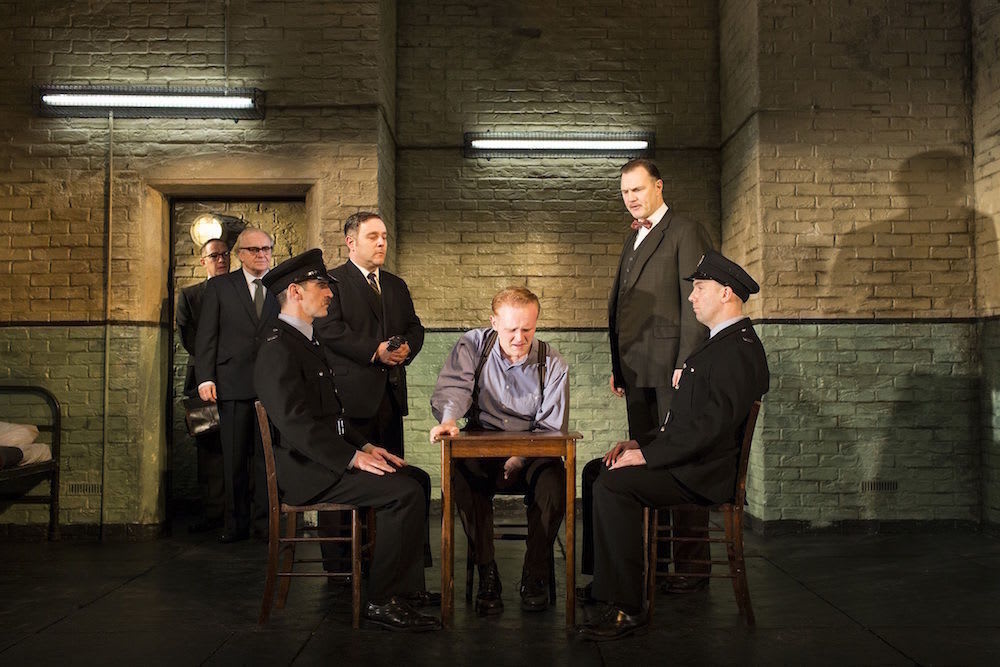 One day—on the day that hanging has been declared defunct in the land—a young man from London walks into a pub up north for a little set-up score-settling prank but the last laugh turns out to be on him. Or is it? What happens in-between is as unsettling as it is darkly hilarious.
You don't tangle with the former second best hangman in England, who just happens to be the 'celebrity' publican of this nicotine-stained (and did they smoke in the sixties) Oldham pub with his own loyal circle of bigoted regular drinkers—'riff-raff' stooges, of the 'hanging's too good for them' variety, to his nightly performance, a convenient supporting band, a police inspector amongst them.
Oh the stories he could tell, but he won't till a young reporter gets it all out of him and publishes his statistics—not as many as Albert Pierrepoint but he dispatched a fair number in his time. Standing head and shoulders over everyone else, the imposing Pierrepoint (John Hodgkinson) makes a late timely unexpected cameo appearance, rather reminding me of J B Priestley's An Inspector Calls, the cat amongst the pigeons. But I'm getting ahead of myself.
Miscarriages of justice don't trouble this loudmouth chauvinist at all, he's proud of his record and method, which we are privy to in the opening bleak prison cell scene when a young man, Hennessy (Josef Davies in the disturbing Hanratty role), protesting his innocence, is dragged violently to his end. Oh yes, our anti-hero Harry Wade (based on the real Harry Allen) brooks no dissension.
In this male culture setting, the two women, Harry's tarty wife Alice (Sally Rogers) and daughter Shirley (Bronwyn James), are sidelined if useful plot devices and the butt of his tongue, though Shirley does have a brief rebellious moment, which gets a supportive clap from the audience.
Harry (David Morrissey) in three-piece suit, bow tie, polished shoes and slicked-down hair holds court like a music hall star, his words echoed and repeated in almost musical refrain—clever and funny to have a hard-of-hearing character.
Clever and macabre funny Martin McDonagh is welcome back after ten years away from the stage and his tongue is as razor sharp and non-PC, as shibboleth-demolishing as ever, his scenario Ortonesque absurd, and his agile dialogue music to the ears. "If you relaxed you could be dead by now" says the hangman to his victim.
Toying with our sensibilities, Hangmen—notice the plural, many still today support the death penalty—detonates antiquated values, our concepts of evidence, truth and justice, and gleefully entertains as it holds up man's venality to the light in a 'taking the piss' black comedy that wrong-foots us at every turn. "A bloody circus" is what it is. "One for the courts to discuss."
What won't Harry do when he thinks his shy fifteen-year-old daughter, his only child, has been abducted, but all is not as it seems. Teasing playfulness can be mistaken for sinister, and the best haunting taunting plans can go awry. But then upstanding prudish 'servant of the crown' Harry can't take a joke. Nor does he like his former assistant Syd's (Andy Nyman) 'cock' obsession—a running gag based on fact.
Hitchcock and Nicolas Roeg, Groucho Marx, Orton and Pinter, a supremely confident McDonagh draws from the best and references his own best work—Pillowman on the stage and In Bruges on screen—and makes it all look effortless, as the snake circles round to swallow its own tail.
Director Matthew Dunster conducts his fine troupe of performers with pace and great comic timing, but it is Anna Fleischle's realistic set and costume design that astonishes with its visual exactitude and flair: a set that vanishes into the flies, another that appears in double tier, period captured in amber. And the northern accents, though wandering all over the place, are a joy to hear on a West End stage.
David Morrissey is made for the role of Harry—a flawlessly inflected performance. Johnny Flynn as his foil Mooney in his Chelsea boots, thin tie, tight trousers and blond hair has stepped in from another planet—or play. Colliding on the cusp of change, the effete southerner doesn't stand a chance against the hard man of the north, even if his Beckettian monologue wins spontaneous applause.
Pitch perfect in depiction of period and time, of speech patterns and vernacular idiom, Hangmen is a player and a stayer. It will have you on the edge of your seat (that's a clue).
And McDonagh's running joke of the hung / hanged rule pleases this pedant—he certainly has an insinuating way with, and a love of, words, coshing us with chilling humour and quick repartee.
Reviewer: Vera Liber