Hangover Square
Patrick Hamilton, adapted by Fidelis Morgan
Finborough Theatre
(2008)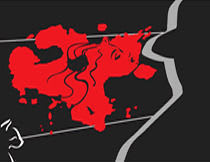 Yet again, this tiny pub theatre in Earl's Court has come up with a production that does not seem possible given budgetary constraints today.
Fidelis Morgan has adapted Patrick Hamilton's novel set immediately before World War II for an intriguing staging by Gemma Fairlie.
As so often here, the evening is almost made before an actor appears, thanks to the wonderful Alex Marker. He perfectly takes us back to the shabby grandeur of the period with an all-encompassing design featuring antique streetlamp, pub and street signs, architectural leftovers and some Man Ray-style photos.
The close-up images of body parts make sense in the context of the disjointed life of Matthew Flynn's George Harvey Bone. He is a hollow-eyed protagonist sinking further and further into a gin bottle as the evening plays out, suffering blackouts and humiliations in equal measure.
Arguably, Bone has good reason for his decline in the voluptuous shapes of "the girl in Earl's Court I'm crazy about". She is failed actress and prize "bitch" Netta Longden, played both as huskily mean by Caroline Faber and flirtily cruel by Claire Calbraith.
The ladies take longish turns in the leading role, flaunting Netta's long line of paramours before their hopelessly smitten admirer. When off-duty as Netta, the spare actress becomes George's inner demon-cum-narrator, egging him on to a bravery that he does not possess and ultimately, an assignation with murder in Maidenhead.
For almost two hours and a half, though, the action primarily takes place in Earl's Court, finally revealed in all of its modern glory through a theatre window as the play ends. That clever idea certainly brings the slowly unravelling mystery of unfaithful bohemians uncomfortably close to home.
Thanks to the efforts of the director and the three leading actors, the attention rarely wavered on opening night even in temperatures more reminiscent of the West Indies than West London.
Patrick Hamilton, best known as an inspiration for Alfred Hitchcock, is enjoying something of a revival as this play follows hard on the heels of Gaslight at the Old Vic. His portrayal of a man falling prey to drink when love fails still feels relevant today, while simultaneously taking us back to an era where George's hope swiftly followed by decline symbolises a country given optimism but then war by Neville Chamberlain.
Hangover Square is well worth a revival and this team have done it justice. Try it out but take some swimwear along to survive the free sauna.
Reviewer: Philip Fisher