Hansel and Gretel
The Brothers Grimm, adapted by Mike Kenny
Derby Theatre
Derby Theatre
–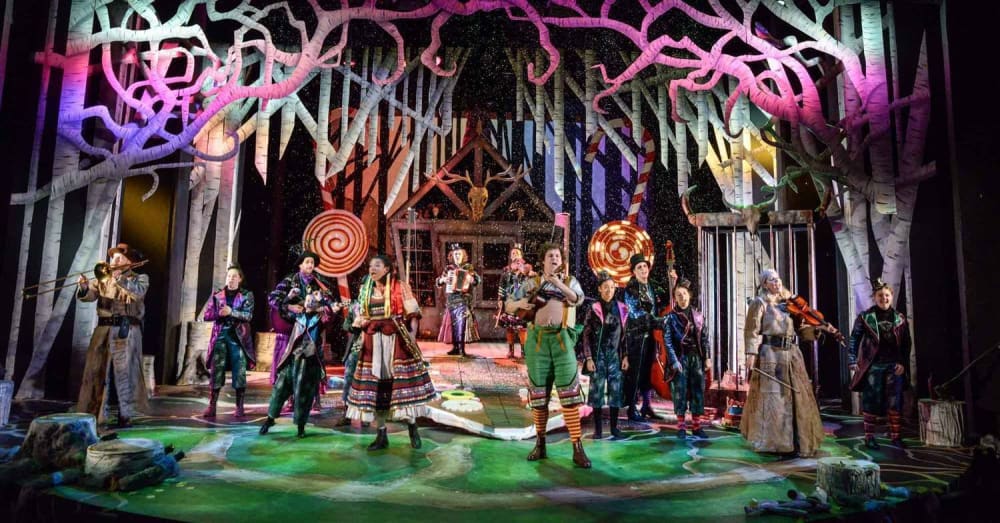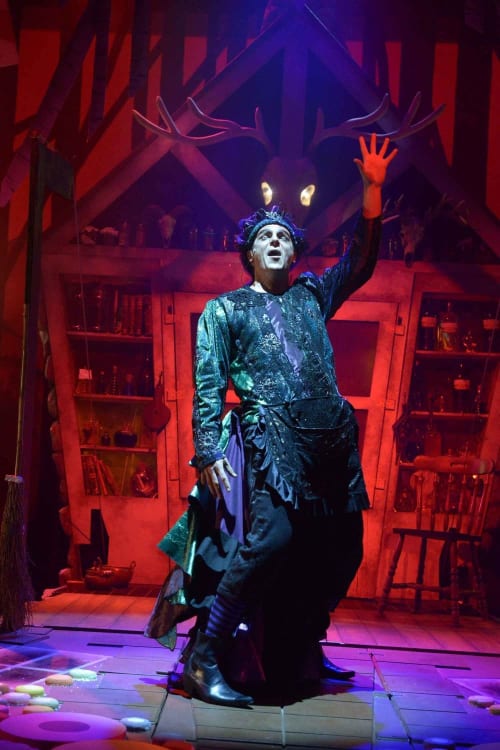 There can't be many venues this Christmas that are presenting the Brothers Grimm fairy tale Hansel and Gretel. But although it's not performed as regularly as some of the more traditional offerings, it still has a place as an uplifting, moral tale in which good triumphs over evil.
For the fourth year in a row, Derby Theatre artistic director Sarah Brigham has turned to playwright Mike Kenny for his take on a Christmas classic. As with Kenny's previous adaptations, Hansel and Gretel is full of energy, passion and colour. It's performed by an ensemble of eight who act, sing and play a range of instruments ranging from trumpet to mandolin.
Hansel and Gretel begins with a famine. A woodcutter and his family are starving because no-one will buy his wood. The original has the woodcutter's wife suggesting they take their two children into the woods so they would have two fewer mouths to feed. Kenny's version has Hansel and Gretel as petulant children who accuse their parents of not being very nice, so they leave the children in the woods to teach them a lesson.
Brigham's production really comes to life when the children, distraught at not being able to find their way back home, come across a house made of gingerbread and other sweets. It's every child's dream; but the cannibalistic witch who owns the house is determined to fatten up Hansel and eat him.
Obviously a production bearing the names of two youngsters in its title needs strong personalities in the title roles. Here Craig Anderson is perfectly cast as Hansel, earning compassion as he grows bigger because he can't resist the goodies around him. Yana Penrose is similarly affecting as Gretel who comes up with a plan to defeat the wicked witch. The audience are rooting for them throughout.
There's a striking performance from Christopher Price—becoming a regular in the theatre's festive productions—as Ginger the Witch. More than a few of the younger members of the audience must have believed the short-sighted witch was evil enough actually to eat Hansel.
The main difference between the Brothers Grimm tale and the Derby Theatre adaptation is the use of a parliament of rooks to tell the story. Brigham used a similar ploy when using rats to drive the narrative in Kenny's adaptation of Cinderella in 2015. The rooks strut around the stage as they scavenge for food just as Hansel and Gretel's family does.
Price, Jack Alexander, Elizabeth Eves, Tilly-Mae Millbrook, Jack Quarton and Esme Sears don't look out of place as birds while Alexander is adept at walking on stilts as Ronald Rook, used as a guinea pig by the witch who casts a spell on him.
Occasionally, the production is a bit contrived, in particular when the cast breaks into a Zumba dance as they persuade the ever-fattening Hansel to take exercise.
On press night, though, the audience loved the show, especially Ivan Stott's music. It might sound sophisticated to adults but the children lapped it up. "We're Doomed!" is probably the cleverest song, with Hansel and Gretel chiming up "there's only one winner and she's having us for dinner."
Some people might not think Hansel and Gretel is a feast of a Christmas show. But judging by the reaction of those who were present on the night I attended, it's a genuine treat that goes down really well.
Reviewer: Steve Orme