The Harder They Come
Perry Henzell
Barbican Theatre
(2008)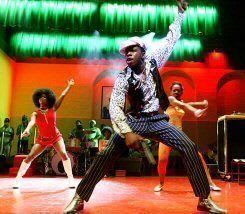 The Harder They Come was perhaps the seminal reggae film when it came out in 1972 with a legendary soundtrack. It starred pop star Jimmy Cliff as a folk hero outlaw but its success will have been far more down to that soundtrack which features many hits that are still loved today.
The late Perry Henzell co-wrote and directed the 1972 movie and then transferred it to the stage at Stratford East. Following two sell-out runs there, it has moved up the road to The Barbican where it enjoys a one month residency. This is a sensational result for a Black musical, a breed that even today is relatively rare in London.
The Barbican proves a good home, with its massive stage decked out by Ultz with green curtains, yellow walls and a red floor to become a true Rastafarian home for the musical. This proves useful for directors Kerry Michael and Dawn Reid but particularly choreographer Jackie Guy who uses great imagination throughout, creating many exciting routines to enhance the music.
The design and costumes, typified by Susan-Lawson-Reynolds' Pinky, whose Afro is almost as big as her micro-dress, take us back to the period perfectly.
When they combine with the music and patois, not to mention plentiful Jamaican teeth-sucking, the whole creates a real Jamaican atmosphere to complement a universal story.
This centres on Ivanhoe Martin, a country bwoy who comes to Kingston seeking fame as a singer-songwriter. Rolan Bell, who created the part, has charm and a great singing voice, which wins over an already enthusiastic audience.
The plot is predictable and pedestrian. Ivan, as he is known, gets a girl, Elsa, despite the opposition of her fire and brimstone loving, preacher guardian. Elsa is played by Joanna Francis, a lady who should have a great future as a soul singer, so beautiful is her voice.
The couple struggle for pennies until Ivan meets Pedro (Victor Romero Evans in garish tall hat). The pair start selling ganja and soon our hero has graduated from a threatening knife to a pair of guns as the police put on a squeeze.
While Ivan is a talented musician, this counts for nothing in a town where one man, Hilton played by Marcus Powell, has a monopoly on music outlets, as well as the support of a corrupt police force. The ending is tragic but inevitable, with two cops and then the renegade songster dead.
The plot though is really an excuse to hang together a load of great music, played live onstage by a talented band and sung with energy and verve through an evening that stretched to three hours on opening night, including a rapturously-received ten minute encore.
Starting with what might have been Ivan's theme tune, You Can Get It If You Really Want, the hits just keep coming, allowing a stream of talented singers to show off. Everyone will have their favourites but the title song, Many Rivers to Cross, Day-O - Banana Boat Song and especially Pressure Drop were all great.
This unpretentious show deserves to do well yet again, having broken box office records in Stratford, and is bound to prove popular in its new home.
After leaving the Barbican on April 5, the show travels to play the Hippodrome in Birmingham but only for three days from the 11th. It will surely enjoy a life beyond that as well.
Reviewer: Philip Fisher