Harry Townsend's Last Stand
George Eastman
New York City Centre Stage II
–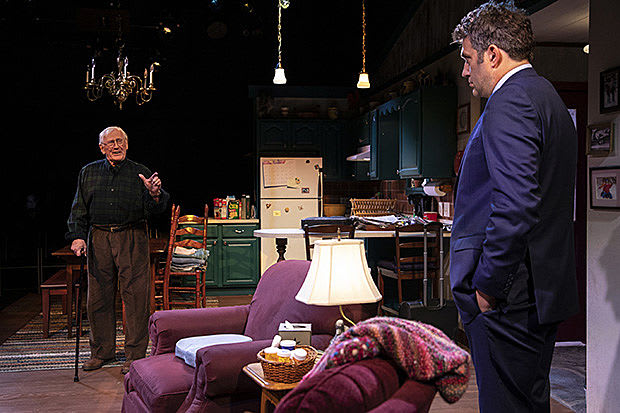 It may not be something that any of us likes to admit but getting old is a fact of life. Indeed, the entertainment industry spends much of its time trying to pretend otherwise, which makes this humorous but touching meditation on ageing a valuable rarity.
Scenic designer Lauren Helpern has lovingly recreated the Vermont cottage where Len Cariou's titular Harry Townsend has lived for the last 35 years. Now an 84-year-old widower, he totters around happily enough, remembering the good times and making life difficult for his caring carer-daughter. Instead of Sarah, her twin brother Alan played by Craig Bierko comes over from San Diego to provide relief and also address some hard but inevitable issues.
Harry may be elderly but he is very proud, albeit rather lonely. However, he is now prone to falls, forgetful and needs daily care visits from weary Sarah, recently married for the fourth time. Readers are unlikely to be surprised that the main topic for conversation is the prospect of persuading Harry to leave his home and move into sheltered accommodation.
While this might seem an eminently sensible idea to his children and also anyone looking at matters rationally, the elderly are rarely enthusiastic about such propositions. Harry's spirited defence is amusing but also moving, while the trouble taken by Alan to help the old man rather than humiliate him is a demonstration of real filial love.
The first half of the play can seem like an extended argument between men too close to remain calm, but it is often executed with great wit, especially by Townsend senior. After the interval, the evening really moves into top gear as the old man is forced to face reality, which surprisingly frees Harry to reminisce about happier days.
Under the direction of Karen Carpenter, Len Cariou belies his own years in delivering a nuanced performance that feels entirely credible, while Craig Bierko gives good support, most particularly when Alan is reaching the end of his tether in situations that may feel uncomfortably too close to personal experience for many members of the audience.
Nobody could claim that Harry Townsend's Last Stand contains any earthshattering revelations. Instead, it is a quietly accurate depiction of real life as experienced by so many in the 21st-century.
It doesn't try to be overly clever, using no stylistic or structural tricks, but merely shines a light on a tricky subject, looking at the problems that medical science is turning up by keeping all of us alive but not necessarily kicking for decades longer than in the past.
Reviewer: Philip Fisher