Harvest
Richard Bean
Royal Court Theatre Downstairs
(2005)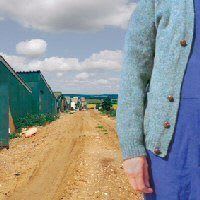 Richard Bean is fast becoming one of this country's best playwrights. His ability to write epic dramas that contain memorable characters and encompass multiple time frames is almost unique. He also has the gift of writing very funny lines.
Harvest must be his most ambitious work to date and may also be his best. In seven scenes, it covers almost a century in the lives of Yorkshire farmers and the country that they occupy.
Holding the play together is a remarkable creation, William Harrison, who is played by a Bean regular, Matthew Dunster. We first see him in 1914 verbally jousting with his brother to decide which of them will go to France and the glamour of war and which stay behind to mind the family farm near Driffield and wholesome Maudie (Jane Hazlegrove).
Twenty years on, William is legless but brother Albert struggles to have the son who will keep up the farm that grandfather won in a bet from the local squire. Albert may not realise it but he is sharing not only his farmhouse but Maudie with his brother.
And so we progress through the Second World Wa, by which point the family representative is niece (Siân Brooke's Laura) and Albert becomes a martyr to the pigs and the family farm, and into the late fifties. This is the zenith of Harrison Farm, as the family, augmented by Laura's ex POW husband Stefan (Jochum Ten Haaf) begins to mint cash from pigs. All the while, Dickon Tyrrell as the decidedly odd local squire (with a name like Primrose Agar how could he fail to be?) falls for the womenfolk and tries to buy the farm.
The pattern has by now established itself and is repeated with the variations that political and cultural developments enforce. The family continues to work their pig farm and, in every generation, needs to adopt a willing and able pig man to secure the future. The finest of these theatrically is hilarious man mountain Titch Bolsover, played by Adrian Hood.
This man arrives in the age of punk - 1979- but his blunt manner and commonsense are timeless and both family and audience are delighted when he takes the job. Fifteen years later, the boss may have died of asbestosis but he is still there. However, as William celebrates his 100th birthday, a young, female Kiwi inspector will no longer licence the farm. Regulations are seemingly to kill off practices that have worked well for generations and with them the Harrison Farm.
It is only when we reach the current year that Bean appears to tack on a scene which, while amusing and scathing about values today, does not gel with his wonderful history of rural England viewed from a variety of oblique angles.
Harvest is a marvellous play that, in three hours, achieves what the finest of novels can. It offers great characters and uses them to comment on political and social history as it affects them, but does so with an abiding sense of humour.
The play creates a family who become everymen and represent the trials and tribulations of their countrymen in an allegory about 100 years that ultimately show incredible development but also contain a degree of regression.
In Dick Bird's simply-designed farmhouse kitchen, director Wilson Milam keeps up the pace and humour, aided by a great team of actors. Matthew Dunster, in particular, legs stuffed under him in a wheelchair for two-and-a-half hours, is amazing as he ages from 19 to 110 but Siân Brooke does nearly as well, progressing from young woman to 85 year old.
In support, Jochum Ten Haaf ,best remembered for his title role in the award-winning Vincent in Brixton, and Jane Hazlegrove are nearly as good. For many though, pride of place will be given to Adrian Hood who takes over the stage every time that he appears as Titch.
After the foregoing paragraphs, it almost goes without saying but Harvest should be right up there in anyone's list of must see plays this autumn.
Reviewer: Philip Fisher