Haunted Child
Joe Penhall
Royal Court Theatre Downstairs
(2011)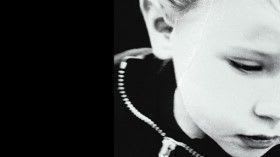 Joe Penhall writes characteristic psychological dramas that are unlike anything else around. Haunted Child once again occupies the hinterland between normality and madness.
This is the place where Ben Daniels's Douglas has ended up after literally disappearing from his ordinary suburban home and devoted family.
His absence has a devastating effect on young Thomas, confidently played by Jack Boulter, but his return is incomparably more damaging for the lad, who can be no more than about 10.
Sophie Okonedo as wife Julie has an equally tough time, summed up by her plaintive question "How can you replace me with a doctrine".
She is the kind of mum who treats her son like a little adult, talking sensibly but caring deeply. However, adding duality to the title, she then finds herself treating the wilful Douglas much more like a child.
What happened during her husband's disappearance is only very gradually revealed. Douglas has lost his front teeth and his old mind-set as a father working on a responsible job for a engineering company and been indoctrinated (or brainwashed in more common language) by a quasi-religious, sub-Buddhist sect.
He believes in asceticism to a remarkable degree, forsaking not only sex and drugs and rock'n'roll (well Bob Marley) but also food and drink.
In return, he has impressive faith in his new gurus and the joy of giving up all responsibility along with his job and family. This is hard enough for Julie to take but she has even greater difficulty with the need to sell off the family home in order to donate the proceeds to Douglas' new friends as a kind of entry fee to their exclusive club.
Haunted Child is never predictable, which is a welcome change from so much on the London stage at the moment, and sets some interesting moral and ethical questions, like Penhall's best play, Blue/Orange.
Somehow, though, after the interval it doesn't quite fulfil its early promise, taking some easy dramatic options before arriving at a moving and intriguing denouement. This is a pity, since Penhall had set up such an interesting series of conflicts and built up considerable tension.
Though it doesn't explore certain of its themes quite as deeply as some might wish, Jeremy Herrin's production is worth a visit for its unusual vision of contemporary life and great performances as individuals collapsing under terrible stress from both Ben Daniels and Sophie Okonedo.
playing until 14 January
Reviewer: Philip Fisher