Hayani
Nat Ramabulana and Atandwa Kani
Drama for Life
Assembly George Square Studios
–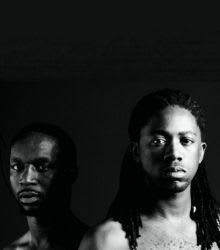 As part of the Assembly's South African Season, Nat Ramabulana and Atandwa Kani, who also perform, have created a lively view of South Africa built upon a series of short sketches.
These show off the acting skills of the talented pair under the direction of Warren Nebe, University of the Witwatersrand's Drama for Life director. Their talent is impressive, the lack of props or any kind of setting proving no impediment to their desire to paint pictures for visitors.
They do have the support of a guitarist, who certainly helps when the guys decide that some lively dancing is in order.
The stories are almost all highly entertaining and apparently have an autobiographical dimension.
They catch the pains and pleasures of life in Johannesburg, Port Elizabeth and Venda across forty years, encompassing people from different genders, races and locations.
Everyone will have favourites and as you soak them up, a degree of continuity and connection appears but this never seems strong, though characters and themes recur.
Reviewer: Philip Fisher