Hayfever
Noël Coward
Haymarket Theatre Company
Haymarket, Basingstoke
(2004)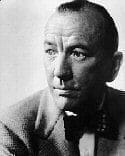 With each revival, Noël Coward's work, far from dating itself, becomes yet more biting in its observation of those around us. Basingstoke 2004 is no exception.
Robin Herford's production of Hay Fever for the Haymarket Theatre is an object lesson in how to entertain with bad manners. Even the opening scene between son and daughter fairly whisks along. As for the remainder, the air simply bristles with Coward's acid wit.
Speaking of which, the acid test - personification of Judith Bliss, no mean challenge with such an history of brilliant players in the role - is passed with vituperation flying by Lesley Meade.
As the squabbling children, Sarah Miller and Dominic Marsh would be even funnier with rather more "period" flavour - it's this aspect of the play, after all, which increasingly as the years pass, enables us to find amusement in what might otherwise be a sobering evening! Laughing at others is one thing
Michael Hadley, too, as David Bliss, is light on the eccentricity of the character. How could such an ordinary man be married to her? Yet Hadley carries off the later scenes with ease.
The motley array of weekend guests constitute a fine team in themselves. Rufus Wright is absolutely wizard as Sandy Tyrell, Karen Ascoe a formidable Myra, with Terence Booth an imaginative, maturer Richard and Catherine Skinner an engaging Jackie.
This, however, is a team performance of an ensemble piece. Long before the end the entire house is totally appalled at the Blisses and entirely on song with the visitors - though the fact that we continue to find the whole business so desperately funny is probably something that should stir all our consciences.
Elroy Ashmore's design, with lighting by Simon Hutchings, creates a splendid atmosphere of middle class opulence within which this dreadful family may implode in comfort as the rest of us are weighing up their taste in décor and floral arrangement.
The production runs until 15th May
Reviewer: Kevin Catchpole