Haze
Beijing Dance Theater
Out of Asia 2011 Season
Sadler's Wells
(2011)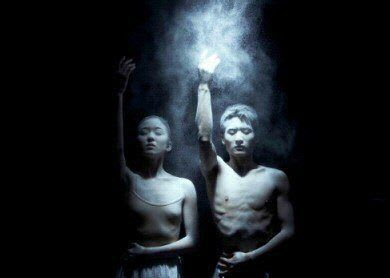 A ballet on mattresses, a destabilising base, a metaphor for environmental, political, economic, and social instability, Haze lives up to its name: hazy, fuzzy round the edges.
Tan Shaoyan's visual design, Han Jiang's superb lighting, and Liu Bo's sound design resonate, but Wang Yuanyuan's choreography is tripped up by a monolithic metaphor.
Haze deserves marks for effort, and the dancers do work very hard - they look exhausted at the finish after seventy-five minutes of relentless running, diving, piston jumping, tumbling, and rolling. What else can one do on a mattress as a base? Try to maintain equilibrium. But grace falls away. Placement is precarious and movement ungainly.
Feet vanish into the softness underfoot; it's up to the upper body to be expressive, but at every turn - and it's difficult to turn on a surface that gives way - the dancers are thwarted by a floor that allows them little poise.
This is no bouncy castle, but a quagmire that drags them down. On solid ground, teetering on the edge, they are drawn towards it. What would they be capable of on terra firma? Would they find their feet in an unstable world? Is the mattress also a cushion? Boom and bust? Up and down?
Hobbled, handicapped, the performers and the choreographer, by muddy metaphors, the only way forward is through repetition. A limited if earnest vocabulary confines a promising idea.
Three narrative chapters - Light, City, Shore - tied to portentous music - Henryk Gorecki's String Quartet No 2 and Kleines Requiem für eine Polka, Biosphere's electronic soundscape, and again Gorecki - Symphony No 3 and Three Pieces in Old Style - yet very little variation.
Tiny silhouettes against a monolithic wall, a grey slab which transforms under amber lighting to the promise of gold and a new dawn, but the choreography remains the same. Ceaseless motion, chasing each other and their own tails, the dancers labour in the quicksand of cliché.
It is the static stage pictures - the opening and closing tableaux, suggesting interesting vistas and quiet contemplative relief (or is it defeat?) in a grey world of monochrome gloom and doom, and frantic gymnastics - that stay in the mind.
On a dark set, mist swirling, low storm lanterns swinging, stand fifteen dancers. Their stillness beautiful, serene, the quiet before the raging storm. The final scene, a moment held for an eternity - they stand submissive, all fight gone. A bell tolls, gentle snow falls, did the dead awaken, will they rise again?
Only three years old, and the first contemporary dance company in China, Beijing Dance Theater draws on both traditional and contemporary cultures. With more experience and global exposure - this is after all their first visit to Sadler's Wells - Wang Yuanyuan and her collaborators will undoubtedly find success. A young company that still needs some nurture, time, and stability. It's all about choices and vision and knowledge. And development.
Reviewer: Vera Liber