Decade
Samuel Adamson, Mike Bartlett, Alecky Blythe, Ben Ellis, Ella Hickson, Samuel D. Hunter, John Logan, Matthew Lopez, Mona Mansour, DC Moore, Abi Morgan, Rory Mullarkey, Janine Nabers, Lynn Nottage, Harrison Rivers, Simon Sc
Headlong
Commodity Quay, St Katherine's Dock
(2011)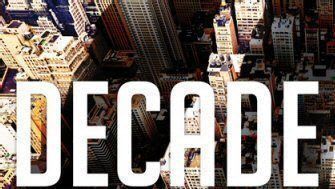 As the tenth anniversary of 9/11 creeps up on us, Headlong Theatre has re-created the Window on the World at the top of the World Trade Center for an evening of reflection about that terrible day and its aftermath.
A former trading floor has been gutted and, under the influence of designer Miriam Buether, becomes a luxury restaurant with views up and down Manhattan.
More spookily, a gallery level has windows stretching from end to end, behind which, trapped victims can be seen. The staging itself is rather like Goold's for Earthquakes in London at the National Theatre, with actors weaving in and out of their audience - dancing on and declaiming from the restaurant tables.
Decade has been compiled by a massive team of writers from both sides of the Atlantic and sometimes it shows in a very uneven text that draws on a great variety of styles.
The text shows that there are twenty separate plays but in this staging (having lost Adam Brace's contribution by press night and seen others reduced to cut the running time), they overlap into one not very seamless whole.
To the extent that there is a single thread holding the structure together, it is The Sentinels, the meetings of a trio of widows in a diner after annual memorial services. These are observed by playwright Matthew Lopez in reverse order starting in 2011 and covering each year back to the happiness of 2000 with only a single year missed, for obvious reasons.
At different times there are dramatised sketches, reportage, examples of testimony, political diatribes, observations and even private text messages.
Some of the selections are predictable, focussing on victims and those that they left behind. Other sections are used to contrast the epic events of that day with the ordinariness of life in the city.
Examples include the day to day goings on in a corner shop (The Odds by Lynn Nottage) a schoolgirl having an abortion (Black Girl Gone by Janine Nabers) and the true story of Scott Forbes (edited by Samuel Adamson), a man who swapped his day off and in doing so unwittingly escaped a death sentence that so many of his colleagues did not.
Humour inevitably impinges on the pathos, never better than in Ella Hickson's Gift, which contrasts the activities of a guide and a tat seller at the Ground Zero Experience.
To prevent what could seem a long, wordy three hours with only limited action, Rupert Goold has employed a choreographer, Scott Ambler, who really earns his money with some moving and beautifully realised sequences.
Goold pulls out all of the stops in creating a heartfelt litany to a tragedy that must never be repeated but in some form inevitably will be. However, despite the tremendous support that he gets from a versatile ensemble cast led by Emma Fielding, Charlotte Randle, Jonathan Bonnici and Tobias Menzies, focus is lost as the best work is watered down by much that is not of the same quality.
Reviewer: Philip Fisher