Hear and Now
Lara Foot Newton and Lionel Newton
The Gate Theatre and Baxter Theatre Cape Town: a Duckrabbit production
Gate Theatre, Notting Hill
(2006)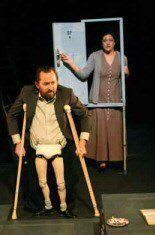 The wistful tone and leisurely tempo of Hear and Now are established by the use of Arvo Pärt's ever popular Alina.
The play is a ninety minute meditation on love and loneliness. Co-writer Lionel Newton plays a man who lives in a world that might be dominated by fantasy or more simply, lies. The question that occurs early on is whether this crippled man is, for some unexplained reason, in denial.
He has buried himself in a world of books, apparently suffering from chronic agoraphobia. He seems happy enough and is certainly far from welcoming when a neighbour comes to call.
Denise Newman plays a woman who is almost equally lonely, caring for a mother who has spent years slowly succumbing to a fatal disease.
Once she has forced her way in, the woman offers the man companionship and love but even this is too disturbing for him to accept.
That is the simple story and it is told using Gerhard Marx' odd design concept of doll-sized, constantly collapsing legs for the man and appropriately proportioned door, window, bed etc.
While the acting is moving as the pair struggle to come to terms with life, the storyline is often elusive, even after the appearance of a revelatory letter.
This is a small piece that has the feel of a low-key Edinburgh Fringe play, albeit with high production values, but lacks the charm and life of this company's most endearing success, The Well Being.
Reviewer: Philip Fisher