Heathers the Musical
Book, music and lyrics: Kevin Murphy and Laurence O'Keefe based on the film written by Daniel Waters
Bill Kenwright and Paul Taylor-Mills
The Palace Theatre, Manchester
–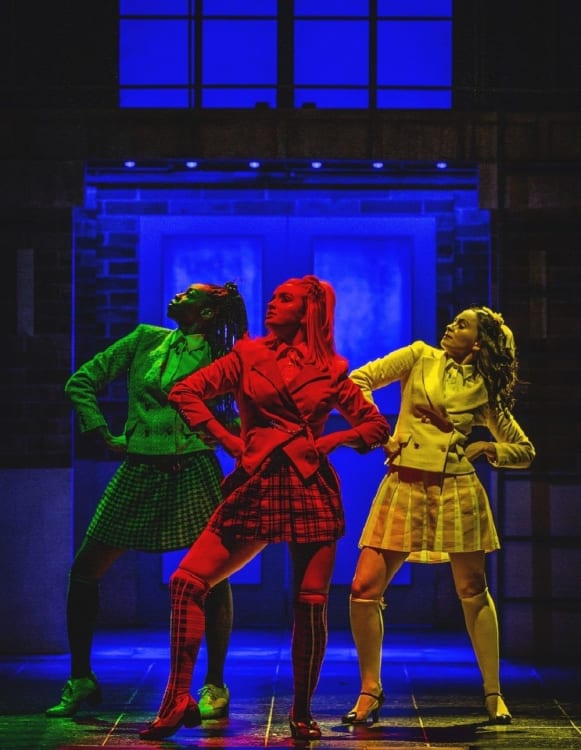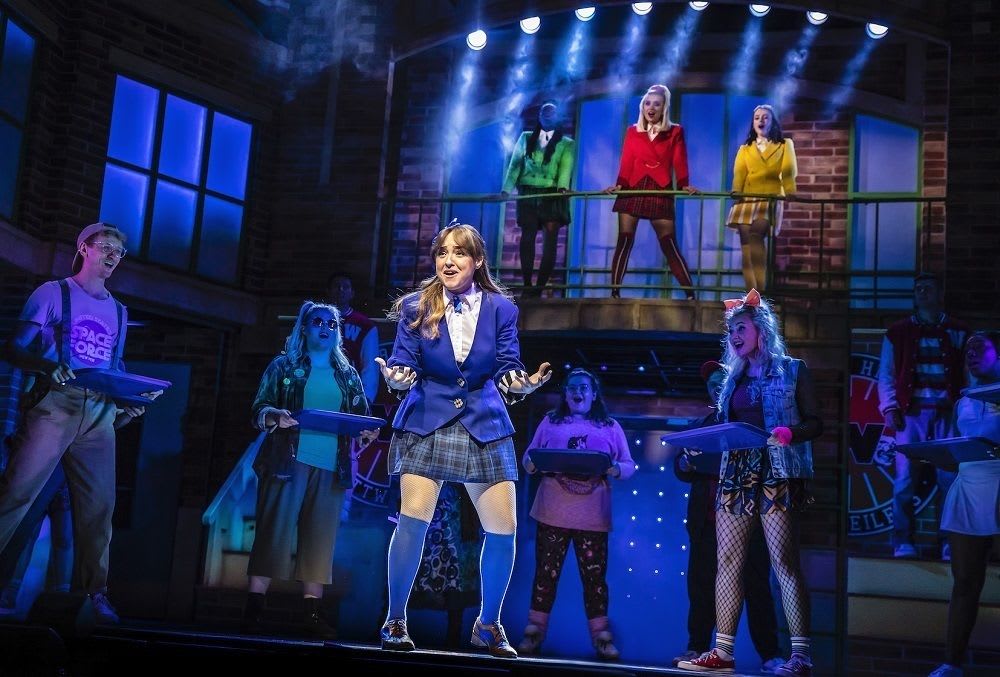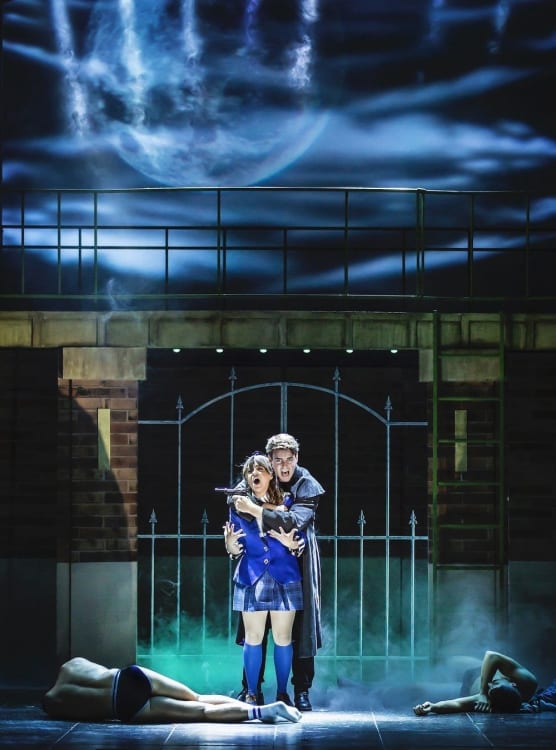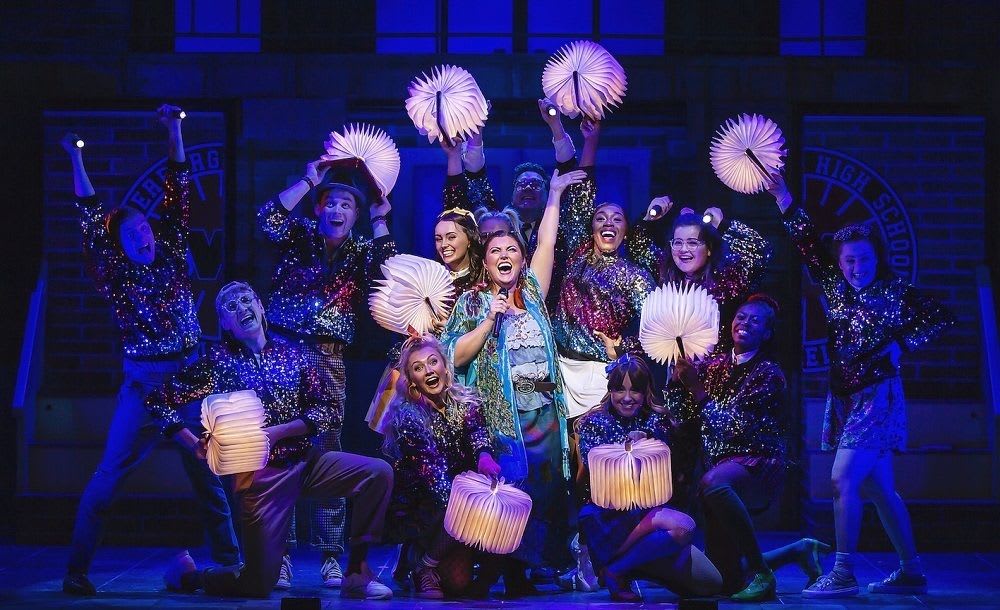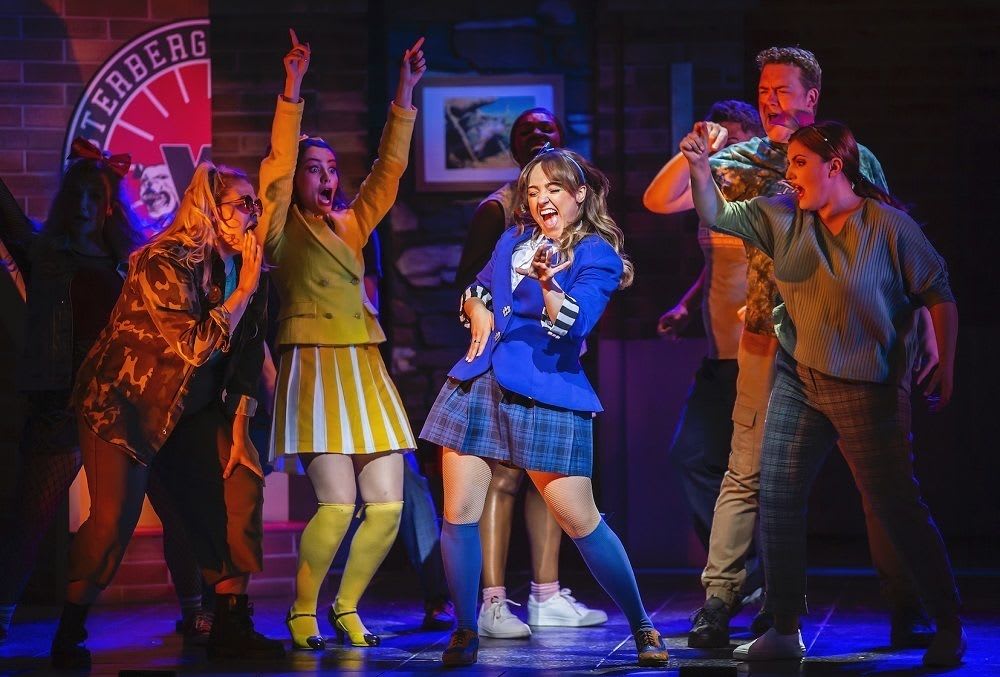 The edge of satire can go blunt over time. The movie Heathers, released in 1989, poked fun at teen-angst movies which are no longer in fashion. However, authors Kevin Murphy and Laurence O'Keefe and director Andy Fickman ensure Heathers the Musical remains stingingly relevant by setting an unflinchingly dark but deliciously intoxicating mood. The target of the satire widens from a genre of film towards manipulators willing to exploit events, and even tragedies, for their own ends.
The students of Westerberg High School live in a state of anxiety; fear of being bullied, ostracised or mocked makes them turn on each other sneering insults. Veronica Sawyer (Rebecca Wickes) is unexpectedly befriended by the chief bullies of the school—The Heathers (Maddison Firth, Merryl Ansah and Lizzy Parker)—and abandons her unpopular friend Martha Dunnstock (Mhairi Angus in a strong professional debut). Veronica is attracted to the outsider JD (Simon Gordon) believing they have much in common. But while Veronica is critical of, and wants to change, the school, JD wants to burn it to the ground and does not mind a few fatalities along the way.
Director Fickman pushes the musical to extremes. The acting is stylised and exaggerated; Liam Doyle and Rory Phelan hilariously ridicule their overly macho bullying characters to the extent they resemble the cartoon Beavis and Butt Head. Veronica's reaction to the first sight of JD is a wide-eyed glance to the audience and a clutch at her crotch. At times, the musical almost seems to be poking fun at itself—a fight in slow motion is performed at such a sluggish pace, a character has time to wink at the audience. The stylised approach does not, however, disguise a slick, fast-moving production which includes a costume change as if by magic in plain sight.
The extreme approach helps to soften the edge of moments that might be considered in questionable taste. The song "You're Welcome" can just about be accepted as being about female empowerment rather than treating date rape lightly but it is a near thing. "My Dead Gay Son" mocks homophobia and celebrates inclusiveness but the physical gestures are still high camp.
Typical of the hard edge to the show, Gary Lloyd's choreography is intimidating. The cast move like a mob, pushing and shoving each other or crowding in on a victim. The 1980s setting is reflected not just in David Shields's over-bright but severe designs but also Murphy and O'Keefe's lyrics. "I Say No" may be a dig at the somewhat trite 'Just Say No' anti-drugs catchphrase.
There is a refreshing ambiguity about the show. Rebecca Wickes makes Veronica a conflicted character: desperate to fit in but hating herself for compromising and befriending people she cannot stand. Wickes's approach, when offering a poisoned drink, is sufficiently shady to raise doubt as to whether it is an accident. She also has a tremendous voice, raising the roof on occasion.
In the movie, Christian Slater channelled Jack Nicholson for his interpretation of JD. Simon Gordon takes a less obvious, more understated approach with JD laid back and almost humble in his normalcy, making his descent into full Norman Bates psycho all the more shocking. Maddison Firth is a force of nature as the chief Heather, storming around the stage like The Terminator and even returning after death revelling in the tributes at her funeral.
Heathers the Musical is a dark delight demonstrating satire never goes out of style.
Reviewer: David Cunningham