Hedda
Henrik Ibsen, adapted by Lucy Kirkwood
Gate, Notting Hill
(2008)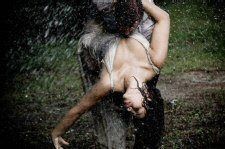 Under a commission from artistic director Carrie Cracknell, Skins writer, Lucy Kirkwood has updated Ibsen's classic for a contemporary audience and shortened the title.
This hybrid attempts to shed new light on the original, while at the same time turning it into a 21st-century psychological thriller. Whilst the result is often entertaining, it does not quite manage to succeed on either count.
In bringing a troubled character up to date, the adaptation takes out the shading, so that Cara Horgan in the role of this new Hedda is almost entirely malevolent and fearsomely moody. In part, there is a problem in that the social conformity, which was so much a part of late 19th century life, has completely disappeared in a society where, as the song has it, anything goes.
The fact that Eli Longford, given grim reality by Adrian Bower, had a night on the tiles with his colleague's teenaged but not underaged daughter must have been deeply shocking in Ibsen's day but now, would merely be seen as a rite of passage for them both.
The drama, which often has expected similarities to Simon Gray's The Common Pursuit, takes place in a ramshackle flat appropriately located in Notting Hill, where a group of chums from Oxford reunite. This has been lovingly designed on two levels by Holly Waddington with symbolically peeling walls.
There, Hedda and Tom Mison's bearded George, an academic planning a thesis on robotic ants, return from an extended honeymoon in Japan and, rather than encountering a maiden aunt, find a frustrated, unmarried sister, Cath Whitefield as Julia.
From the outset, the heroine does nothing but belittle everyone whom she encounters with an acidic tongue that makes one wonder why on earth decent George would have married her. The obvious attraction is that she was something of a society catch with beautiful ballerina looks and figure, but tempered by that hateful personality.
Her boredom with new hubby is manifest and the arrival of an old schoolfriend, Alice Patten's impeccably nervous Thea, provides a figure of fun but little relief. After an entering into a disastrous marriage, the mouse-like Thea is in love with renegade Eli who seems much more interested in the help that she offers in his efforts to resurrect his career through the publication of what might well be a work of genius than a long term love. He and Hedda also have a history to bury or relive as the case may be.
With the assistance of Toby Brack, a mildly dodgy solicitor who likes making entrances through the window, the ingredients are stirred together before the dramatic ending straight out of Ibsen.
In the 21st-century, someone as brittle and bad as this Hedda Gabler does not come across as convincing, as her motivations are often at odds with what is going on around her. Unusually, it is the lesser characters who update best, with Eli, Thea and Toby all seeming far more the types that one is likely to meet outside the theatre in Hugh Grant's Notting Hill, or even the real one, than the leading lady.
Nevertheless, Cara Horgan's manipulative leading lady gives us some amusing moments and a great array of designer costumes in a two-hour production that follows the original reasonably faithfully but ultimately works better as light entertainment than heavy drama.
Reviewer: Philip Fisher