Hedda Gabler
Henrik Ibsen, adapted by Thomas Ostermeier
Schaubühne am Lehniner Platz, Berlin
Barbican Theatre
(2008)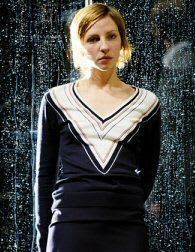 It is impossible to feel indifferent about Austrian director, Thomas Ostermeier. Whether it is his modern work like Zerbombt (Blasted) or his reworking of classics such as his wondrous Nora (A Dolls House), both seen in past Barbican BITE seasons, his work is unique and, to some, deeply offensive.
For fans, he is one of the best directors working today and his short visits to London - this production only plays four times - must be cherished.
With a few relatively minor changes, Hedda Gabler becomes a play for today that could easily have been written for the laptop and mobile phone generation by some contemporary writer with in-yer-face inclinations and exceptional talent.
This director does not stop at text and performance. He also has a great belief in the visual impact, stunning as ever on this occasion; and the soundtrack.
The action takes place on a large revolve with Jan Pappelbaum's set illuminated by projections at times. This that looks like a futuristic art exhibit or, at the very least, the kind of glass-walled house that could only be lived in by an architect. The effect is then enhanced and beautified by the use of a sloping, mirror hanging over the stage, allowing spectators a voyeuristic look at what is going on behind the scenes.
The look also extends to costumes and mannerisms, with his elfin Hedda (Katharina Schüttler who also starred in Zerbombt), painfully sexy whether in pyjamas or designer costumes contrasting with Lars Eidinger playing her husband, always called Tesman and never by his Christian name. His clothing gives the impression that he does not realise that the 70s have ended - and this extends to his character as well.
Hedda Gabler paints a portrait of a bad marriage, something as recognisable today as it was one hundred years ago. On one side is Tesman, a sensitive bore obsessed with his scientific studies, on the other the titular heroine, an instinctive thrill-seeker with a desire to control all those in her circle.
The story is played out primarily in short scenes accompanied and divided by music that varies from twanging guitar and squeezebox to the incongruity of The Beach Boys, possibly chosen due to Brian Wilson's manic tendencies.
Ostermeier really believes in lacing his tragedy with very funny comedy, which is part of the attraction of his work. From the start, when Hedda and Tesman returned from their honeymoon to meet his devoted aunt (Lore Stefanek), the young woman laughs at the older one, to whom her husband is dreadfully devoted, and so do we.
The tale gets darker with the arrival of Tesman's "old flame" the dowdy Mrs Elvsted (Annedore Bauer) with news of the Faustian Eilert Løvborg. He is a man loved by every woman whom he meets but also something of a genius.
This is a problem for poor Tesman who finds his job as an academic and reputation threatened by someone unprincipled but with the kind of inspiration that he can not even dream of. Løvborg, whose life has been wrecked by scandal of an unknown variety, wreaks innocent havoc on those around him.
Kay Bartholomäus Schulze in this part gets to wear the finest of male clothing, proving that crime pays. In the longer term though, it must inevitably lead to the paying of a big price, in this case the loss of his masterwork.
The mighty text disappears forever as Hedda spectacularly wrecks his laptop with a hammer before barbecuing it. One fears that this might prove a wish fulfilment fantasy for a good number of techno-frustrated audience members.
The troubled waters are stirred up horribly by the final character, Jörg Hartmann's geeky Judge Brack, a philandering bachelor who finds his way into the heroine's underwear if not her heart.
Despite using a relatively slow tempo, this production holds the eye and the attention thanks to superb acting but also an impressive, modern reading of the text that keeps you guessing about outcomes right up to the end, even if you know what should happen.
In particular, the inspirational Katharina Schüttler portrays the nihilistic Hedda Gabler's irrational behaviour thoroughly convincingly, as she flits from frustration and irritation to schadenfreude but also uses her feminine charms to keep the men reasonably sweet and accommodating, at least when she is not firing off the family pistols.
This dark heroine's tragedy lies in her need to control and failure to manipulate quite as much as she would like. The unusual ending on this occasion demonstrates the emptiness of her life with chilling heartlessness.
Once again, the Barbican has scored a major coup in attracting this production, even if it is only at BITE08 so briefly. It is time that Britain embraced this kind of experimental but incredibly exciting European work by inviting mischievous theatrical auteurs Thomas Ostermeier and Calixto Bieito to these shores on a far more regular basis.
Reviewer: Philip Fisher