Hedda Gabler
Henrik Ibsen, in a version by Richard Eyre
Almeida
(2005)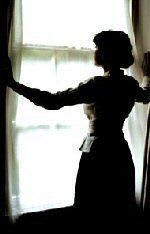 Having featured one of the best actors of his generation, Simon Russell Beale as Macbeth, the Almeida now presents a female counterpart, Eve Best in Ibsen's dark classic.
In fact, it is Eve Best's left profile that we constantly see, as the young wife wistfully yearns for the kind of perfection that can only lead to madness and a tragic ending.
Sir Richard Eyre's staging is traditional, as the play opens in a busy living room, decorated in muted browns and greens. The costumes, like the set designed by Rob Howell, are from the same fin de siècle period.
The newly-married protagonist should really be called Hedda Tesman but Ibsen allows her to retain her maiden name in order to demonstrate that she is not the chattel that a late 19th century husband had every right to expect.
From the moment of her first entry, it is clear that this young lady is not the carefree, happy woman that one might expect after a six-month honeymoon with a husband who has just received his doctorate. The fresh-faced George (Benedict Cumberbatch), "a truly dependable and respectable man", proves to be boring with a capital B. He is far more interested in his "perpetual aunts" than his frustrated wife.
Three arrivals change their lives for ever. The charming, if rather louche Judge Brack (Iain Glen) looking uncannily like General Custer, is far too pally with the lady of the house, even if he is her husband's greatest friend.
Pretty, petite Thea Elvsted, played by Lisa Dillon, is an old school friend of Hedda, who has left a loveless marriage to an older man in blind pursuit of rakish Eilert Loevborg. It is the latter, though who makes the greatest impact.
Loevborg is a reformed alcoholic, whose dissolute lifestyle has been the talk of more than one town. While silly little Thea believes that he will be hers, and indeed has written an "incredible" book with him, their destinies are not joined. Miss Dillon is at her best at the moment when Thea learns this and her whole face crumples.
The irony is that she and Tesman were far better suited but, had they met earlier, there could surely have been no play and a sequel Thea Elvsted about dull happy people, is not to be contemplated.
Loevborg's secret lover from the old days is unnamed for much of the play but there can never be a doubt as to the lady's identity. Unfortunately, Hedda Gabler's desire for excitement can only be fed by her manipulation and consequent destruction of this man. In doing so, her own destruction is inevitable.
As the play accelerates into its final tragic drama, it moves on to a new level of excitement. Suddenly, all of the pieces fall into place and the tragedies of each and every one of the characters become tangible. This all starts with a perfect dramatic moment when Loevborg's book, his hope, transforms itself into the gun that will most unheroicly kill him.
Both Eve Best and Iain Glen are excellent, and the remainder of the cas, including Sarah Flind as the nervous maid Berthe, support them well, although the brash Scottish portrayal of Eilert Loevborg by Jamie Sives seems odd. This man does not seem to have been drawn from the same century as the people among whom he moves.
Allowing for this quirk, Sir Richard does well in balancing the playwright's symbolism and naturalism. In just over two hours, he brings out a fine performance from Miss Best and allows Ibsen to show us how close love and passion are to madness.
This review originally appeared on Theatreworld in a slightly different version
John Thaxter reviewed this production on its transfer to the Duke of York's
Reviewer: Philip Fisher