Hello Dolly!
Book by Michael Stewart, lyrics and music by Jerry Herman
New Wimbledon Theatre and touring
(2008)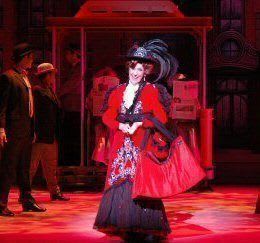 Hello, Dolly! had a long evolution: an 1830s English comedy inspired a successful German farce which was the basis for Pulitzer Prize-winning Thornton Wilder's play The Merchant of Yonkers a century later.
First produced in 1938 The Merchant of Yonkers failed commercially and in the 1950s Wilder reworked it considerably and, under its new title - The Matchmaker, the piece achieved success on stage, was made into a film and also spawned the hit musical Hello, Dolly!
This Broadway sensation was an early collaboration between lyricist and composer Jerry Herman and book-writer Michael Stewart (who together would go on to write Mack and Mabel). The score includes "Put On Your Sunday Clothes" "Before the Parade Passes By" and the title song which brought Louis Armstrong a number one hit on the pop charts at age 63, and French and Spanish version hits for Petula Clark!
In New York Hello, Dolly! was hugely successful; it ran for nearly three thousand performances winning ten Tony Awards including Best Musical and the film garnered several Academy Award and other nominations.
So with a pedigree like that why does Hello, Dolly! fail to impress?
The story - populated with people unable to manage their own lives and shrieking and sobbing air-head blondes - is a nonsense to modern audiences. In the same way the writing is now not clever enough to be farce and not funny enough to be a comedy. One must simply rejoice in its silliness and take it for what it is.
The melodies are still great but sadly Jerry Herman's lyrics now struggle. The boys sing enthusiastically about marrying "a sweetheart, a mistress, a wife" who can clear blocked sinks, set mouse traps and wear pink, but for all that "it takes a female for setting the table".
I can believe that forty years ago the idea of "The frail young maiden shoeing the mare" might be funny but these days that frail young maiden is probably your bank manager.
This vehicle for Anita Dobson has West End aspirations and she gives it everything she's got but I fear it won't be enough to get her there. Vocally she lacks the strength to carry off the big numbers such as "Before the Parade Passes By" though she can't be faulted on the energy she puts into solos like "So Long, Dearie".
But energy is not charm and Anita Dobson's Dolly Levi is ultimately unengaging. Her exaggerated mannerisms and funny voices make Dolly a caricature so when she enters the Harmonia Gardens all sparkling evening gown and long feathers her elegance looks attempted rather than intrinsic.
Darren Day as Cornelius Hackl and his sidekick Barnaby Tucker played by Hamilton Sargent are amiable enough and bring an innocent mischievousness to the two lads out for a big night at the end of which they hope to kiss a girl.
David McAlister is a good comic Vandergelder but I can't help thinking that there was more fun to be had there given the chance. Louise English plays Irene Molloy beautifully and her rendition of "Ribbons Down My Back", a moving piece about finding love, was the best singing of the evening.
Producer Chris Moreno has not been mean with the design budget but Hello, Dolly! falls short of being visually lavish; some of the costumes were stunning and the setting at the station with the rail carriage was terrific but both costume and set also had their weaknesses such as outfits with fastenings showing and wobbly scenery.
The same can be said of the choreography since The Waiters' Gallop was outstanding but Dolly's much anticipated entrance to "Hello, Dolly!" fell short of being the show-stopper that it could and should have been. It was good, but it needed to be great.
Apparently it has been twenty years since Hello, Dolly! was last on stage and I would love to be corny and say "welcome back where you belong" but I can't quite bring myself to mean it.
"Hello, Dolly!" runs until Saturday 29th March at New Wimbledon Theatre - the nationwide tour continues until August
Philip Seager reviewed this production in Sheffield
Reviewer: Sandra Giorgetti