Henry IV
William Shakespeare
Donmar Warehouse
–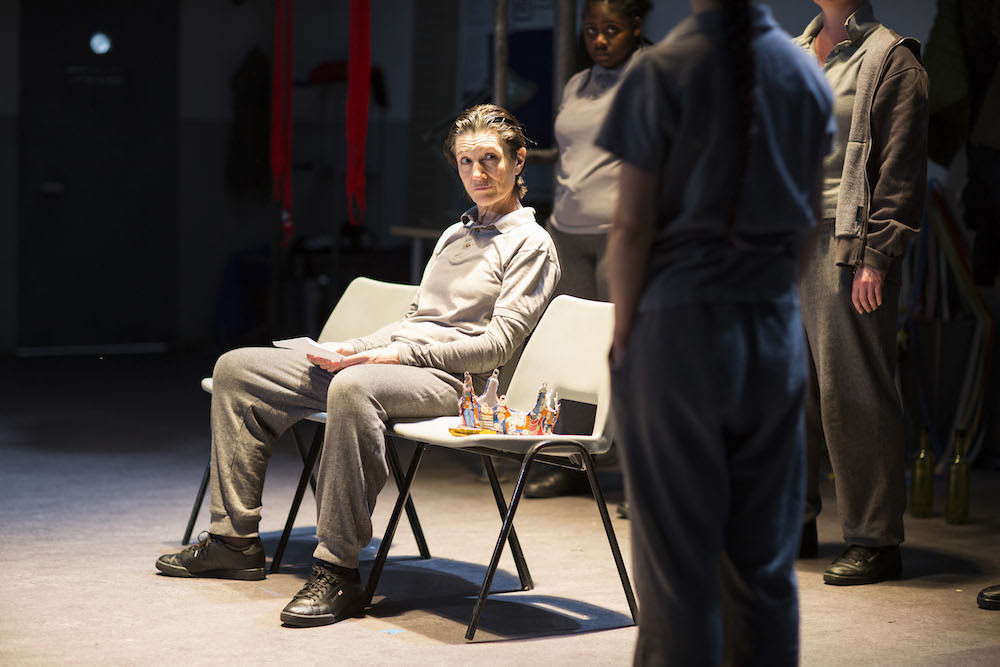 Phyllida Lloyd's snappy new play should be seen less as a replacement for the 7-hour Shakespeare double bill on which it is based than a riotous 2-hour replacement played straight through at breakneck speed without an interval.
For the occasion, the Donmar has been transformed by Bunny Christie and Ellen Nabarro beyond recognition into a secure prison cell with a new entrance and frosty guards ushering in the paying public into the stark theatre.
As with the same director's Julius Caesar, an all-female cast drawn from amongst the institution's inmates is then encouraged to enact a theatrical performance of a play by the Bard in their own inimitable style.
This veers from a faithful representation of some key scenes and speeches to a heavily cut and partially re-imagined new play using the same characters.
In reality, many of the dramatis personae that one would expect in a production of the twin history plays do not even make an appearance.
Lovers of Nym, Doll Tearsheet and Justices Shallow and Silence to name but a brief selection should probably wait until the Gregory Doran's full-scale RSC production starring Sir Anthony Sher as Falstaff reaches the Barbican at the end of next month.
To add to the experimentation, this production is gender- / age- / accent- / class-blind, which is part of the fun.
With more emphasis on action and comedy than poetry and politics, it takes time for Harriet Walter's haughty King to make his presence felt for more than the odd speech, though they are always delivered with feeling.
It is only really in the presence of the passionate young whippersnapper of an heir to the throne, Claire Dunne's lovable, Irish-accented Prince Hal, that the actress really gets to make a more significant mark first in confrontational mood and then making a stately exit.
The larger than life Ashley Maguire as a richly comic Falstaff also peaks in the Prince's presence both in the role of a cockney comedienne and, as the evening reaches its blissfully early climax, in a moment of tear-jerking pathos that belies so much of the light entertainment that has gone before.
There is drama, generated by the other revolutionary Harry, Jade Anouka as a determinedly 21st century Hotspur, entirely at home in the presence of an onstage DJ who garnishes the breaks with a lively soundscape.
Much of the evening takes place in the prison gym where Harry Hotspur and his cohorts train for a battle to the death that proves thrilling as the two Harrys box before dispensing with gloves for something more deadly.
Whenever a director decides to update Shakespeare, there is an outcry. Further, losing 60 to 70% of the text at the same time is unlikely to endear Phyllida Lloyd to purists.
However, even they are likely to concede that the director and her dedicated cast have sought to replicate the spirit of the original in a thoroughly enjoyable romp that becomes something deeper in its later scenes.
Reviewer: Philip Fisher