The Late Henry Moss
Sam Shepard
Almeida
(2006)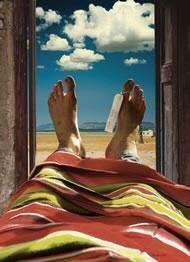 Michael Attenborough has put together the perfect cast for the European Premiere of yet another surreal Sam Shepard play about the failure of The American Dream.
In order to compete with the American debut he needed to. Just over five years ago, when the play first appeared in San Francisco, the two brothers who come searching for their father in New Mexico were played by Sean Penn and Nick Nolte. Their support in two dream parts for clowning comics came from Cheech Marin and Woody Harrelson.
Robert Jones has created a large open studio room that looks like a junk shop and when Andrew Lincoln and Brendan Coyle as fighting brothers Earl and Ray meet for the first time in years, it takes some time to realise that the bed is occupied.
This is because Trevor Cooper, as the larger than life (or death) Henry is playing dead, feet and hairless pate not quite covered by a garish throw.
The time is 1988 and nothing is as it seems. Henry may be dead but in spiritual terms, he died while still breathing. This violent drunkard left his family behind long before, watched by a scared Earl, after beating up his wife.
A vicious streak runs in the male line of this booze-fuelled family and nobody is safe. However, while the subject may be a weak but unpleasant trio of Moss men, there is much rich comedy in The Late Henry Moss.
This is largely provided by Simon Gregor and Jason Watkins. Gregor plays Henry's Mexican neighbour Esteban. He is a shrimp of a man, perhaps loosely based on Manuel from Fawlty Towers on this occasion, who is so domesticated and caring that he seems like a surrogate wife, especially when he puts his pinny on.
The only service that he cannot supply is offered by Flaminia Cinque's outrageous Conchala - sex on legs but with a mystical streak just below the surface.
An interlude is provided as Ray tries to piece together his father's final days and tracks down a taxi driver who took him on his final trip. This is the nervously smiling Jason Watkins who provides the solution to what can on occasions feel like a perverted version of hard-boiled film noir.
He is an average Joe who is so used to being bullied that he just bounces back from every metaphorical punch landed on his slight frame, whining a little but rarely losing his twisted grin.
The Late Henry Moss took Shepard ten years to write and takes time to achieve its full effect. It is a deceptively complex comedy that takes a pretty cynical look at society through six representative members. This land is cruel but can act as harshly on the bad and decadent as anybody could wish. Anyone who sees it will still be thinking of it for days afterwards, which is always a strong recommendation.
Reviewer: Philip Fisher