Her and Her
Jade Anouka with music by Grace Savage
BBC
BBC iPlayer
–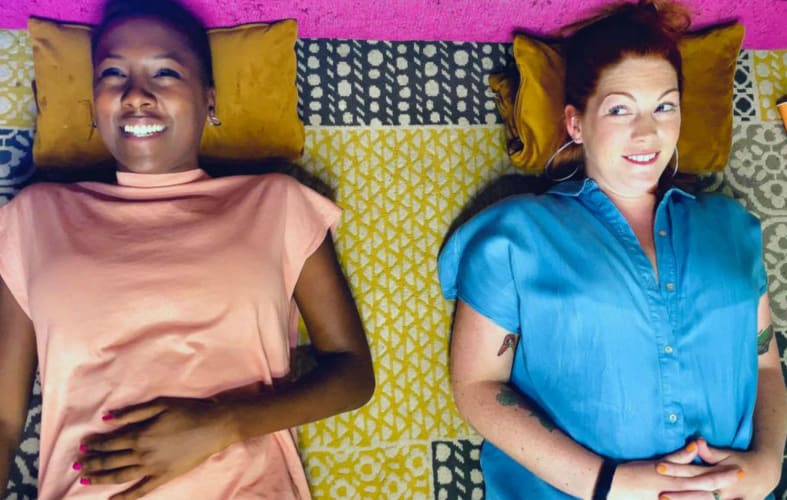 The coronavirus lockdown and consequent closure of theatres has allowed many creative spirits to spread their wings.
This presentation, under the double banner of the BBC's Culture in Quarantine and Filmed in Lockdown, presents two new sides to Jade Anouka, previously best known as a talented stage and screen actress.
It is a sub-13-minute film in which she is writer, director and co-star alongside Grace Savage, who in addition to acting contributes music and a bit of beatboxing to the mix.
What starts out as a piece of performance poetry blossoms into a love story between the two ladies, who play themselves and share their passions (and passion) with viewers.
Filmed in what one must assume to be their own home, it presents a graphic view of domestic life and love in a number of imaginative ways.
At one point, Grace Savage summarises the relationship succinctly as interracial, same sex and South London. This analysis also fuels many of the topics that are debated, including the difficulty of a move to the countryside when its values are so different from their own.
In addition to the DJ-style rapping, there is a developing domestic drama that demonstrates deep love, aided by a cute, newly acquired puppy and a degree of openness that is largely refreshing rather than embarrassing, which might easily have been the case in so intimate a setting.
By the end of the short movie, viewers will feel that they know the duo well, while also coming away from a happy tale with smiles on their faces—much needed in these troubled times.
Reviewer: Philip Fisher