Her Naked Skin
Rebecca Lenkiewicz
Bristol Old Vic Theatre School
Circomedia, Bristol
–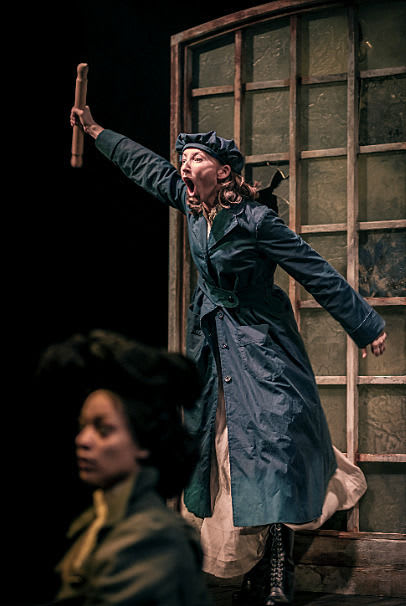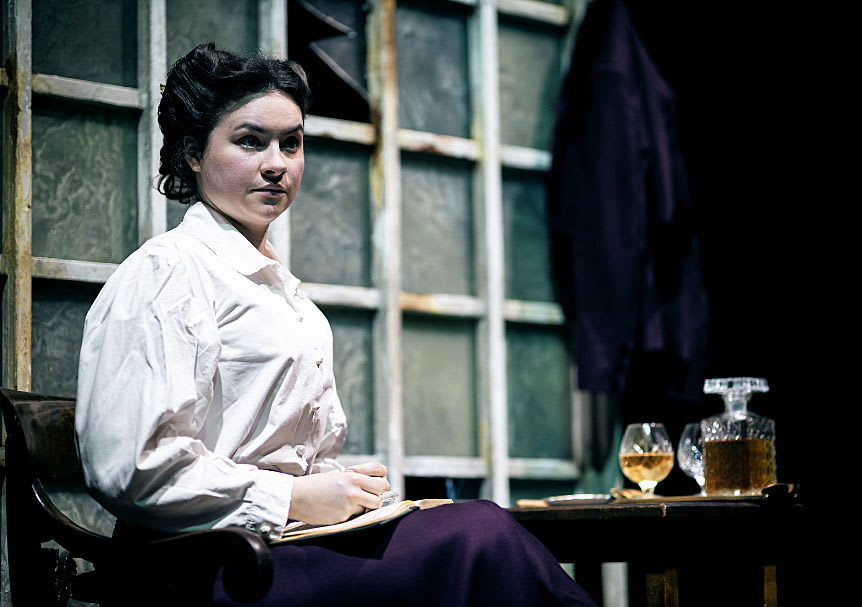 Though the National Theatre Company gave its initial performance in 1963, astoundingly it was not until 2008 that Rebecca Lenkiewicz's Her Naked Skin became the first full-length work by a living female writer to be seen on its Olivier stage.
Here performed by the graduating actors of Bristol Old Vic Theatre School, the play begins with arguably the single best-known event in suffragette history: the death of Emily Davison as she stepped in front of the King's horse at the 1913 Epsom Derby. Director Sarah Bedi's striking aesthetic uses black-and-white film footage of the moment, projected onto the set's raised walls of windows at either side of Circomedia's traverse stage, with a soundscape reflecting the ensuing terror and pandemonium.
From this historic springboard, Lenkiewicz delves into the personal relationship between two active suffragettes from very differing backgrounds: Lady Celia Cain, a veteran of the movement bound by convention in marriage to a man she doesn't love, and young Limehouse machinist Eve Douglas, a new and eager recruit to the cause.
As both become increasingly caught up in the gruelling cycle of protest and imprisonment, with its attendant horrors of hunger strike and force-feeding, Celia takes Eve under her wing and an erotically charged relationship develops. There are strong performances here that promise much for the future; as Celia, Clementine Medforth portrays all the ease and confidence of her class, even as she navigates her conflicting choices between sexual and political fulfilment and the material comforts of her social standing.
Chanel Waddock is riveting as spirited working-class Eve, awakened to the possibilities of her own sensuality by the freedoms afforded to her through activism. As her liberty is taken away, her love unravels and she is ultimately subjected to the most degrading and graphically depicted act of state-sanctioned brutality. Kiera Lester has real gravitas and charisma as the veteran campaigner Florence Boorman and Charlotte East portrays hints of humanity lurking behind a stern carapace as prison officer Briggs.
Lenkiewicz's writing never shies away from imperfect characters who embrace a cause for a variety of less than altruistic reasons and who might compromise their principles and exploit others in the face of heart-wrenching choices. This unflinching realism can obscure the direction of her narrative intent—of easy recognition of a character's goodness or badness—but fundamentally reveals their humanity in all its slippery messiness.
That said, the majority of men written in this play tend towards the archetypal in their braying disregard: a group of politicians expressing their disdain over the furore caused by Davison's death, or talking out attempts to debate the suffragettes' demands in Parliament. But Jake Simmance as Celia's husband William encapsulates the inner turmoil and bewilderment of a man struggling to reconcile his relationship with his wife to his position in society. And Akshay Khanna is chillingly convincing as the cruel doctor willing to mete out the harshest of punishments.
This is a hard-hitting and astute choice of production that joins with BOVTS's The Laramie Project at Bristol Old Vic to highlight LGBTQ issues. Edoardo Lelli's costumes are spot-on, while Oliver Wareham's sound and Joel Williams's lighting design bring real drama and tension to Benjamin Thapa's film-footage projections and simple but effective multi-level set. Bedi's direction of this absorbing play links the suffragettes' struggles to contemporary protest movements and oppression, not seeking easy solutions but framing questions about how we might personally react to such intolerance, whether of ourselves or of others who dare to defy the conventions of the day.
Reviewer: Claire Hayes