Her Naked Skin
Rebecca Lenkiewicz
RNT Olivier
(2008)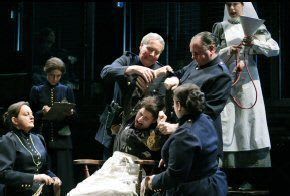 Women may have finally been allowed to vote just under a century ago but remarkably, according to the publicity, over 40 years after it opened, Rebecca Lenkiewicz is the first living woman to have a new play staged in the largest of the National's spaces.
As an aside, one wonders exactly where Jamila Gavin's Coram Boy failed to claim this prize, presumably because it was adapted (by another live woman, Helen Edmundson) from a novel.
Ironically, director Howard Davies and designer Rob Ashford have decided that the best way to stage a play that doesn't lend itself to the Olivier's wide open spaces is to create the effect of a proscenium arch. This is achieved by backing the playing area with a big maze of symbolic cages in which women are inhumanely incarcerated.
The play starts with the martyrdom of Emily Wilding Davison, the woman who threw herself under the King's horse during the 1913 Derby. This rather confuses the chronology of a play that seemingly lasts for years (probably starting almost exactly 100 years ago) but ends before the Great War.
Her action raised the stakes for both Asquith's (il)Liberal Government and the Suffragette Movement who would give their lives for emancipation, somewhat unexpectedly prefiguring not only Irish freedom fighters but also the Muslim suicide bombers of the current day.
Asquith and his comfortable chums do not come out of this play well, ripped apart in parliament by Keir Hardie, which seems fair enough for a Prime Minister who could opine that his opponents were "a lunatic fringe of lonely, frigid women who crave attention".
The far from chilly protesters are symbolised by three well drawn exemplars. Lesley Manville plays (Lady) Celia Cain, an aristocratic mother of seven, married to a successful lawyer sympathetically portrayed by Adrian Rawlings. He has a lot to put up with as his wife spends more time in Holloway Prison than their comfortable home.
Even when she is free, she causes him problems. In prison, Lady Celia falls for her pretty little comrade Eve Douglas, a bright, sparky girl from a different class and generation, winningly played by Jemima Rooper. Their doomed affair adds great dramatic tension to a play that was threatening to become worthily dull as historical background began to displace plot.
The fourth character to shed light on the times is a wonderful, dryly comic creation. Susan Engel is Florence Boorman, a noble Englishwoman of a type that has gone forever: brave, forthright and committed to the cause regardless of her own health or happiness.
The 2¾ hours mingle the story of the Movement, social history and the anguish of an illegal affair that eventually makes both women and the cuckolded husband equally unhappy.
The realism of Davies' production can be quite terrifying, never more so than in a scene when a doctor, who could have found work with the Nazis a generation later, force-feeds the hunger-striking Eve using a tube inserted into her stomach via her left nostril.
There are some flat moments but thanks to good performances from the quartet of actors leading this large cast and some piercing insights into love and sexual politics, Her Naked Self is well worth seeing. Visitors will also be pleased to see that Travelex have kept many of the tickets at the bargain level of £10.
Reviewer: Philip Fisher