The Herbal Bed
Peter Whelan
Salisbury Playhouse
(2008)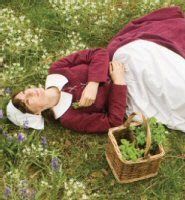 King James is on the throne, the Church of England, as usual, is riven with argument and while the veteran William Shakespeare lies ailing in Stratford, his daughter Susanna is the centre of a scandal to fuel a drama as powerful as any of the poet's creation.
The Herbal Bed is the fruit of Peter Whelan's exploration of our 17th century archives. First seen at the Royal Shakespeare Theatre in 1996 and repeated to acclaim in the West End and on Broadway, it returns now through Caroline Leslie's splendid production for Salisbury Playhouse.
To find the Church at odds with itself is no more surprising than learning that the Commons is in uproar! After all, the scholar Richard Hooker (of Salisbury) recently presented his controversial prescription for Anglicanism and it will be only a few years before bishops are out of favour and the Pilgrim Fathers leave Southampton for America. That is to say: we are a stone's throw from civil war.
First things first, the crucible for our drama is a peaceful herbal garden at Hall's Croft, Stratford, home of successful physician John Hall and his wife the former Susanna Shakespeare, neat performances both by Mark Meadows and Emma Pallant. Right away, the seeds of strife are scattered around the herbal bed; the doctor is often away and his wife thrown on the company of Rafe, the local haberdasher with time on his hands. A likable account this by Tom McKay.
In an ironic twist of the tale, both husband and haberdasher are passionate puritans, a factor in the swearing of evidence before the kind of Church we today know nothing about. For this is a saga of slander, thanks to the ungallant intervention of the troublemaking Jack Lane, a nasty piece of work, by the promising actor Max Bennett.
Yet this is barely the half of it. Look out for the loose-mouthed squabbles in the taproom at The Bear, duplicity, and much worse, on the lawn. And beware, above all, the ire of a smug church, ever ready to make the most of sin among the flowerbeds and the lost sheep!
Indeed, there is a powerful penultimate scene set in the Consistory Court at Worcester Cathedral - an impressive performance here by Derek Hutchinson as the Vicar-General. Patrons, who have never seen a church court in full flow with all its feathers displayed, will find this illuminating.
There are nice performances by Lauren Adamson (Hester) and David Glover in full ecclesiastical array as Bishop Parry.
Settings by Ben Stones, together with Johanna Town's lighting are excellent and the music, with a distinct flavour of Schindler, is by Dominic Haslam.
Reviewer: Kevin Catchpole