Hey, Old Friends
Stephen Sondheim
Theatre Royal Drury Lane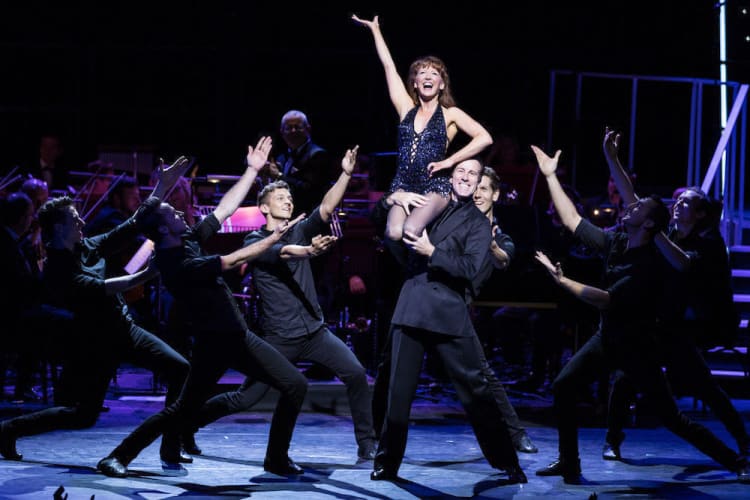 The only missing element from a starry extravaganza celebrating the 85th birthday of Stephen Sondheim was the maestro himself, present only in voice and spirit.
In any event, his friends under the sure direction of Bill Deamer did the musical legend proud through three witty, tuneful hours that celebrated and showcased his work over 50 and more years.
The evening had an ulterior motive, since it was also designed to raise funds for The Stephen Sondheim Society and to a much greater extent, The Silver Line, a worthy charity created by Dame Esther Rantzen to support the lonely elderly.
It has to be said that many doing their bit for this gala evening are now no longer in the first flush of youth.
Leading the way were Nicholas Parsons, a sprightly nonagenarian, and, from the musical community, Millicent Martin, whose comic timing was immaculate as she sang "I Never Do Anything Twice", and Julia Mackenzie.
The evening opened somewhat counter-intuitively as Kit and McConnel wittily satirised every member of the audience who good-naturedly applauded "People Who Like Sondheim".
The remainder of the show comprised wall-to-wall Sondheim, much to the delight of all present.
With an array of experts, supported by Gareth Valentine and his full orchestra on stage supplemented by a dozen well-drilled singer/dancers, that was always going to be the case.
The highlights came thick and fast and everyone will have had their own favourites. For your reviewer, the picks from the first half were Rosemary Ashe, first with Laura Pitt-Pulford for "There's Only a Woman" then sensationally solo delivering "The Last Midnight"; Sally Anne Triplett getting all of the comedy and musicality out of "Lucy and Jessie" plus Daniel Evans's double contribution of "Pretty Lady" (with Simon Green and Michael Peavoy) and "Move on/Sunday" (with Anna Francolini).
The energy levels if anything rose as the evening wore on, building to a quintet of "11 o'clock numbers" i.e. those that were designed to bring down the house at the ends of their respective musicals.
Before they close the evening on a happy note, the incongruous pairing of Alistair McGowan and Tiffany Graves delivered a delicious rendition of the comical "Come Play Wiz Me", while Bonnie Langford belied her years repeatedly doing the splits while singing "Can That Boy Foxtrot!".
Then, following the incomparable Millicent Martin, in quick succession came Tracie Bennett with "Broadway Baby", Haydn Gwynne with "Send in the Clowns", Charlotte Page singing "Losing My Mind", Kim Criswell, "I'm Still Here" and last but by no means least Michael Xavier promoting the male cause as he powered out "Being Alive".
All that remained was for the whole gigantic ensemble to take to the stage for a reprise of the title song, "Old Friends", and tributes to all concerned with a spectacular evening of dance and more particularly song.
Reviewer: Philip Fisher