Hindle Wakes
Stanley Houghton
Mint Theater Company
Clurman Theatre, Theatre Row, New York
–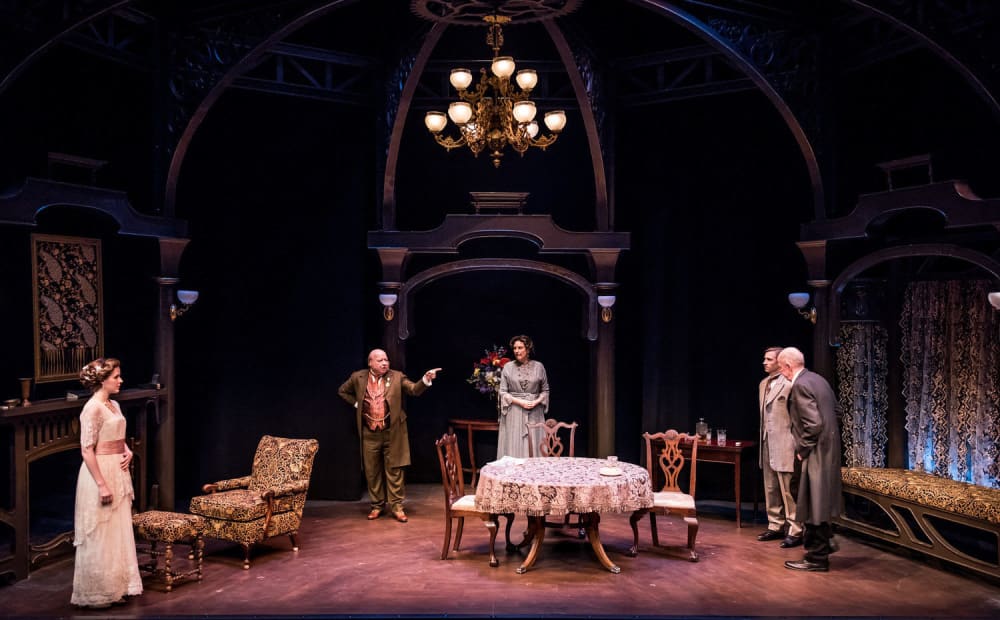 Mint Theatre Company in New York, under the artistic direction of Jonathan Bank, specializes in reviving plays from the past which have been lost or forgotten. Production values are high.
The Mint archive is extremely impressive and includes such playwrights as John Galsworthy, J M Barrie, D H Lawrence, Harley Granville Barker, Arthur Schnitzler, Ferenc Molnar, St John Hankin, Jules Romains, to name but a few. I wish there were a Mint Theatre in London.
Stanley Houghton (1881–1913) was one of the most popular members of the Manchester School of Realism, pioneered by the famed theatre manager Annie Horniman, who wanted to stage plays which were about real Lancashire life.
Hindle Wakes, which premièred in 1912, is a very good example of the sort of solid, reliable social problem play, so much in favour at the turn of the century.
Fanny Hawthorn (Rebecca Noelle Brinkley), working class, a mill girl, has a fling with Alan Jeffcote (Jeremy Beck), the rich mill owner's son. Their parents feel strongly that the boy has a duty to make "an honest woman of her" by ditching his fiancée and marrying her.
Things were very different 100 years ago. The play is a period piece has to be seen within a pre-World War I context when the suffragette movement was at its height. Fanny is very much the modern, independent Ibsenite woman revolting against Victorian values and man‑made laws.
Alan, who thought of Fanny only as an amusement, is shocked to find that is exactly how she thought of him: "You're a man and I was your little fancy. Well, I'm a woman and you were my little fancy." Alan is all right for a dirty weekend in Llandudno but hardly somebody she would want to actually marry. He's far too feeble and shallow a man for her.
Hindle Wakes was the most discussed play of its day. Fanny Hawthorne, was praised and denounced. The outraged Vice Chancellor of Oxford University attempted to put it out of bounds. Houghton, sadly, died at the young age of 32.
Gus Kaikkonen's well-acted production of Hindle Wakes, recorded live in 2018, can be watched free on the Mint Theater channel until 23 December.
Reviewer: Robert Tanitch