Histoire d'amour
Adapted by Juan Carlos Zagal and Montserrat Quezada, after the novel by Régis Jauffret
King's Theatre
–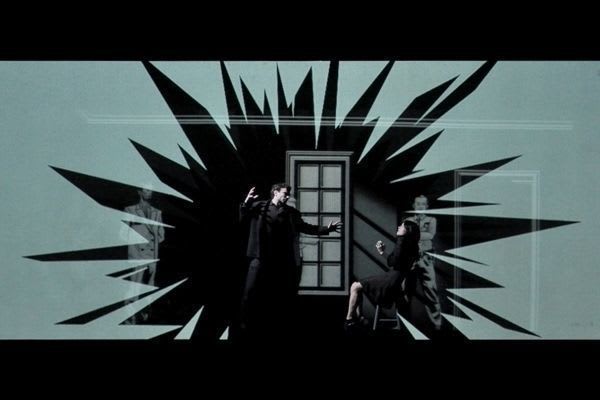 With this presentation from Chile, the Edinburgh International Festival continues its policy of introducing avant garde theatre works in which the medium is more important than the message.
Teatrocinema has a mixed media aesthetic that is refreshing, combining pop art style comic book adventure with live stage performance.
Despite the ironic title, which translates as Love Story, the underlying tale is one of obsession rather than love. A schoolteacher sees a younger woman on a train and is fatally attracted.
Where most people would forget the briefly-seen person of interest or possibly smile and say hello, this man follows the lady home, invites himself in and has non-consensual sex.
This leads to two months in prison but, against all odds, he repeatedly returns to the scene of the crime constantly driving the woman mad but for whatever reason not to the point where she gets the authorities involved again. The dark story runs on for 100 minutes, with variations on this chilling theme.
What sounds like a familiar tale from numerous films and TV series is transformed into something novel by the delivery under the direction of co-creator Juan Carlos Zagal.
He and a large team have generated a stylish black and white film projected throughout the evening, impinged upon by the two actors, always cleverly blended into the movie, like Bob Hoskins in Who Framed Roger Rabbit.
Julián Marras gets all of the lines and most of the drama, while Bernadita Monterro introduces elements of fear and pathos, as a woman at her wits end from the start, worrying about what the stalker might do next.
The theory behind this production is fresh and exciting but as with most other animated stories, it does not have the legs to last anything like 100 minutes, despite the tremendous work by the design and animation team. Not only do they create images in 2D and 3D that look great but their interaction with the pesky humans rarely fails.
This staging of Histoire d'amour also raises the questions as to what purpose the actors serve and why a sophisticated cartoon was not developed as a cinematic production?
Reviewer: Philip Fisher