The History Boys
Alan Bennett
National Theatre (Lyttelton)
(2004)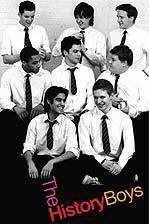 It is a long time since Alan Bennett has had a new stage play produced. Those who see The History Boys will pray that its successor is close behind. Director Nicholas Hytner has been a great success in his year or so as director of the National and directed one of the hits of last year, Henry V.
Now, this dream combination has come up with what must surely win awards for Best New Play of 2004. Its combination of comedy and pathos is extraordinary and it is saying something that after three hours in a theatre at the end of a heavy week, an extra hour would have been desirable.
The History Boys are eight pupils, with varying accents, at a minor public school in the North. They form an Oxbridge Scholarship class of the 1980s and the play follows their education as well as their sexual and mental awakenings as they are groomed by two very different teachers.
This is more than a simple coming of age drama. It is also an allegory on Thatcherite values, as culture and knowledge for its own sake give way to the spin and results-driven society that we see today.
The mountainous Richard Griffiths as Hector, in outmoded Prince of Wales check and spotted bow tie, gives a moving performance as a man steeped in literature who wants to share it. There are shades here of Dead Poets Society, as Bennett puts his great love of words and aphorisms into the mouth of a quirky schoolmaster who is never short of a quote.
Hector is a wonderful Bennett creation, one of life's losers but still able to enjoy himself until a fatal flaw is revealed. Griffiths fills the role perfectly.
Clive Merrison's grim headmaster cares for little but league tables and a quiet life. He believes that fresh graduate Tom Irwin played by Hugh Grant lookalike, Stephen Campbell Moore will end the school's Oxbridge drought.
The play opens twenty years later with the wheelchair-bound Irwin as a populist TV historian. His trip from arrival as fresh-faced supply teacher runs in parallel with the decline of his predecessor.
Irwin is a sound bite man with a motto "the wrong end of the stick is the right one". He will embellish history in order to achieve his end of exam success for the pupils. Like his almost-namesake, David Irving he will even deny or rewrite the Holocaust for effect.
Reviewer: Philip Fisher