Hit Me! The Life and Rhymes of Ian Dury
Jeff Merrifield
Leicester Square Theatre
(2009)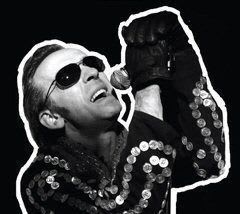 ABFCAP, as it was originally known, became a surprise Edinburgh Fringe hit last year, primarily thanks to what was apparently an uncannily accurate portrayal of wild rock star Ian Dury by Jud Charlton.
It moved on to the Courtyard in Hoxton and has now reached the West End, unfortunately losing its star along the way. It is rumoured that this was due to artistic differences relating to a West End rewrite that now leaves the show with a new lead and close to twice its original duration.
If the rumours are true, Mr Charlton may have known a thing or two, as Hit Me! feels horribly elongated, with much padding to bring in an interval and the 2½ hours that the producers obviously believe is de rigueur for a good night out in Central London.
However, regardless of these excesses, those portrayed in the title role by Adrian Schiller, far better known as an RSC stalwart, are remarkable. He has the look, manner and articulation of the punk hero crippled by polio at the age of seven and therefore forced to drag his wrecked body across the stage throughout a career not only as a musician an actor as well. If you did not know that Dury had died in 2000, you would fully believe that the man standing in front of you was the real thing.
Even better, as he runs through the back catalogue starting with "Plaistow Patricia", the song that gave rise to the original title's acronym, every word bar "and" of which is obscene, through twelve other classics, the vocal intonations are almost perfect.
What this means for fans of Ian Dury and the Blockheads is that the evening becomes a tremendous trip down memory lane. Not only do they learn a great deal more than they might wish to know about their anti-hero, they also get to wallow in the kind of karaoke performance that most people only dream of.
The problems lie significantly with the other character, Dury's minder and best pal Spider, played by an enthusiastic Josh Darcy. This tough man was rescued from a life of crime and regular prison stays by an opportunity to become bouncer, roadie and spiritual crutch to a pop icon whose love of drink would surely have killed him had cancer not got there first.
Spider is fine as a foil but for far too much of the evening, the big skinhead takes over a show in which he is of little relevance and to which he adds nothing. His jokes are at best mildly funny and his life story close to cliché. This is a pity, as it contrasts with the fireworks of his friend, who believed in living life to the full and, thanks to innate talent, could have got away with murder.
While much of the story of Ian Dury can be divined from the lyrics to his songs, Jeff Merrifield's play fleshes out the bones and shows us a deeply flawed but nevertheless strangely likeable human being. He might have been a legend in his own lifetime, but Dury enjoyed a bitter love hate relationship with everybody with whom he came into contact - including himself.
Thanks to Adrian Schiller's performance and all those wonderful songs starting in earnest with "Sweet Gene Vincent" and peaking with the title song," Reasons to Be Cheerful" and the long-banned "Spasticus Autisticus", this could have been a great evening. However in this latest incarnation, there are far too many longueurs for that to be the case.
Reviewer: Philip Fisher