Hive City Legacy
Lisa Fa'alafi, Busty Beatz, Yami 'Rowdy' Lofvenberg and the cast
Roundhouse / Quiet Riot
Weston Studio, Wales Millennium Centre
–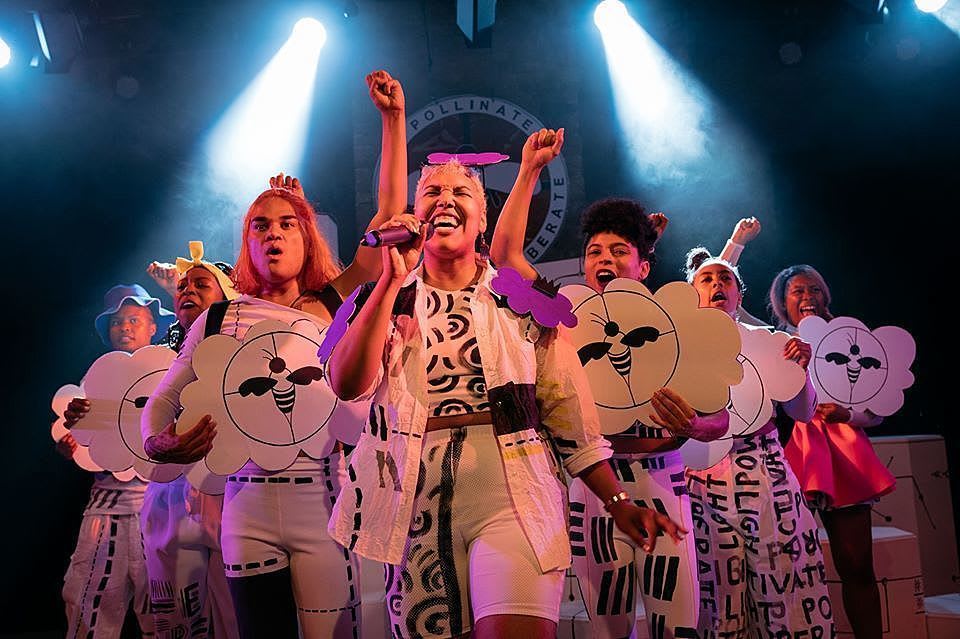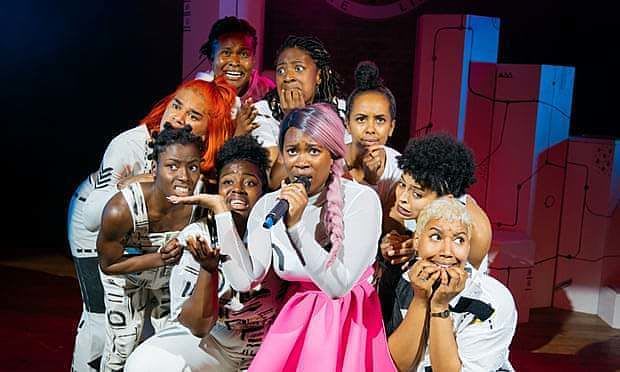 After playing several venues throughout the UK over the past few months to widespread acclaim, Hive City Legacy arrives in Cardiff as part of the Wales Millennium Centre's broadly diversity-orientated Performances For The Curious season.
The show has been developed in conjunction with Australian collective Hot Brown Honey, the cast of eight "femmes of colour" put together during a training programme at London's Roundhouse. Devised and directed by Lisa Fa'alafi, Busty Beatz and Yami 'Rowdy' Lofvenberg, much of the content comes from the cast, since the show addresses many aspects of black femininity.
The set comprises an assemblage of hexagonal white blocks, designed to look as though they are electronically connected, giving the impression of a futuristic beehive. Above it, an illuminated sign featuring a bee motif reads "Liberate. Pollinate. Activate".
A dungaree-clad performer appears (we were not provided with information sheets listing cast and crew) and clambers through and onto the structure, innocently following the sunlight. Presently, she comes upon an illuminated book and opens it; whereupon other actors / singers / dancers appear, dressed in identically patterned costumes, and poetically expound upon elements of their experience as black women: losing one's original language on coming to a new country, being subjected to racist comments, feeling discomfort in the "white" environment of a theatre.
Over the next hour or so, we and the heroine are guided through several traumatic vignettes, although extensive use of music in a contemporary soul / r&b vein means that the piece avoids dourness. The versifying leans towards reflective spoken word rather than ego-driven rap; the lively choreography both parodies and celebrates hip-hop clichés (body-popping, twerking, etc.) while paying respect to more traditional African / American forms; and there's even a spot of aerialism.
While the stories being told are generally unhappy, dealing with such subjects as sexual objectification, depression and the difficulties inherent in identifying as transgender, the exuberance of the performances renders the tone unavoidably affirmative. Following the disturbing "office party" climax, the "bee" motif, at first puzzling, starts to make sense as the theme of interdependence comes to the fore; it also reflects the organic nature of the show's development.
Regrettably, Hive City Legacy played to little more than a handful of attendees, largely Caucasian, on its first night here—a great pity, since this is, to my mind, exactly the kind of inspirational, intellectually ambitious, subtly profound multicultural entertainment which should be routinely programmed in this venue, situated as it is in the heart of racially diverse Cardiff Bay.
Reviewer: Othniel Smith