HMS Pinafore or The Lass That Loved a Sailor
Music Arthur Sullivan, libretto W S Gilbert, additional material Cal McCrystal and Toby Davies
English National Opera
London Coliseum
–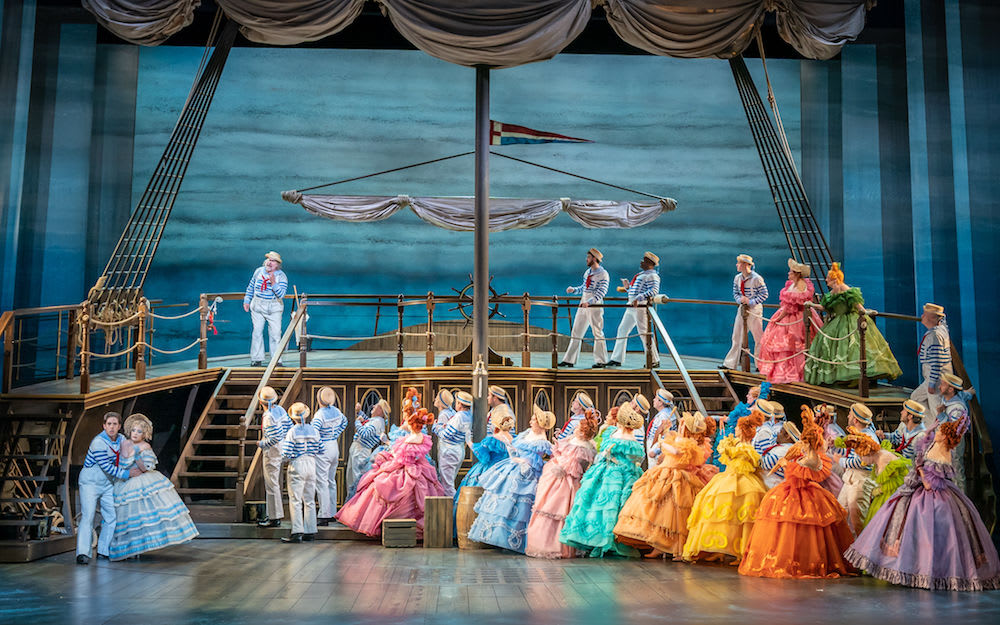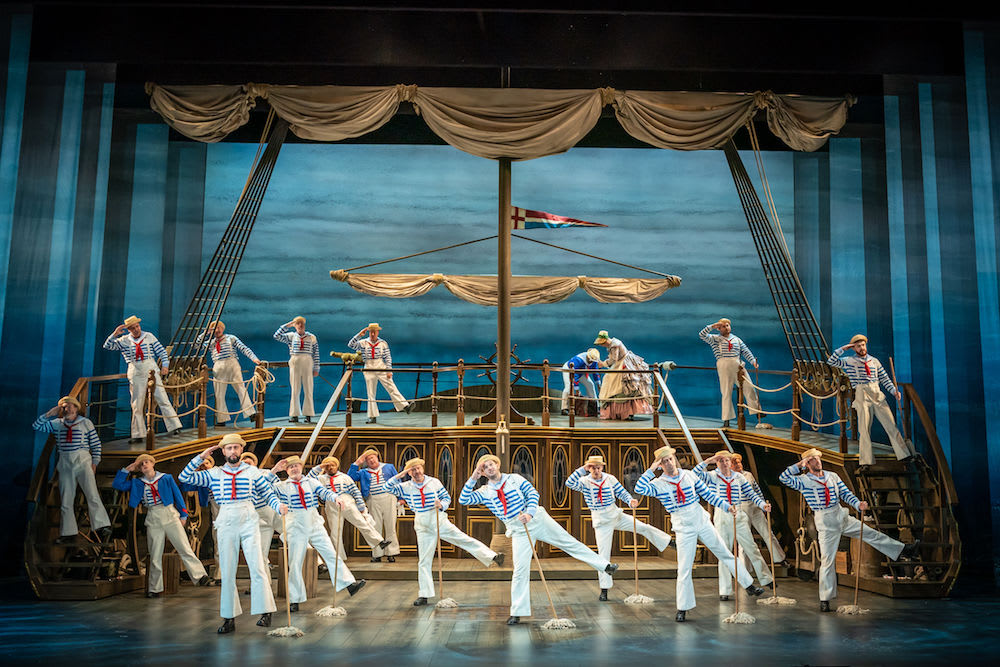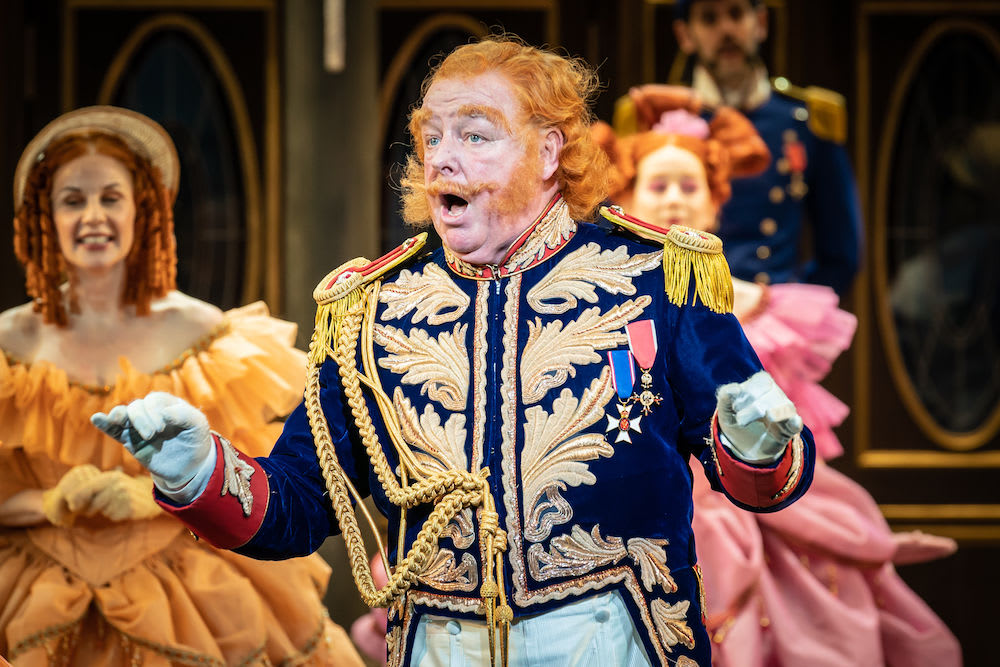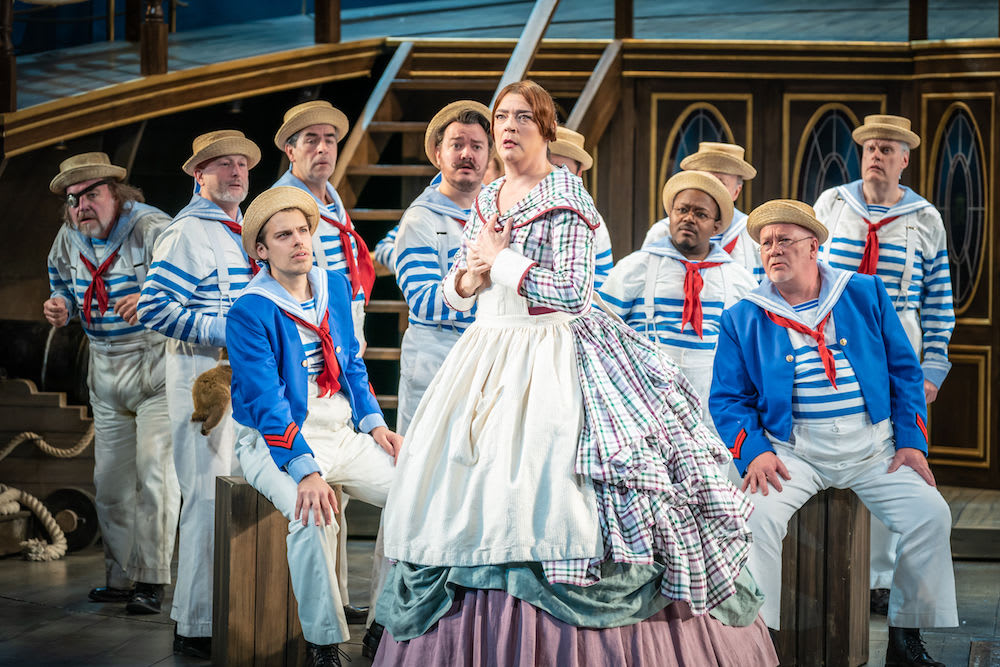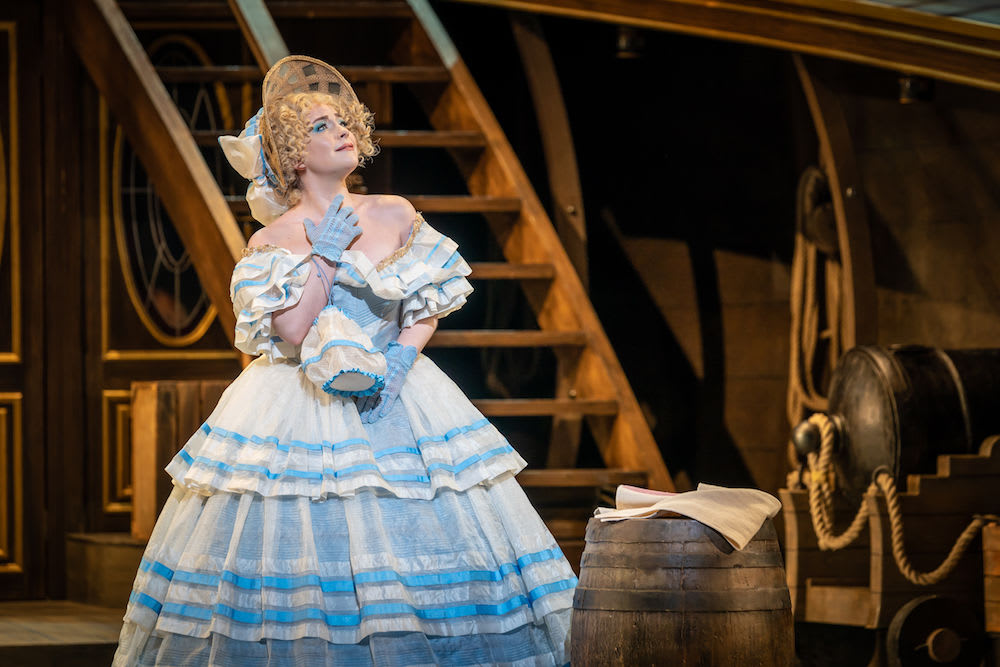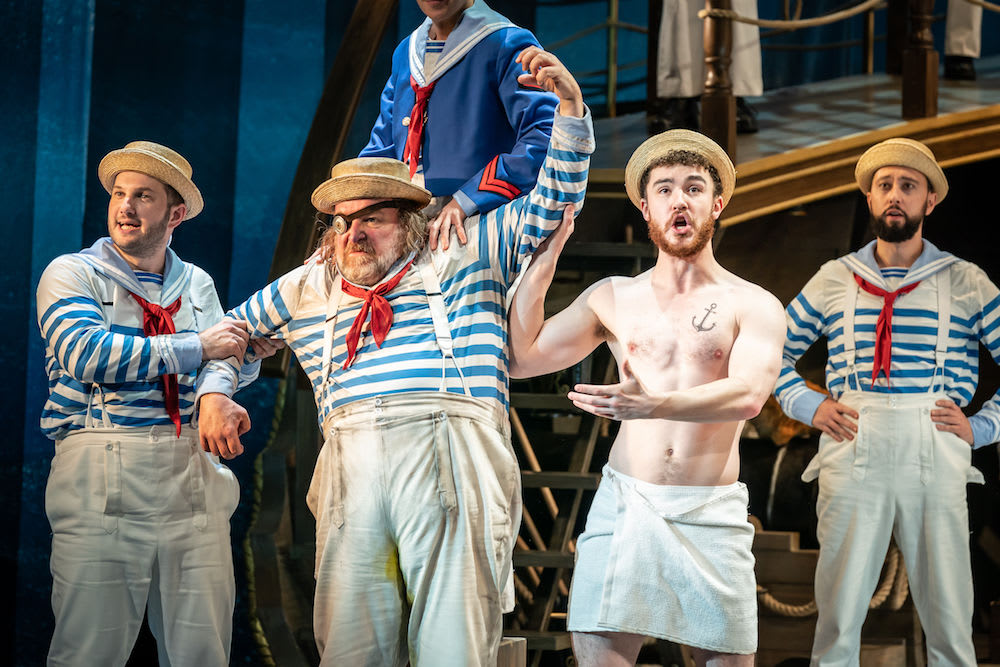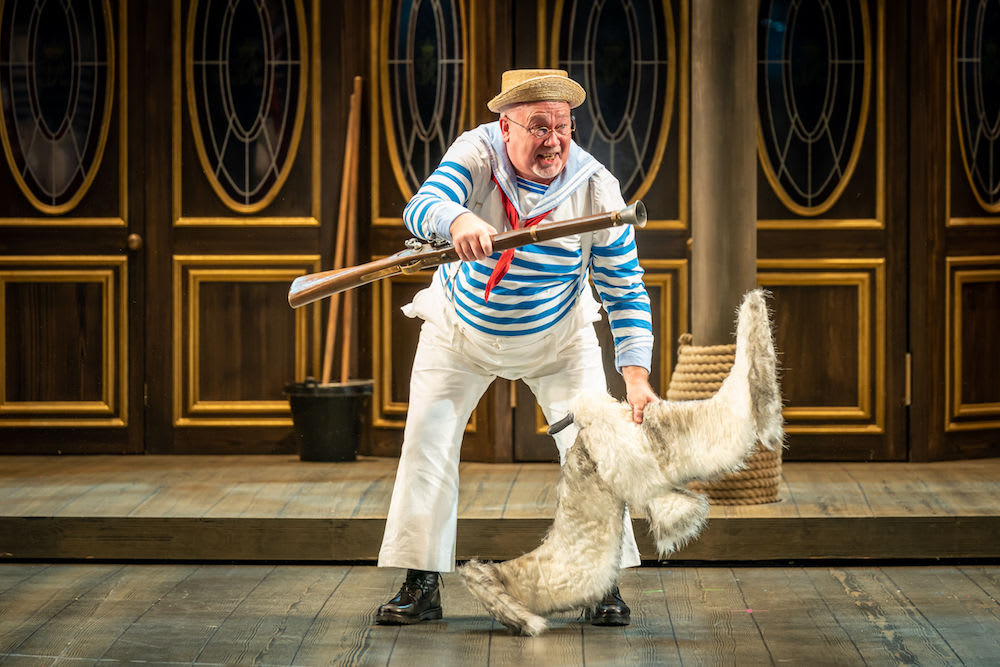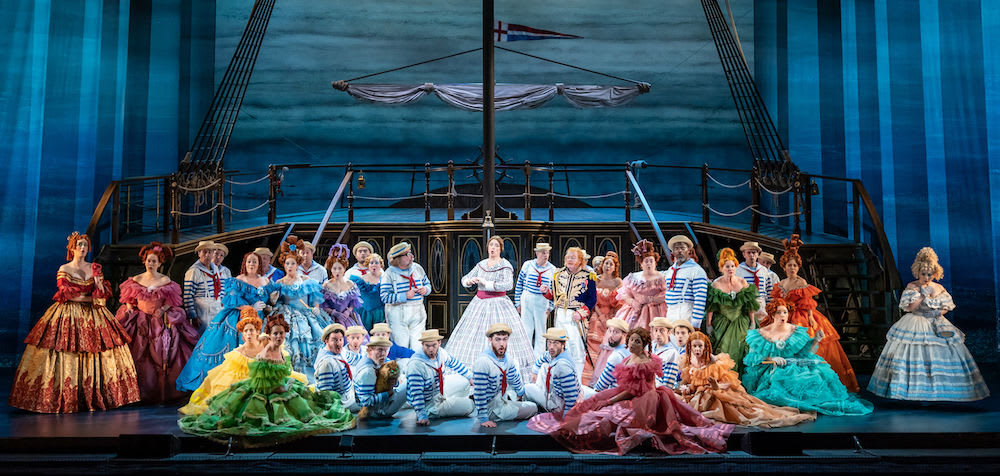 Director Cal McCrystal is back with his second Gilbert and Sullivan production for ENO, whilst it's hard to believe the mock jingoistic (apt for our 'boosterish' times) HMS Pinafore is a first for them, they attack it with such vaudevillian gusto. Slapstick comedy, plundered from music hall, from English Panto, from Morecombe and Wise, from contemporary news (remember that Englishman stuck on a wire over the Thames in a hard hat, flying two Union Jacks), from The Ancient Mariner, from absurd comic strip, keeps us laughing. Anachronisms abound (do I hear and see a Toblerone?). And "hello sailor" must have been too hard to resist.
At times there's too much business going on at the back of the stage during exposition at the front. Where to give one's attention: to the patter songs, the love duet, or the pratfalls? It is quite a carry on. Though one ageist sight gag goes on far too long before it finally reaches pay off: I do wonder how Flick Ferdinando as Aunt Minje keeps her spine shipshape.
It is comic opera, melodrama, and McCrystal goes full out, breaking the fourth wall, as he did with his One Man, Two Guvnors, though maybe not as successfully. Up in the dress circle, one is too removed from intimate repartee, and in any case the Coliseum is probably too large a theatre for that. The dialogue is not always crystal clear. Actor Les Dennis's (the dipsomaniac Sir Joseph, First Lord of the Admiralty who rose without any ability or qualifications… you make your own connections…) voice does not carry past the stalls I suspect.
But the lead singers and chorus are on splendid form. New Harewood Artist, Australian soprano Alexandra Oomens, making her ENO debut, is perfect casting as Josephine, the Captain's daughter in love with sailor Ralph Rackstraw (Welsh tenor and Harewood Artist Elgan Llŷr Thomas) below her standing. Their duet is lovely, operatic voices melding as one. A musical breath of fresh air.
What a to do, though. It's all very silly in the best Gilbert and Sullivan tradition with their jibes at English snobbery and class system. Josephine must marry old Sir Joseph (with his army of sisters, cousins and aunts). But there is of course a deus ex machina in the shape of "baby-farmer" Little Buttercup (contralto Hilary Summers), who swopped two babies at birth. Yes, you've got it, of course, you've got it. Ralph is the highborn one and the Captain the lowborn.
But you must suspend your arithmetic with your disbelief / belief. Buttercup gets the Captain (does that make him her toy boy?), and Josephine gets Ralph who must be as old as her father... Sir Joseph sticks with his own, his cousin Hebe (mezzo-soprano Bethan Langford). All seem satisfied, except chief disrupter Dick Deadeye (bass-baritone Henry Waddington looking a bit like Ricky Tomlinson or maybe Robert Newton in his piratical films).
New to the dramatis personae, 'Midshipmite' Tom Tucker is a star in the making. Only nine years old, tiny Rufus Bateman almost steals the show in his double act with tall bass-baritone John Savournin's delightfully 'polite' Captain Corcoran. Can he tap dance, and do Michael Jackson slide, and play silly old-fashioned jokes on his Captain... And rearrange HMS PINAFORE into funny anagrams. And ride a Segway scooter.
The jokes just keep on coming—see what I mean about distractions? Two dozen sailors sing, dance (choreography Lizzi Gee), mop, one does somersaults, and those at the ships rails do some handy barre work just to keep in shape. A seagull flies overhead and a cat gets thrown overboard—a play on the cat o' nine tails.
The costumes (and set by takis) are colourful—the sisters, cousins and aunts in crinolines of many hues, lilac, lime, lavender, primrose, apricot—their entrance on board ship is an arrival at a ball—with parasols. The fine cutaway ship is on a revolve put to comic use as they parade round and round. The ENO pennant is flown to loud cheers and huge applause.
Visually entertaining but what about the music, you may well ask. It is much more lyrical than I remember—why is it the ditties that stick in one's head…? Arthur Sullivan's score is conducted by Chris Hopkins, Principal Conductor of English Sinfonia, Musical Director of Orchestra of the City and ENO regular, with rapport and finesse—one needs to pay attention to one's ears as one's sight gets such an eyeful. The orchestra keeps the momentum and the antics under control.
There are nineteen performances in all, and there are still plenty of seats. If you want a tongue-in-cheek take on Gilbert and Sullivan's foot-tapping 1878 HMS Pinafore, look no further. I wonder have any of you heard of Barry Purves and his animation film on the successful D'Oyly-Carte pairing of the awkward couple. I wonder if McCrystal knows it.
Reviewer: Vera Liber